Wed, 17 Apr 2013, 16:32 PM



Results from the NHRDA Texas Diesel Nationals



Courtesy of Jason Murray



ENNIS, Texas --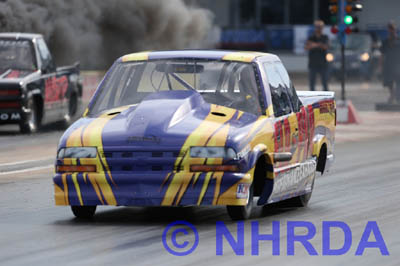 Pro Stock Winner Wade Moody
The 6th Annual NHRDA Texas Diesel National finally kicked the NHRDA season off with a bang. The April 13th event turned out to be one of the largest competitor turn outs ever for the MBRP Diesel Drag Racing Series, with drivers coming from all corners of North America trying to take home the coveted MBRP Diesel Drag Racing Cups. After all the smoke settled the winners were crowned in the MBRP Diesel Drag Racing Series at the Texas Diesel Nationals.
This was also the first event in the NHRDA Diesel Sled Pulling Series and the first ever sled pull held at the Texas Motorplex. The NHRDA had a record amount of pullers in the 2.6, 3.0 and Super Stock Diesel classes at the sled pull. The track crew worked all thru the day to get it ready for the sled pull and it produced some great results in the NHRDA Diesel Sled Pulling Series.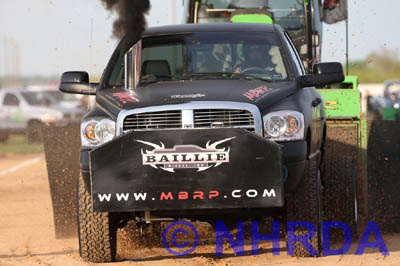 2.6 Diesel Winner Jim Greenway
Results from the 6th Annual NHRDA Texas Diesel Nationals: MBRP Diesel Drag Racing Series Results Top Diesel: John Robinson, Weatherford TX, Funny Car defeated Jared Jones, Montezuma IN, Dragster.
Pro Stock: Wade Moody, Mechanicsville MD, '01 S-10, 7.782 sec., 181.03 mph defeated Gage Makinen, Billings MT, '99 Chevy, 12.591 sec., 111.52 mph
Pro Street: Jarid Vollmer, Chubbuck ID, '07 Dodge, 9.494 sec., 152.42 mph defeated Donovan Harris, Red Deer AB, 10.071 sec, 127.32 mph
Super Street: Brian Spooner, Lloydminister AB, '02 Dodge, 9.690 sec. 142.85 mph defeated Pat Liskey, Meridian ID, '03 Dodge, 12.203 sec., 112.87 mph
Super Diesel (11.90 index): Dustin Gullet, Boise ID, '07 Chevy, .069 RT, 12.182 sec., 100.07 mph defeated Chris Perales, Floresville TX, .304 RT, 12.296 sec., 117.55 mph
Sportsman Diesel: Cody Filliban, West Palm Beach FL, '12 Ford, Dial-In 15.95, .169 RT, 15.979 sec., 85.93 mph defeated Cory Broderick, Leander TX, '04 Dodge, Dial-In 13.19, .562 RT, 13.008 sec., 107.49 mph.
NHRDA Diesel Sled Pulling Series Results:
Super Stock Diesel: 1st Susan Ingram, Farina IL, '96 Dodge, "Scheid Diesel", 303.08 ft, 2nd Brad Deeter, Cooperstown PA, "Pullin' to Please", 283.04 ft.
3.0 Diesel: 1st Brad Ingram, Farina IL, '96 Dodge, "Scheid Diesel", 335.01 ft., 2nd Jeremiah Peek, Grayford TX, "Who Knows", 252.08 ft
2.6 Diesel: 1st Jim Greenway, Galena MO, '07 Dodge, "Baillie Diesel", 314.00 ft., 2nd Ryan Bauer, Louisburg KS, '94 Dodge, "Pull N Wool", 313.11 ft., 3rd Chris Ryan, Zephyr TX, '97 Dodge, "Mutt", 307.02 ft




Drag News: 10 Most Recent Entries [ top ]

Apr 24- NHRA Heritage Series Heads To Wild Horse Pass
Apr 22- K&N Spring Fling Million Final Day Results
Apr 21- K&N Spring Fling Million Friday Results
Apr 20- K&N Spring Fling Million– Thursday Results
Apr 19- K&N Spring Fling Million- Wednesday Results
Apr 18- Buckeye S/SS @ National Trail April 28th
Apr 18- Don "the Snake" Prudhomme Returns To Baja Competition After 50 Years
Apr 18- K&N Spring Fling Million Tuesday Results
Apr 17- K&N Spring Fling Million Pre-Race
Apr 12- Summit Racing Equipment is Newest Sponsor of Midwest Junior Super Series