Tue, 16 Apr 2013, 17:25 PM



Patience and Focus Required to Win Dollar General NHRA Four-Wide Nationals



Courtesy of Charlotte Motor Speedway Public Relations



The Dollar General NHRA Four-Wide Nationals fueled by Full Throttle is a unique event on the NHRA schedule, pitting each driver against not one, but three others. The challenges to the drivers are many, requiring extreme focus and patience from each competitor for what promises to be one of the most intense events in motorsports.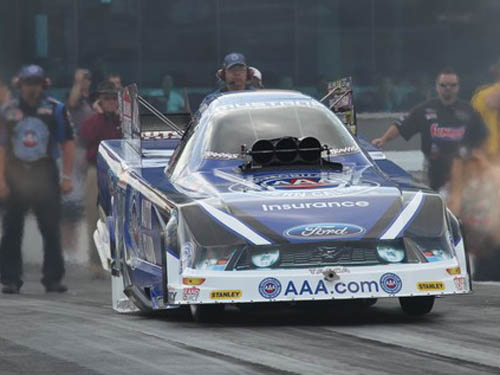 Robert Hight on his way to winning the
2012 Dollar General NHRA Four-Wide Nationals. (Credit CMS/HHP)
"There's so much more going through your head," said Pro Stock driver Greg Anderson, who has won the Four-Wide Nationals twice. "Everything is foreign to you. Everything's new. You race two lanes all of your career. It is a huge challenge for a driver. It's scary because you just know you're going to screw up. You have to try so hard to concentrate and be on your game so you don't make a mistake.
"I don't consider myself that sharp. I don't know if it means I have better focus than I think I have. It's absolutely crazy and you feel fantastic at the end of it."
Last year's Top Fuel winner, Spencer Massey, emphasizes that you have to keep calm and stay focused.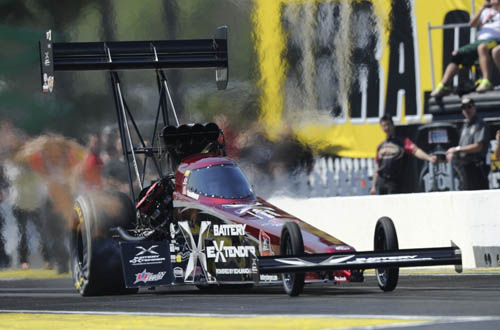 Spencer Massey
"When you roll up there and turn the first light on, you have to keep your patience," said Massey. "You have to keep your composure and not get flustered if somebody else is staging or deep staging. You have to just be on your game and make sure you know exactly what's going on and know your surroundings because you have 40,000 horsepower at the starting line, versus just having two top fuel cars with 10,000 apiece."
Robert Hight, who picked up his first Four-Wide win last year, admits that it is a challenge.
"To win the Four-Wide I think you have to have a consistent race car and you have to be patient," said Hight. "This race is unique with the staging system, but everyone has to work with the same system. When I won last year, it was my fourth win in a row for the Auto Club team. I just tried to do my routine the same every run and in the final race I was racing John Force, Cruz Pedregon and Ron Capps. Those three drivers are three of the top guys in the category.
"Bottom line, to win the Four-Wide you have to run your race and just not get preoccupied with all the other drivers around you. The power of four 10,000-horsepower Funny Cars launching at once is amazing and I can't wait to defend my title at the Dollar General NHRA Four-Wide Nationals."
Defending Top Fuel champion, Antron Brown, has one win in the two-wide event at zMAX Dragway, but is still looking to pick up his first Four-Wide Wally.
"I have to go up there with the mindset of it's a winner-takes-all and you've only got one shot," said Brown. "You've got to put the pedal to the metal, because you don't want to be last, you want to get out there first. If you get behind, you hear all that noise and static around you, it's crazy. I mean the whole atmosphere intensifies and I want to be in front of all that chaos.
"You have to bring your A-plus-plus game to go out there and succeed and bring that trophy home. I haven't yet got it, but I've come so close every year. I've been to the final round almost every year there at Four-Wide. This is my year I'm going to bring it home."
In addition to Top Fuel, Funny Car and Pro Stock, Pro Stock Motorcycle riders will return to the four-wide event for the first time since 2010.
Gates open at 7:30 a.m. on Friday and 8 a.m. on Saturday and 9 a.m. on Sunday. Mello Yello Drag Racing Series qualifying sessions are scheduled for 2:30 and 4:45 p.m. on Friday and 12:15 and 2:30 p.m. on Saturday. Final eliminations are scheduled to begin at noon on Sunday.
Tickets start at $25 for Friday. Children 13 and under are admitted for free every day of the Dollar General NHRA Four-Wide Nationals. Every ticket is a pit pass, allowing fans to observe and interact with their favorite drivers and teams, as well as check out Nitro Alley and a midway featuring displays, vendors and a kids' play area.
Tickets and camping are still available for the Dollar General NHRA Four-Wide Nationals, April 19-21 at zMAX Dragway, by calling the Charlotte Motor Speedway ticket office at 1-800-455-FANS (3267) and online at www.4widedrags.com.
Connect with zMAX Dragway and stay up to speed with all the happenings at the Bellagio of drag strips on Facebook at www.facebook.com/zmaxdragway and on Twitter at www.twitter.com/zmaxdragway.




NHRA: 10 Most Recent Entries [ top ]

Apr 24- CHARLOTTE 1 - Steve Torrence Enjoying Four-Wide Success Heading to NGK Spark Plugs NHRA Four-Wide Nationals
Apr 24- CHARLOTTE 1 - Fact Sheet
Apr 24- Kalitta Motorsports Welcomes NASCAR Stars to the SealMaster Track Walk in Charlotte
Apr 24- zMAX Dragway Celebrates 10th Anniversary
Apr 24- CHARLOTTE 1 - NGK Spark Plugs NHRA Four-Wide Nationals Brings 40,000 Horsepower Thrill Show to zMAX Dragway
Apr 23- HOUSTON - Lucas Oil Drag Racing Series Wrap Up The NHRA Lucas Oil Drag Racing Series Wrap Up
Apr 23- CHARLOTTE 1 - J.R. Todd Aiming for Two Four-Wide Racing Wins in 2018
Apr 23- Mid America Dragway Joins NHRA Member Track Network
Apr 23- HOUSTON - Special Awards
Apr 23- HOUSTON - Sunday Video