Sun, 14 Apr 2013, 23:17 PM



This One Is For Hayden



By Bob Frey


Photo copyright 2013 Auto Imagery, Inc.





| | |
| --- | --- |
| | |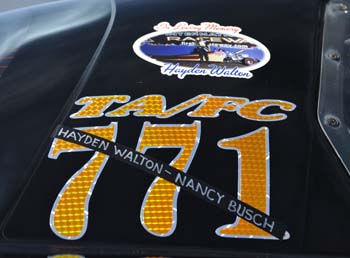 I don't really know when it started but I know it has been around for a while. I'm talking about the trend of putting a decal on the side of a car in remembrance of a loved one. I'm sure it happened long before 1990 but I vividly remember the wave of decals that appeared all over after Darrell Gwynn's terrible accident in England. Get well wishes for our hero were all over cars, trucks, trailers and even fan's t-shirts. We all knew that we couldn't do much to help Darrell but we could let him know how much we cared. After speaking with Darrell he told me that it really did lift his spirits as he began the long recovery process. Most recently the ubiquitous decals have appeared for Eric Medlen, Scott Kalitta, Mark Niver and, unfortunately, for more of our racers who have lost their lives in pursuit of their dreams. And while those racers lost their lives on the race track there is a decal on at least one car that honors a young man who lost his life in a freak accident, and while it wasn't a racing accident he was doing something he loved, playing baseball. The decal can be found on the Top Alcohol Funny Car of Charles McLaws and honors his grandson, Hayden Walton.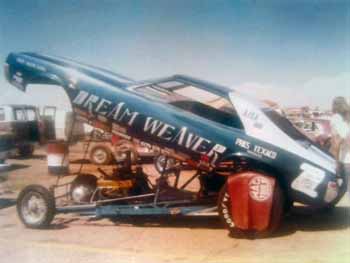 McLaws' Econo-Funny Car
Charles McLaws has been racing for quite some time, but it wasn't until recently that his car really started to come into its own. "A friend of mine, Ron Miler, really got me involved in drag racing back in 1967. He ran a local speed shop and was the manager at Winslow Drag Strip and he was our crew chief until his unexpected passing in 2009." Charles went on to say that he has had cars in the Alcohol Funny Car class for many years. " I always enjoyed racing but I never really put a lot of money into it to make it go faster, I just put money into it to make it conform to the rules." His actual racing career began before his tour of duty in the alky ranks and it was a rather modest venture. "I had an Econo-Funny Car," he said. "It was an American Motors Javelin with a 427 cubic inch Chevy engine and a single four-barrel carburetor and it was a lot of fun to drive. It was back then that my friendship began with my co-crew chiefs, Mike Beeson and Chris Stinson, and they are the reason I am competing at the level I am today." But like most racers he found the need for speed was all consuming and he decided to step up in class, and that should be expected from a guy who has been around cars all of his life. "I got my first car when I was fifteen and working at my father's service station, Phil's Texaco. He wasn't too pleased with the fact that I was racing but I managed to do it and still keep my job." That was one of three jobs that Charles has had during his adult life. Another was a stint with the Santa Fe Railroad and the third was as a new car salesman. "I left that last job a few years ago and now I work with a friend at CA-TY Auto Sales. We do sell some older cars but we also handle a lot of 2012 and 2013 models. We have a great location right near the Super WalMart in town so everyone sees us and knows what we have." It should also come as no surprise that, being such a great car guy, Charles has a pretty nice machine hidden under the covers in his garage. "Yeah, half of our garage serves as our race shop but on the other side I have a beautiful 1971 Chevelle SS. It has a 454 engine and is really nice. I've owned it and sold it three different times but this time I think it's here to stay. We take it out to the car shows every now and then but that's about it."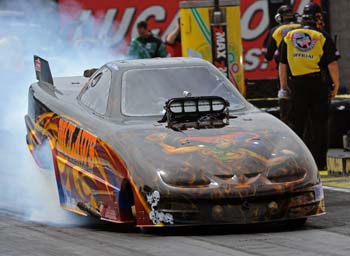 McLaws' Top Alcohol Funny Car
With two daughters of his own Charles admits that he was thrilled when Hayden was born. "His father and mother taught him a lot about love and respect for others but I got to spend a lot of time with him, too. We would go hunting, fishing, play ball and, of course, go to the races. Hayden and his family got a Jr. Dragster when he was seven that he raced and he did very well with it. In 2011 they stepped up to a 7.90 car and he had a great outing with it the last time he went to Firebird Raceway." As much as he loved racing Hayden also enjoyed baseball and Charles loved watching him play and coaching him. "One day he was playing and a pitched ball hit him right in the chest. He took about two steps towards first base and collapsed and died right there." Charles said it was one of those very unusual incidents that nobody had seen before. "It apparently caught him right between heartbeats and his heart wasn't able to recover from the shock. The only thing that may have saved him would have been if they had a defibrillator right there at the field."
If you have never experienced something like that it's impossible to imagine what Charles, his wife, Liz, and their daughter, Carleen and her husband, Doug, daughter Reanna and all of Hayden's family went through after Hayden's death. "It was such a shock and we still take things day by day. We go to visit Hayden often, and so do many others, and I
just sit there in silence. His headstone is beautiful with his birthday along with an eagle, the Boy Scouts' emblem, a Rocky Mountain Elk, a music note and a beautiful scripture reading. Hayden loved our lord and savior, Jesus Christ. The back of the stone has a picture of his Jr. Dragster and it reads TAJD 7074. He would have been sixteen this year and we all knew that he would be driving the Funny Car. Everything we do is in his memory, especially drag racing."
Charles wasn't sure if he would race again after Hayden's passing, in fact he didn't know if he wanted to do much of anything. "I had been in talks with Victor Terenzio about buying his car but I had to sell mine first and I had to get motivated. I got a call from a racer in Australia who wanted to buy mine, and after a while I called Victor and told him I would come take a look at his car. I figured that if I fit in the car it was a sign that I should buy it, if not I'd just turn around and go back home." Well, since he is racing today you know how that visit turned out, and Charles isn't only racing but he's winning for the first time in his career. "We started to run well near the end of last year and then we decided to be a little more aggressive this season." The team talked it over and decided to leave the starting line at a higher RPM and Charles says that, along with one other thing, has made a big difference. "As funny as it may sound we discovered that when I took off the car pushed me back in the seat and that caused my foot to come of the pedal. We fixed that and made a few mechanical adjustments and now we're running better." They qualified for the field at the Division 7 Lucas Oil race in Arizona and won a round there and then turned around and made the show at the national event in Las Vegas last weekend. "We have made our quickest and fastest runs ever this year and couldn't be happier. We did hurt it a bit in Arizona and that set us back. We don't have a spare engine so if we hurt some parts we may have to sit out for a while. We were really frustrated in Las Vegas because we were running well and then couldn't get the car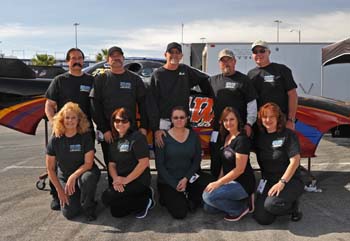 The family and crew at the
recent Las Vegas national event.
started for round one. It looks like it was an electrical problem that sidelined us there." One of the things that Charles and Liz love about the sport is the help and support they get from the racing community. "Folks like Bob DeVour, who has been our guardian angel and kept us on the right track, and John Lombardo have been so nice to us," he said. "They come over and offer to help out and that's really special. And I have to thank Lyle Greenberg, Butch Blackberg, Byron Hairrell and Derron Sheets for all the time they spent helping me get my alky license. Our all-volunteer crew, which consists of Doug and Carleen and Reanna Walton, Hayden's grandfather and grandmother Mike and Carla Beeson, Chris and Tiffany Stinson and Chuck and Lisa Long are so special, too." And, like all racers, Charles says that he couldn't race without the help of his sponsors. "Jim and Kathy Pate at Northland Container, Gilbert and Rhena Martinez (the Scoop Advertising) Rodney Rucker at Rucker Motorsports and Josh and Nikki Steward at Winslow Carquest. We have also been a member of Team Kendall for eleven years and we were their 'Racer of the Month' a while back. Arizona Petroleum supplies us with that great 70W Kendall Nitro Oil to keep us running well."
The race track isn't the only place the McLaws have been getting help. "After Hayden's accident everyone in our community pitched in and we have had a lot of help from the Arizona Diamondbacks. Hayden was a big fan of the team and they made him an honorary member and have helped with some fund raising efforts that we have done." The funds have gone towards purchasing defibrillators that have been distributed to the Little League teams in Winslow, Arizona,
Hayden's home town. "We have tried to make other families, teams and organizations aware of our situation and encourage them to have defibrillators at all of their fields. We recently received a letter from the President of the Little League International telling us that two other boys who had the same incident as Hayden were saved because the teams had a defibrillator readily available. It makes us feel very good to know that other lives have been saved and will be saved through this education process."
While Charles is happy with the way this car is running he is infinitely more pleased with his family. "My two daughters, Jeannie Marie and her husband, John Jacobs, Hayden's mom and dad Doug and my daughter Carleen, and my grandchildren, Emmett, Jessica, Melissa, Travis, Hayden, Reanna and Mercedes are the love of my life. Liz and I are so proud of all of them.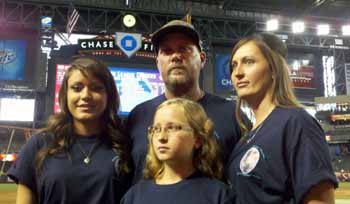 (Left to Right) Mercedes, Doug, Carleen,
and lower center Reanna
As they try the best they can to carry on with their lives Charles, Liz and the rest of the family are encouraged by the way the car is running and they plan to hit the road later this year. "Liz told me that we need to go race somewhere, anywhere this summer, so it looks like we may go to the race in Topeka this summer. Our crew, including two guys who have been with me forever, my co-crew chiefs Mike Beeson and Chris Stinson, are working on putting a spare motor together and that would be the first time we ever had two engines when we went to a race. And of course I would like to thank my wife, Liz. We are partners and best friends and it's her competitiveness that drives us all. It would be a dream come true to win one of these races, but for now we're just happy to be doing this together as a family and doing it in memory of Hayden. I'm sure he's looking down and he's proud of how we're running and that's good because we're doing this for him."




NHRA: 10 Most Recent Entries [ top ]

Apr 21- HOUSTON - Super Stock Class Eliminations Finals
Apr 21- HOUSTON - Funny Car Qualifying, Session #4 Bonus Points
Apr 21- HOUSTON - Total Qualifying Bonus Points
Apr 21- HOUSTON - Funny Car Eliminations Ladder
Apr 21- HOUSTON - Funny Car Final Qualifying, Session #4 Order
Apr 21- HOUSTON - Top Fuel Qualifying, Session #4 Bonus Points
Apr 21- HOUSTON - Pro Stock Qualifying, Session #4 Bonus Points
Apr 21- HOUSTON - Funny Car Qualifying Notes, Final Session
Apr 21- HOUSTON - Top Fuel Eliminations Ladder
Apr 21- HOUSTON - Top Fuel Final Qualifying, Session #4 Order