Thu, 11 Apr 2013, 22:01 PM



Tony Jurado Wins Season Opener



Courtesy of Michael Henry


Photos courtesy of Jim and Ellen La Motte





BAKERSFIELD, Calif. --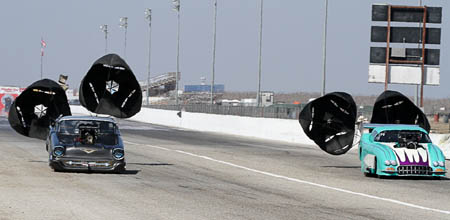 John Durden_vs. John Scailpi
The 2013 Pro Slammers Door Car Association season opener held at the AAA Auto Club Famoso was full of excitement and fun. During qualifying the Pro Mod Slammers were trying to make their mark in the class and put a damper on the rest of the field. Scot Oksas from Santa Clarita Ca., stopped the clocks at 258.91mph in 6.033 seconds to earn the #1 spot. With that pass Scott set a new class mph record with his 2010 twin turbo Mustang. He was followed by Randy Walker in his '74 nitrous assisted El Camino after he went 6.23 at 222mph, John Scialpi's blown '57 Chevy was # 3 when he ran a 6.26 @ 222mph, John Durden rolled in #4 with his Daryl Jensen owned '58 Corvette featuring a blown MBR 526ci Hemi at 6.40, Mike Doushgounian from San Martin, Ca. put his blown MBR Hemi, '67 Nova into the #5 spot with a 6.56 @ 208 and Lee Smith from Salem, Or. ran a 6.62 at 213 to land himself in the #6 spot with his '67 Mustang.
In round one, Mike D paired up against Randy Walker in a classic nitrous vs. blower matchup and it was Walker getting the win light as Mike D shook the earth in the little orange Nova. The next two to do battle was John Scialpi and John Durden. With these guys racing we knew two things, whoever won would be named John and he would have a blower. When it was all said and done John Durden was able to get the win after both drivers had to pedal their cars to the finish line. The final pair was supposed to be Lee Smith's blown '67 Mustang against Scott Oksas's '10 Mustang but Smith couldn't make the call handing Oksas a free run.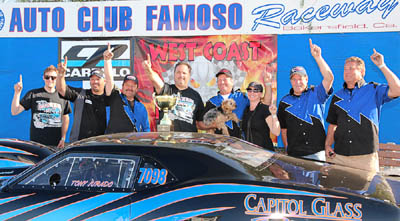 Tony Jurado celebrates win.
The semi-finals in Pro Mod Slammers had John Durden vs. Randy Walker and Scott Oksas on a competition bye. Randy Walker had made some good passes in qualifying with a 6.29, 6.29 and a 6.23 which was a major improvement for the team after struggling in 2012. Durden was in a new car and his best run was a 6.40, so he knew he had to step his game up. As the two left the starting line Walker's El Camino made a hard left towards the centerline and he tried to recover but Durden did a heck of a job driving through the tire shaking '58 Corvette for the win. Scott Oksas pulled up on the bye and unfortunately got crossed up around halftrack forcing him to abort the run and handing Durden lane choice. In the Finals, Durden told us that he was going to get out on Oksas and the turbo Mustang would have to run him down. And when the lights dropped Durden was out as the Mustang spun the tires and tried to catch him, but Oksas ran out of real-estate when Durden made a career best 6.37 pass to take the win.
In 6.90 Slammers, Tony Jurado in his Capitol Glass '69 Camaro landed himself in the #1 spot, followed by Tom Huggins '53 Corvette, then legendary racer/tuner Joe Lepone Jr. pulled in #3 with Darrol Hubbard's 70.5 world record setting Camaro and then it was Dan Myers blown '68 Camaro entry owned by Don carter to round off the field. In the first matchup between Tony Jurado and Dan Myers, the Capitol Glass team got him the win after Myers broke out on the fastest 6.90 Slammers pass in history at 5.85. Tom Huggins made a solo run when Joe Lepone Jr. couldn't make the call, which turned out to be a blessing after Huggins got crossed up around halftrack forcing him to abort the run. In the final, Huggins knew he had to step his game up after Jurado made a nice 6.99 run is the semi-finals. But, as fate would have it Jurado would start 2013 off the same way he started off 2012, in the winner's circle after he crossed the line first with a 7.00. We want to congratulate all both of the winners and runner ups and can't wait until our next event. Thanks to Andy McCoy Race Cars, Resolution Racing, Good Vibrations Motorsports, DXL Transport, Pro Cal Truck Equipment and Scrappers Racing for all of the support.
For more information on our next event visit www.proslammers.com




Drag News: 10 Most Recent Entries [ top ]

Apr 22- K&N Spring Fling Million Final Day Results
Apr 21- K&N Spring Fling Million Friday Results
Apr 20- K&N Spring Fling Million– Thursday Results
Apr 19- K&N Spring Fling Million- Wednesday Results
Apr 18- Buckeye S/SS @ National Trail April 28th
Apr 18- Don "the Snake" Prudhomme Returns To Baja Competition After 50 Years
Apr 18- K&N Spring Fling Million Tuesday Results
Apr 17- K&N Spring Fling Million Pre-Race
Apr 12- Summit Racing Equipment is Newest Sponsor of Midwest Junior Super Series
Apr 12- Summit Racing Named Official MWPMS Sponsor and Event Title Rights Holder