Thu, 11 Apr 2013, 21:05 PM



Armor Coat™ Ceramic Header Coatings Boosts Marketing with Kevin Fisher's Top



Courtesy of Performance by Fisher Racing



LIMA, Ohio --
Dragster
After a successful trial season with the new Ohio Crankshaft Pro Charger combo in the Top Dragster, that saw Performance by Fisher Racing's Kevin Fisher easily bump his quickest time into the low 6.50's, he is now set to embark on a jam-packed schedule for 2013 and along for the ride is longtime partner, Aesthetic Finishers, Inc. [
www.afipowder.com
] as they step up their Armor Coat™ product marketing.
While both Lima, Ohio based Performance by Fisher team cars have always displayed the fine powder coating workmanship of Aesthetic Finishers, starting with the new season the team sets out to truly accentuate the numerous assorted pieces on both dragsters that exhibit the Armor Coat™ Ceramic Coating.
"The guys at Aesthetic Finishers have been coating everything for us for the last six or so years," said Fisher. "We have used other brands of ceramic and nothing has compared to the longevity of their Armor Coat™ coating. It lasts, it just flat holds up and still has the same near chrome luster years down the road, as it did when it was first coated. We don't just have them coat our headers, but lots of small parts on our cars have the Armor Coat™, too. That's all in addition to the chassis power coat."
"Armor Coat™ is an aluminum ceramic formulation that was developed by NASA to protect parts from thermal destruction and we've taken that same technology and brought it into the motorsports world," explained Aesthetic Finishers Inc. President, Bill Coomer. "So with Armor Coat™, you're not only getting a very aesthetic looking part, but also a part that is not going to break down from the inside out due to the corrosive characteristics of the exhaust gases. You will also benefit from the thermal properties of the ceramic coating by keeping more heat in the pipe and not under your hood, which can and will rob horsepower by raising the temperature of everything including your fuel. In various dyno tests over the years, we have seen some pretty impressive horsepower gains by using the header coating both internally and externally."
"That's cheap horsepower," he added. "Additional horsepower all while prolonging the life of a set of headers." Armor Coat™ is not a new offering from Aesthetic Finishers and the company has a proven track record with their product dating back to 1996. "We are proud to have thousands upon thousands of happy customers from tractor pullers to sprint cars to NASCAR, hot rodders and drag racers that continue to be return customers when they have a part that needs coated," noted Coomer. "We have a tightly controlled process that has been refined over years. It comes down to how we apply the coating. It's repeatable and it's consistent."
The chrome finish Armor Coat™ will withstand up to 1,350 degrees, while the black finish boasts a tolerance all the way up to 2,000 degrees.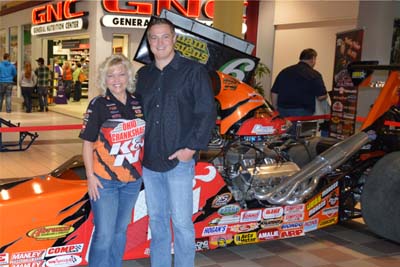 Kathy and Bill Coomer Pres. Aesthetic Finishers
Aesthetic Finishers operates in an 80,000, soon to be 120,000, sq. ft. facility and calls Piqua, Ohio their home. In addition to servicing the motorsports world with the capability of individual parts coating and Armor Coat™ ceramic coating, their industrial side coats high volume runs for many of today's top manufactures. They even offer an extensive line of firearm coating options and graphics.
"We have worked with Kevin and Kathy Fisher for quite a few years and knew when we were ready to get even more involved with the sport of drag racing, they would be our guide," Coomer pointed out. "They have been out there doing this for a long time and they have put our products to the test. We're pleased to be able to work with them as we move further into the drag racing scene."
"Bill and Greg [Goubeaux, Motorsports Manager] are some of the finest folks we have worked with in the business," Fisher proclaimed. "They truly take pride in the product they put out and that's very important to us."
2013 will again find Fisher and his Ohio Crankshaft/ Armor Coat™ Top Dragster racing both NHRA and IHRA events, and for the new season, he will also compete at a select number of X-DRL races, starting with the Bristol, Tenn. event in late April.
"Being able to run as much as we plan to this year will only help us build on the tune-up from last season," remarked Fisher. "We have a very strong Top Dragster package put together with Ohio Crankshaft, Armor Coat™, K&N Engineering, Abruzzi Racing Transmissions and Converters, Dragon Racing Fuels, Mickey Thompson Tires, Flatout Gaskets, Amalie Oil, Computech Systems, Moroso, House of Payne Performance, Hawk Performance, XS Power, Auto Meter, Power Plus Lubricants and will be looking good in the brand new Silver Bullet Top Dragster crew shirts from Advertising Edge/CustomRaceShirts.com. It's honestly near impossible to not be excited for the season ahead when you have a group of that caliber behind you. It's all put together with the best tools in the business from Tom "The Tool Man" Hirt/Snap-On Tools. Really, I'm beyond stoked for our first race at zMax in a couple of weeks."
For more information on the vast array of offerings available from Aesthetic Finishers, Inc. visit, www.afipowder.com and to see their team in action, check out the special "Married With Dragsters" episode from last season that features the entire process of the team's new American dragster getting coated. http://performancebyfisher.com/married_with_dragstersII-8.html




Drag News: 10 Most Recent Entries [ top ]

Apr 24- NHRA Heritage Series Heads To Wild Horse Pass
Apr 22- K&N Spring Fling Million Final Day Results
Apr 21- K&N Spring Fling Million Friday Results
Apr 20- K&N Spring Fling Million– Thursday Results
Apr 19- K&N Spring Fling Million- Wednesday Results
Apr 18- Buckeye S/SS @ National Trail April 28th
Apr 18- Don "the Snake" Prudhomme Returns To Baja Competition After 50 Years
Apr 18- K&N Spring Fling Million Tuesday Results
Apr 17- K&N Spring Fling Million Pre-Race
Apr 12- Summit Racing Equipment is Newest Sponsor of Midwest Junior Super Series