Thu, 11 Apr 2013, 19:53 PM



Everything Old Is New Again



By Bob Frey


Photo copyright 2013 Auto Imagery, Inc.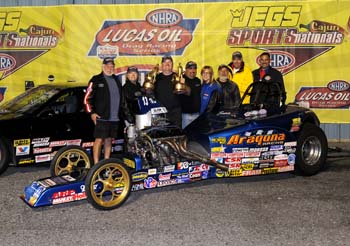 Steve Szupka "double-up"
at the Jegs Cajun Sportsnationals.
In case you haven't noticed there is a phenomenon going on in drag racing. More and more there are racers who are second generation family members who are competing and winning at the races. Adam Arana recently joined his brother and his father in the Pro Stock Motorcycle class and, of course, Britanny Force is the latest member of that racing family to hit the track. I know what you're thinking, that isn't really a new occurrence since family members have been racing in the sport for a long while. And while you are correct, in case you haven't noticed, we are now starting to see third-generation family members hit the track and that is new. But there is another thing that is sweeping across the landscape and that is the driver who is winning not one but two classes at the same event. While that used to be rare, very rare, it is now happening with more frequency and that is because of two main things. First, there are more and more racers, especially sportsman, who are drag racing for a living. And, second, since it turns out to be more economical to bring two cars to the track than just one those racers are competing in a variety of classes or categories at the same event. For the record, Jerry "The King" Ruth perfected the art of the "double-up" and he did it in the Top Fuel and Funny Car classes back in the early 1970's and he did it six times. Many years passed before drivers began winning two classes with any regularity and now, while it is still rare, it does happen more than any time in the past. Still, to win two classes at the same national event is really special, and if you don't believe me, just ask the latest guy to do it, Steve Szupka.
Steve is, as you may have guessed, a second-generation racer and he just accomplished the "double-up" by winning Stock and Competition Eliminator at the Jegs Cajun Sportsnationals in Belle Rose, Louisiana. "It's absolutely surreal," he said. "It's a very humbling experience and I want to enjoy it while I can because you could go to the next race and get busted in the first round." Sure, that could happen, but with the way Steve has been running lately it's not likely.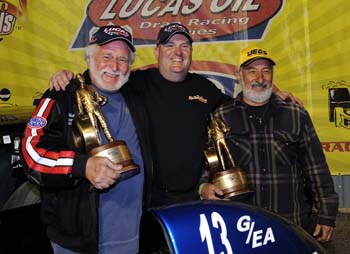 Szupka with his father and Frank Aragona,
Even though the "double-up" is happening more frequently that still doesn't take away from the talent, skill, ability and sometimes luck that it takes just to make it to the final round at an NHRA national event, let alone two of them. "I have to tell you that all of the pressure was on to win the first race," Steve said. "You go to the races in two cars and you always think in the back of your mid how neat it would be to win two, but when I got to the final round the first thing that I was thinking about was that I didn't want to lose both finals. That would be awful. Once I won in Comp I can honestly say that the pressure was off." After beating Jim Kimbrough in the Comp finals Steve had to go to the scales and fuel check and then hitch a ride back to the starting line. "They ran the two finals about six or seven minutes apart so I really didn't have much time to think about that second final. I just wanted to go up and do my best." He did just that and came away with his best weekend ever at the track. "I've been going to the races with my dad since I was about five or six years old and I have enjoyed every minute of it, but nothing compares with this weekend. In 2008 at Atco I went to two finals at the divisional race and I split them, but nothing I experienced was ever like this." Like many racers Steve said the atmosphere in Belle Rose was one of the reasons why the New Jersey-based team made the long trip to Louisiana. "We went there a few years ago and the people there are just great and we knew that we wanted to work it into our schedule again. It's like you went to a drag race and a party broke out. It's unbelievable."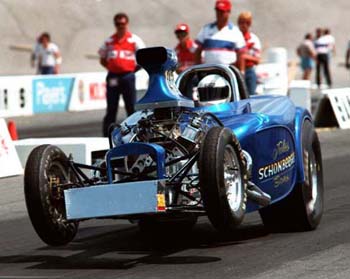 Steve' father Phil
running Comp at Sanair in 1985
The car Steve drives in Comp is owned by his good friend and former World Champion, Frank Aragona. "It's a 201 cubic inch, four cylinder engine, basically half a Hemi engine," he said. "And the Stock Eliminator car is a 1985 Camaro with a 305-engine and it's one that Frankie and I own together." The partnership of the two second-generation racers was, basically, a thing of destiny. "My dad and Frank's father used to race against each other for years," he said. "While we were at the track Frankie and I would play together and watch them race. Over the years that evolved into a friendship and today it's a friendship and a partnership that works well for both of us." One of Steve's earliest memories of his father is the 1980 Grandnationals in Sanair, Canada. "I remember him getting to the final round in his Super Stock car," Steve said. "That was so exciting." He also remembers one of his father's first race cars. "It was a GTO that is still racing in Division 5. In fact, I went to the Mile-High Nationals a few years ago, turned a corner and there was the car with the same paint and lettering as when dad had it."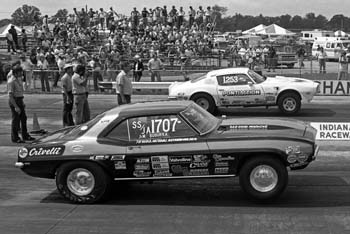 Phil (far lane) was runner-up
to Jim Boburka at '80 Indy.
After watching his father race for years Steve knew that he, too, wanted to be a drag racer. "I went to Frank Hawley's school and got my license and then the first car I ever drove down the track was my dad's Comp car. I never bracket raced or did anything like that." Not many racers begin their career in Comp but it helps when your father has a r?sum? like Steve's does it made the transition a little easier. "My father and Frankie's dad do all the work on the cars and they drive the rigs to the track and that makes is easier for us to get away." Steve works with Enterprise Car Rental and the younger Aragona has his own business to run so having the fathers shoulder the work load really is a bonus. "Frankie and I will both tell you that we couldn't do it without them' Steve added.
When you race with your father and for a team like the Aragona's it can put a lot of pressure on you, and that's something that Steve admits is always on his mind. "Let's face it, the three of them are as good as it gets. Frankie's a former World Champion and an All Star, our dads were honored as the Mechanics of the Year this year in Division 1 and his father is in the Hall of Fame. All I try to do when I race is not be the weak link in the team. I'm not saying it's a lot of pressure but, hey, with guys like that on your team you don't want to let them down."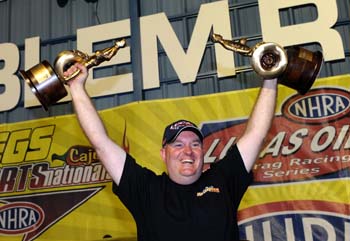 Steve Szupka
As a young racer you may think that Steve has aspirations to move up the ranks and compete in different classes but that's not the case. "My dad always raced class cars and Stock, Super Stock and Comp are my favorite places to race. We'll go to all the D-1 races this year and about six or seven national events and see where we are later in the season. But for now I just want to enjoy this. It's been fun talking to Kevin McKenna and Phil Burgess at National DRAGSTER and getting e-mails and texts from my friends. Like I said, it's just been very flattering and just unbelievable." And based on what he has done in the past there's no reason not to believe that this second generation racer may "double-up" again someday.




NHRA: 10 Most Recent Entries [ top ]

Apr 23- HOUSTON - Sunday Video
Apr 22- HOUSTON - Sunday Pro Mod Wrap Up