Wed, 10 Apr 2013, 16:57 PM



Spring Nostalgia Nationals Results



Courtesy of Chris Graves


Photo copyright 2013 Max Cackle Photography





DENTON, Texas --
The MalloryPrint.com Southwest Heritage Racing Association held its debut event at North Star Dragway's "Spring Nostalgia Nationals" in Denton, Texas on Saturday April 6th. There was great anticipation for the debut of the SHRA series for both the staff and racers and with sunny skies and temperatures in the mid 70's the first event of the 2013 season was nothing short of a success.
In just four months, the SHRA put together a five class program that provides grassroots racers an affordable and fun place to race in the southwest. With sponsorship support from Mallory Screen Print & Embroidery, Robinson Restoration and Service and Meyer Enterprises and bonus programs from Good Vibrations Motorsports, Harry's Hot Rod & Truck Accessories, Triple C Agency, North Texas Diesel, Competition Sales of Dallas and Alky Diggers, the call went out to bring the first SHRA classes up to the lanes and time trials got underway.
The Hot Rod and Nostalgia Bracket racers laid down big burnouts and wheel standing action throughout their time trial rounds and got their cars dialed in and ready for eliminations. In Nostalgia Eliminator class action, Mickey Smith qualified number one in the Nostalgia Eliminator 3 (5.30 index class) after making the tow from Little Rock, Arkansas. Johnnie Laird put his Oklahoma based injected front engine dragster at the top of the qualifying chart in the (4.90 index) Nostalgia Eliminator 2 and fellow "Okie" Ted McCord took the top spot in the (4.65 index) Nostalgia Eliminator 1 class qualifying.

Final Nostalgia Eliminator Qualifying Order:
Nostalgia Eliminator 1 - 4.65 Index
1. Ted McCord (Claremore, OK) - 4.68 @ 150 mph
2. Chris Stouffer (Cleburne, TX) - 4.70 @ 147 mph
3. Steve Dunkin (Aledo, TX) - 4.71 @ 148 mph
4. Steve Matthews (Ardmore, OK) - 4.76 @ 146 mph
5. Wes Breiten (Wolfe City, TX) - 4.91 @ 134 mph
6. Leonard Ament (Denton, TX) - 5.12 @ 137 mph
7. Eddie Taylor (Arlington, TX) - Broke
8. Chris Graves (Carrollton, TX) - Broke

Nostalgia Eliminator 2 - 4.90 Index
1. Johnnie Laird (Ardmore, OK) - 4.95 @ 139
2. Thomas Hixson (Keller, TX) - 5.25 @ 131
3. Don Holley (Aubrey, TX) - 6.66 @ 99
4. Junior Kolar (Ft. Worth, TX) - 6.71 @ 110
5. Richard Brady (Ft. Worth, TX) - 4.88 @ 141
6. Bee Godwin (Iowa Park, TX) - Broke

Nostalgia Eliminator 3 - 5.30 Index
1. Mickey Smith (Little Rock, AR) - 5.30 @ 127
2. Tom Drozd (Lake Dallas, TX) - 5.37 @ 115
3. Doug Morrison (Gainesville, TX) - 5.426 @ 126
4. Dusty Rose (Norman, OK) - 5.427 @ 123
5. Ron Walden (Kilgore, TX) - 5.45 @ 123
6. Ron Muncy (Weatherford, TX) - 5.62 @ 120

HOT ROD ELIMINATIONS
Twenty seven pre-79 door cars came to battle for bragging rights and cash in the Hot Rod class and after two rounds of eliminations the quarter finals brought Chris Jarvis, Rick Mariano, Gibbs Evans, Stephen Foster, Paul Ruliffson, Timothy Lyons and Bill Cogswell to the lanes. Cogswell took out Evans in the first pair of the quarterfinal round followed by a win by Lyons over Jarvis. Ruliffson ended the day for Mariano and Foster earned the competition bye run into the semi-finals.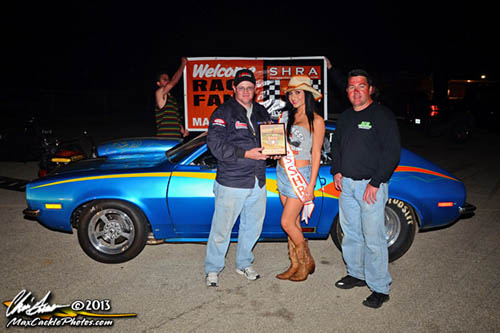 Bill Cogswell and crew celebrate win.
Timothy Lyons wheeled his 1965 Biscayne to the line to face off against Steven Foster's 1968 Camaro to open the semi-final elimination round in Hot Rod. Foster's nerves got the best of him at the line as he red lit and Lyons advanced to the final round to face the winner between Paul Ruliffson's 1978 Dodge Pick-Up and Bill Cogswell in his 1971 Ford Pinto. It was another red light that ended the day this time for Ruliffson as Aubrey, Texas resident Cogswell made his pass down the North Star Dragway eighth mile to advance to the Hot Rod final against Dallas, Texas based Timothy Lyons.
In the Hot Rod class final, Cogswell used a starting line advantage and a 6.50 on a 6.48 dial in to take the win over Lyons who's 8.87 on and 8.86 dial came up just short at the stripe. Cogswell claimed the first SHRA Hot Rod class victory in his 1971 Ford Pinto and was all smiles in the winner's circle after putting together five consecutive win lights to come out on top.
Hot Rod Final Round Results:
(W) Bill Cogswell (.524 rt) 6.50 @ 103 mph (6.48 Dial)
(L) Timothy Lyons (.569 rt) 8.87 @ 75 mph (8.86 Dial)
NOSTALGIA BRACKET ELIMINATIONS
In the Nostalgia Bracket class quarter finals, James Armstrong lined up his injected 1932 T bodied altered against Brad Thompson's wheel standing 1966 Pontiac A/FX. Thompson had the better reaction time but broke out at the stripe advancing Armstrong to the semi-finals. Keith Darrow wheeled his 1923 T bodied altered to the line against Travis Resar's 1929 coupe. Darrow went red at the starting line advancing Resar to the semi-finals with Mark Midler also advancing to the semi-finals on a competition bye run after making the tow all the way to Texas from North Mankato, Minnesota to run his front engine dragster with the SHRA.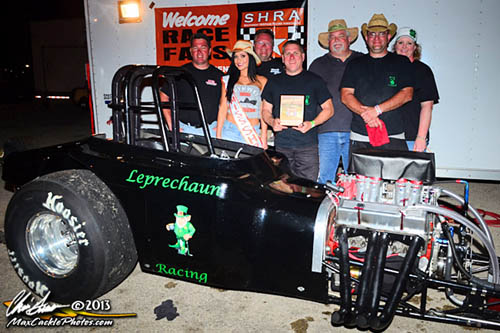 James Armstrong celebrates win with crew.
In the Nostalgia Bracket semis, Midler had the better reaction time against Armstrong but at the stripe Midler broke out with a 7.23 on a 7.26 dial as Armstrong took the win with a 5.73 on a 5.70 dial and advanced to the final round to face off with Travis Resar who benefitted from the competition bye run to find himself in the money round against Armstrong.
James Armstrong of Crowley, Texas and Thomas Resar of Moore, Oklahoma brought their machines to the line to crown the first SHRA champion in the Nostalgia Bracket final round and Resar was off the line first but at the stripe broke out with an 8.99 on a 9.41 dial. Armstrong, who had the lucky hand with opponents breaking out against him three rounds straight, posted a 6.08 on a 5.68 dial to secure the first SHRA Nostalgia Bracket win of the season for the Jon Woodford owned "Leprechaun Racing" team. Congratulations to the entire team on their first win as a team and historic win at the SHRA debut event.
Nostalgia Bracket Final Round Results:
(W) James Armstrong (.660 rt) 6.08 @ 114 (5.68 Dial)
(L) Thomas Resar (.628 rt) 8.99 @ 64 mph (9.41 Dial)
NOSTALGIA ELIMINATOR 3 (5.30 INDEX) ELIMINATIONS
Opening the first round of eliminations in Nostalgia Eliminator 3 was veteran Ron Muncy facing off against twenty year old Dusty Rose. Rose's youth might have got the best of him as he went red by ..011 as Muncy posted a 5.56 at 121 mph to advance. Number one qualifier Mickey Smith used the quickest reaction time of the round and a 5.35 at 120 mph to take the win over Ron Walden whose 5.54 came up short at the big end. In the final pair of the opening round, a pair of beautiful altereds came to the line with Doug Morrison lined up with Tom Drozd. Morrison used a starting line advantage to take the win with a 5.41 at 126 mph to take out Drozd's quicker but loosing 5.39 at 121 mph.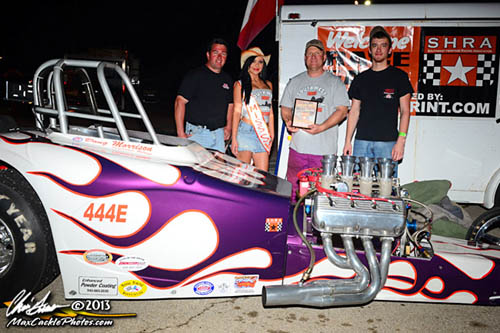 Doug Morrison and crew celebrate win.
Mickey Smith and Doug Morrison rolled through the waterbox to kick off the NE3 semi-finals. Morrison again earned the holeshot win as his 5.40 at 126 mph was enough to hold off Smith's quicker but loosing 5.36 at 121 mph in the closest race of eliminations. Ron Muncy benefitted from the competition bye run and posted a 5.75 at 118 mph in his injected 112" altered to move into the final.
Muncy and Morrison brought their alcohol injected altereds to the line in the NE3 final round, both experienced racers ready to battle for the first win of the season. Morrison had this one from start to finish as he left on Muncy and never looked back, posting a winning 5.43 at 120 mph to Muncy's 5.63 at 121 mph. Congratulations to Doug Morrison and team on their victory in NE3 as he will lead the points heading into the second event of the season on April 20th at the Texas Motorplex.
Nostalgia Eliminator 3 Final Round Results:
(W) Doug Morrison (.473 rt) 5.43 @ 120 mph
(L) Ron Muncy (.579 rt) 5.63 @ 121 mph
NOSTALGIA ELIMINATOR 2 (4.90 INDEX) ELIMINATIONS
Eliminations began in Nostalgia Eliminator 2 with a pair of injected front engine dragsters as Richard Brady crept into the stage beams lined up against Johnnie Laird. Brady took a slight starting line advantage and never looked back posting a 4.91 at 130 mph to Laird's 5.09 at 135 mph. Junior Kolar was out next in his altered against Don Holley's injected slingshot dragster. Holley left the red light glowing at the starting line and Kolar's 5.43 at 124 mph moved into the semi-finals. Thomas Hixson was the beneficiary of the competition bye run and he posted a 5.29 at 129 mph in his injected front engine machine to move into the semis.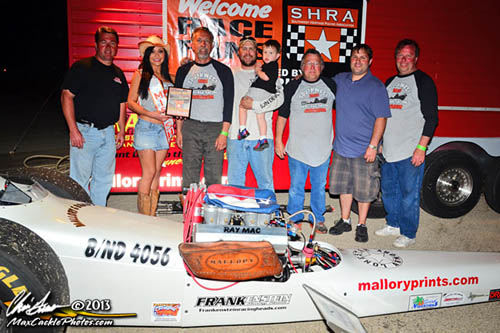 Richard Brady celebrates win with crew.
Junior Kolar and Thomas Hixson were out first in the semi-final round and Hixson jumped the gun at the line and red lit his better 5.37 at 127 mph away while Kolar advanced to the final round with a 6.29 at 80 mph to face Richard Brady who tripped the clocks with a 5.00 at 139 mph on the competition bye run.
In an altered vs. dragster final round, Brady and Kolar brought their machines to the line to battle for the win in NE 2. Brady was off the line first and his 5.00 at 130 mph was more than enough to take the nod over Kolar's 5.41 at 119 as Brady earned the NE2 win at North Star Dragway. Congratulations to the Mallory & Brady injected dragster team on their victory.
Nostalgia Eliminator 2 Final Round Results:
(W) Richard Brady (.035 rt) 5.00 @ 130 mph
(L) Junior Kolar (.232 rt) 5.41 @ 119 mph
NOSTALGIA ELIMINATOR 1 (4.65 INDEX) ELIMINATIONS
In the Nostalgia Eliminator 1 class, a field of all blown front engine dragsters and altereds rolled to the lanes for the opening round of eliminations. Chris Stouffer wheeled his "Defiant" dragster to the line to face off against number one qualifier Ted McCord in his "Senior Moment" blown slingshot. McCord left the line a tad too soon and had the best seat in the house to watch Stouffer advance to the semis with a 4.74 at 147 mph. The next pair brought Steve Matthews front engine dragster to the line against Leonard Ament driving Frances Newlin's "Cantankerous" blown altered. Matthews took the advantage off the line and his 4.76 at 146 mph was enough to hold off Ament's best pass of the day with a 4.85 at 138 mph. In the final pair, Wes Breiten wheeled his "Bad O'Man" blown altered to the beams alongside Steve Dunkin's "Foolish Pleasure" blown dragster. Dunkin also lit the red bulb and his quicker 4.73 at 148 mph was wasted as Breiten took the stripe with a winning 4.78 at 144 mph.
Steve Matthews and Wes Breiten were out first in the semi-final round of NE1. Breiten took a large starting line advantage but at halftrack smoke erupted from the header pipes of the "Bad O'Man" altered as engine damage slowed Breiten and Matthews posted a strong 4.69 at 147 mph to advance to the final. Chris Stouffer drew the lucky bye run and posted a 5.08 at 114 mph to move into the final round to face Matthews.
A pair of silver blown front engine dragsters laid down side by side burnouts and after final adjustments from the crew, the drivers crept into the beams to battle for the first SHRA NE1 event title. Steve Matthews left the line first and held strong to click off a winning 4.72 at 147 mph to Stouffer's 4.88 at 141 mph as the Matthews Racing Team of Ardmore, Oklahoma claimed the SHRA Spring Nostalgia Nationals crown in Nostalgia Eliminator 1.
Nostalgia Eliminator 1 Final Round Results:
(W) Steve Matthews (.463 rt) 4.72 @ 147 mph
(L) Chris Stouffer (.494 rt) 4.88 @ 141 mph
After a full day of old school drag racing at North Star Dragway, the SHRA's debut event was a wrap. The sportsman classes will return to North Star Dragway for their next SHRA event on July 6th with a chance to showcase their talents at the track's biggest event of the year. Meanwhile, the SHRA Nostalgia Eliminator teams will have just one week off before heading to the Texas Motorplex to strut their stuff at the 2nd Annual "Old School Showdown" on April 20th in Ennis, TX.
For more information on the MalloryPrint.com Southwest Heritage Racing Association visit the series website at www.shraracing.com.

SHRA Bonus Program Winners: 
Good Vibrations Rd. 1 Quick Reaction Time
Nostalgia Eliminator 1 - Wes Breiten (.036)
Nostalgia Eliminator 2 - Thomas Hixson (.004)
Nostalgia Eliminator 3 - Mickey Smith (.018)

Harry's Hot Rod & Truck Accessories Best Losing Rd. 1 Package
Hot Rod Bracket - Bill Robinson
Nostalgia Bracket - Keith Darrow

Triple C Agency Long Haul
Hot Rod Bracket - Paul Stavlo & Lynn Stedje (Gruver, TX)
Nostalgia Bracket - Mark Midler (North Mankato, MN)

North Texas Diesel Closest To Index Nost. Elim Rd. 1 Loser
Steve Dunkin - Nostalgia Eliminator 1

Competition Sales Of Dallas Luck Of The Draw
John Wilson

Alky Diggers Luck Of The Draw Nost. Eliminator
Ron Walden





Drag News: 10 Most Recent Entries [ top ]

Apr 22- K&N Spring Fling Million Final Day Results
Apr 21- K&N Spring Fling Million Friday Results
Apr 20- K&N Spring Fling Million– Thursday Results
Apr 19- K&N Spring Fling Million- Wednesday Results
Apr 18- Buckeye S/SS @ National Trail April 28th
Apr 18- Don "the Snake" Prudhomme Returns To Baja Competition After 50 Years
Apr 18- K&N Spring Fling Million Tuesday Results
Apr 17- K&N Spring Fling Million Pre-Race
Apr 12- Summit Racing Equipment is Newest Sponsor of Midwest Junior Super Series
Apr 12- Summit Racing Named Official MWPMS Sponsor and Event Title Rights Holder