Sat, 06 Apr 2013, 21:45 PM



Johnson Scores Second Horsepower Challenge Title



Courtesy of Candida Benson, National Dragster


Photo copyright 2013 Auto Imagery, Inc.





LAS VEGAS --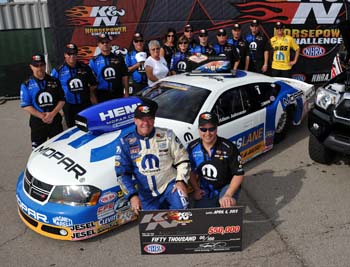 Johnson and crew celebrate win.
Allen Johnson picked up a second K&N Horsepower Challenge trophy when he defeated Erica Enders-Stevens in the final of the Pro Stock bonus event, held in conjunction with the SummitRacing.com NHRA Nationals at The Strip at Las Vegas Motor Speedway. Johnson, who won the 2008 Horsepower Challenge, pocketed $50,000 for the win.
"Any time you can stack up against the eight drivers that were in that thing, just to be there is an honor, and to beat them is an even bigger honor," said Johnson. "The new Dodge Express Lane Dodge Avenger is awesome. The new gig is that we do everything at the track fast, just like the guys at Chrysler do to change your oil in the Mopar Express Lane. We got it done today. It was a lot of fun. I appreciate K&N. Man, what an awesome company to sponsor this thing. We've been out here with them for many years now, and they're quality people and a quality company."
Johnson became the early favorite to win the event when he powered to a 6.65 in the opening round against Jeg Coughlin Jr. that ended up being low e.t. of Horsepower Challenge eliminations. Johnson also had the best run of the semi's, posting a 6.68 against Greg Anderson, the driver who Johnson defeated in the 2008 Horsepower Challenge final.
On the other side of the ladder, Enders-Stevens began with a 6.68 to 6.70 victory over last year's Horsepower Challenge winner, Vincent Nobile, then advanced to her first final when she stopped Jason Line, 6.71 to 6.76.
Johnson defeated Enders-Stevens
The final did not go as expected when both Johnson and Enders-Stevens encountered tire shake at the hit. Both cars got squirrely, and Enders-Stevens was forced off the throttle because of it. Johnson was able to settle his car and drive it to the finish line in 7.18 seconds to turn on the win light.
Johnson's victory was also a triumph for Vincent Jardine, of Rockland, Ill., the fan who was paired with the reigning NHRA Mello Yello Drag Racing Series champion. Jardine won a '13 Toyota Tundra pickup.
"Vincent won him a new Toyota Tundra truck. It's a nice truck, like a Baja edition or something," said Johnson. "He's from near Joliet [Ill.], and he's already wanting tickets to bring the family out, so I've already told him he's my good-luck charm, so I'll set him up."
If Johnson can win Sunday's SummitRacing.com NHRA Nationals, he will earn a $25,000 double-up bonus.
"We've got a strong car," said Johnson. "We qualified No. 2, so we'll go out there and try to make the right decision and keep lane choice. Lane choice is pretty big for us. We'll go out there and give it our best, and I think we've got a good shot at it."




NHRA: 10 Most Recent Entries [ top ]

Apr 20- HOUSTON - Friday Wrap
Apr 20- HOUSTON - Saturday Schedule
Apr 20- HOUSTON - Top Fuel Qualifying, Session #2 Order
Apr 20- HOUSTON - Top Fuel Qualifying Notes, Session #2
Apr 20- HOUSTON - Pro Stock Qualifying, Session #2 Order
Apr 20- HOUSTON - Funny Car Qualifying, Session #2 Order
Apr 20- HOUSTON - Pro Modified Qualifying, Session #2 Order
Apr 20- HOUSTON - Funny Car Qualifying Notes, Session #2
Apr 20- HOUSTON - Pro Stock Qualifying Notes, Session #2
Apr 20- HOUSTON - Pro Modified Qualifying Notes, Session #2