Sat, 06 Apr 2013, 12:26 PM



Litton Tops Charts in Top Fuel Return to San Antonio



Courtesy of IHRA Communications



Litton, Sanders, Hope and Turner Take Home Wins on Opening Day of Nitro Jam



MARION, Texas --
After a one-year hiatus for Top Fuel at San Antonio Raceway, the fans of the Alamo City welcomed the world's fastest machines back to the famed facility in overwhelming fashion as Bruce Litton topped the charts and took home the Ironman Friday night at the San Antonio Nitro Jam presented by CarSafe and Good Vibrations Motorsports.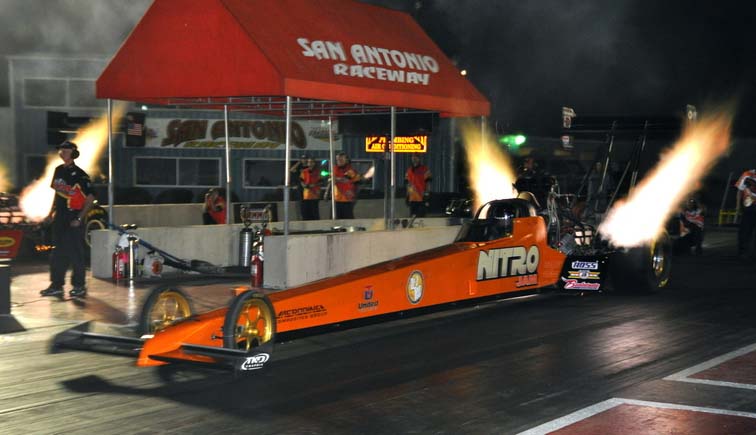 Bruce Litton was glad to be back in
San Antonio as he took the win in Top Fuel.
Other winners during the opening night of the San Antonio Nitro Jam included "Mr. Explosive" Mark Sanders in his brand new 1970 Mustang-bodied Funny Car in AMSOIL Prostalgia Nitro Funny Car, Ron Hope in Fuel Altered and Jay Turner in Nitro Harley.
Litton, driving the bright orange "Nitro Jam" Top Fuel machine, topped the speed charts during Day 1 of the San Antonio Nitro Jam, taking home the win in a very close race against prot?g? Kyle Wurtzel. Litton won a close race on the tree with a .101 to a .128 and used that advantage to nip the driver of the "High Yield" rail with a 4.914 to a 4.913 with Litton topping out at 283.02 miles per hour.
"We had a few issues in round one, but we figured it out and had a great race against Kyle," Litton said. "We were side-by-side the length of the track and it was very close at the line. That was a very exciting race and we were glad to take the win."
'Mr. Explosive' Mark Sanders defeated
Pete Gallen in the Funny Car final.
Neither driver had much luck in the opening tilt, with Wurtzel actually topping the round with a 5.250, 198.15 pass.
Mark Sanders had perhaps the most rewarding win of the day as he bested Peter Gallen in a true showdown of east versus west. Pennsylvania's Gallen had the best pass in round one - and the best pass of the night - when he posted a 5.800, 250.98 to advance to the final against the Seattle, Washington native, but Gallen's car lit the tires in the final and he was forced to shut it off as "Mr. Explosive" blasted across the line in his 1970 Mustang with a 5.952, 239.23 pass to take the Ironman.
"Boy what a win for the 'Mr. Explosive' team," Sanders said. "This car has been on a rail since Jake (Sanders) put this sucker back together last year and now here we are putting down some awesome laps and to do it against such a great team as Pete has, all I have to say is wow. What a win, we will be celebrating with all of the great fans in San Antonio tonight."
In the consolation round Texas native John Hale powered past Greg Jacobsmeyer to take the win.
In the final nitro pairs Nitro Harley had easily the most exciting race of the night as the pair of nitro-powered motorcycles produced a side-by-side final with fire pouring from the pipes and a race separated by approximately two feet at the line.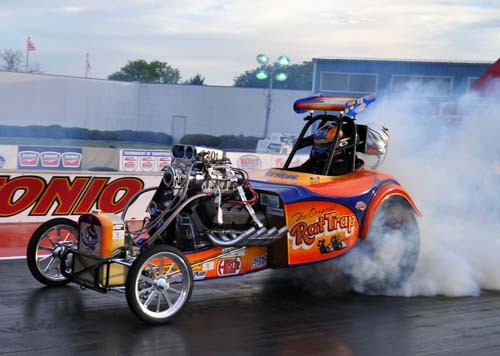 Ron Hope put the legendary 'Rat Trap'
machine back in the winner's circle.
While both Jay Turner and Tracy Kile had less than stellar passes in their opening rounds, the pair more than made up for it in the final with Turner getting off the line first with a .036 reaction time and crossing the finish line first as well with a 6.552, 198.94 pass to Kile's 6.489, 211.27.
Wrapping up the nitro action was Ron Hope who won in a pedal-fest against Kyle Hough to put "Rat Trap" back in victory lane after a strong finish to 2012. Hope had a smoking 9.578, 142.27 in picking up the win.
Sportsman racers on the property got in one round of qualifying on Friday in preparation for Saturday's Summit Racing Equipment Pro-Am Tour competition.
Nitro Jam will resume on Saturday with Day 2 of the San Antonio Nitro Jam presented by CarSafe and Good Vibrations Motorsports with sportsman racing throughout the day followed by two more rounds of Nitro Jam, including all of the nitro action plus jet dragsters, jet funny cars, the "Super Shockwave" jet truck, fireworks and more, beginning at 7 p.m.
Friday's final results from the IHRA San Antonio Nitro Jam presented by CarSafe & Good Vibrations Motorsports Day One at San Antonio Raceway. The race is the second of eight in the 2013 Nitro Jam Series--
TOP FUEL
Bruce Litton, Indianapolis, Ind., 4.914 seconds, 283.02 mph def.
Kyle Wurtzel, Warsaw, Ind., 4.913 seconds, 278.29 mph.

PROSTALGIA NITRO FUNNY CAR
Mark Sanders, Maple Valley, Wash., '70 Mustang, 5.952, 239.23 def.
Peter Gallen, Broomall, Pa., '77 Monza, 18.035, 56.51.

NITRO HARLEY
Jay Turner, Julian, N.C., 6.552, 198.94 def.
Tracy Kile, Asheville, N.C., 6.489, 211.27.

NOSTALGIA FUEL ALTERED
Ron Hope, Franklin, Tenn., '33 Bantam, 9.578, 142.27 def.
Kyle Hough, Las Vegas, Nev., '23 roadster, 10.374, 89.52.





IHRA: 10 Most Recent Entries [ top ]

Apr 24- Racers Receive Prizes at IHRA Summit Sportsman Spectacular Opener
Apr 24- Comeaux, Hughes Make History at IHRA Summit Sportsman Spectacular
Mar 21- 2018 IHRA Summit Sportsman Spectacular Series on April 20-22
Feb 26- Weather-Related Construction Delays Postpone IHRA Xtreme Raceway Park Opener
Feb 16- IHRA Summit Sportsman Spectacular Schedule Announced
Feb 15- New York Track Finds Value for Racers with IHRA Agreement
Feb 15- IHRA Summit Sportsman Spectacular Debut Only One Month Away Now is the Time to Pre-Enter
Feb 15- Summit Texas Location is a Racers' Paradise
Feb 15- Canadian Track Makes Large Commitment to IHRA Drag Racing
Jan 27- Mid-Michigan Destination Joins IHRA Family