Tue, 02 Apr 2013, 09:55 AM



Let's Get Back To Racing



By Bob Frey


Photo copyright 2013 Auto Imagery, Inc.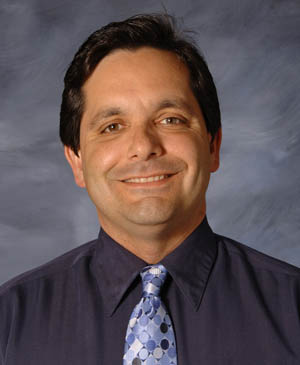 John Cardinale
Now that the Easter break is over it's time to get back to some serious racing, but before we do that I wanted to mention the passing of a true friend of everyone in the sport,
John Cardinale
. John was the head of the media and public relations department for
Sonoma Raceway
for more than a decade and nobody did their job better than he did. More than that he was a wonderful person with an outgoing personality who made everyone around him feel better and work harder. We were told about two years ago that he had cancer and we all prayed that he would get better. When we went to
Sonoma
for the NHRA national event last year John was there and he looked and sounded great and we all felt that he had won his battle, but little did we know what was ahead for him. He passed away about two weeks ago at the way too young age of forty-seven and he leaves behind a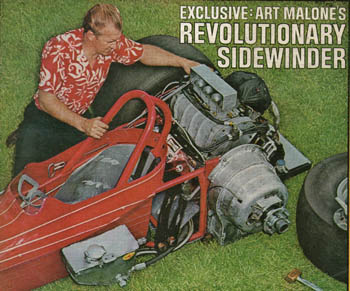 Art Malone on the cover of Hot Rod.
wife and two young daughters. He also leaves a void that can't be filled. Sure, someone will take over the position but nobody will ever replace him. He was a special person and we are all better for having known him. A memorial fund has been set up on behalf of his family and donations may be sent to the
John Cardinale Memorial Fund
, c/o Sonoma Raceway,
29355 Arnold Drive
,
Sonoma
,
CA
95476
. Contribute if you can, if not at least we can all keep his family in our prayers..Also I was sad to hear of the passing of
Art Malone
. The "Colonel" as he was known was one of the most versatile racers ever having participated in USAC racing, the Indy 500 and, of course, drag racing. He won the AHRA World Championship, drove for
Don Garlits
and was runner-up to Don at the first Top Fuel show at the Winternationals in 1963. Art had some truly unique cars that he drove and was regarded as one of the greats in the formative years of the sport. Art was inducted into the
International Drag Racing Hall of Fame
in 1997 and will be missed by everyone in the drag racing community.
It's almost hard to believe that this will be the fourteenth year for the national event in Las Vegas. The race, which is one of three NHRA Mello Yello events to be sponsored by Summit Racing, begins Friday and will finish with the champions being crowned on Sunday. It has always been a fun race and I have to say that it's one of the events that I will really miss. I always enjoyed going to Las Vegas, being part of the activities that surround the event and watching the crowds pour into the track. It's a great facility and with the added bonus of the frequent fly-overs from nearby Nellis Air Force Base it takes on a unique quality that separates it from all the other events..As they have done in previous years there will be a big Fan Fest and autograph session to kick off the week. This year it will beheld at the New York New York Hotel & Casino and it should be a lot of fun. The event will be held on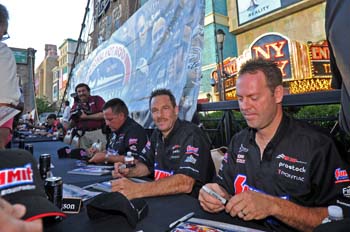 Drivers from last year's fan fest.
Thursday night and if you plan to go make sure you get there early because the first 200 fans will get a free
Summit Racing
hat that's perfect for collecting autographs. All of the reigning Pro champions will be there including
Antron Brown
,
Jack Beckman
and
Allen Johnson
along with both Summit Racing drivers,
Greg Anderson
and
Jason Line
as well as all of the drivers for
Don Schumacher Racing
so make sure you put that on your Las Vegas itinerary.
This year Spencer Massey, Robert Hight and Allen Johnson will look to defend their event titles in Vegas while Jim Whiteley, who won the Division 7 race this past weekend, and Tony Bartone will do the same in the top two alcohol classes. Did you know that Robert Hight has won the race three times including the last two years and he is the only Funny Car driver to win the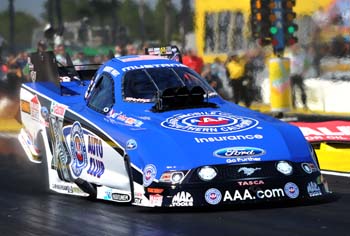 Robert Hight
event more than once? I often say that all a team needs to get back on the winning track is to go to a track where they do a lot of winning and that is the case with Robert. Robert has posted an impressive 16 -5 mark at this event which computes to a seventy-six percent winning record, and
did you know
that is Robert's best winning record for any event on the NHRA tour?...The
Auto Club Ford
has been shut out of the winner's circle for almost a full year and that is simply amazing. Some of it may have to do with his team missing a beat here and there but most of it is because the class is loaded with talent and it's just not easy to win one of these races. If you don't believe that just look at the defending series champion,
Jack Beckman.
So far in 2013 Jack has won two rounds and they have both come against his teammates and they both came at the Gatornationals. Because of the format with the "Countdown" it's not as damaging to a team to get off to a slow start as it used to be and you can be assured that both Robert and Jack will be right in the thick of things once the "Countdown" begins.
Did you know
that when Robert won the race last year from the number one spot he became the first Funny Car driver in the thirteen years at Las Vegas to win from the top spot?....While the first Las Vegas event of the year has been good to Robert you can't say the same about Jack.
Did you know
that in his seven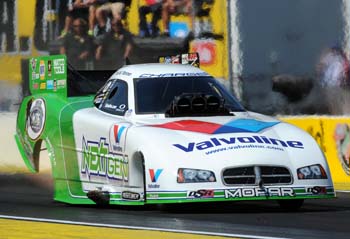 Jack Beckman
appearances at this event Jack has only made the semi-finals one time and he has never made it to the final round? I often ask what it is about certain tracks where some drivers do really well and others don't and I guess I could just ask Robert and Jack about that, couldn't I?.In addition to Robert there will be six other former event champions in action this week and they will all be looking to join him as multi-time winners in Las Vegas..With all of the talk about
Team Schumacher's
200
th
win in Florida it should be mentioned that the race also marked the 36
th
time that Don's teams have "doubled-up" at an event and that they have now been in over 400 final rounds. What a legacy for Don who will be inducted into the
International Motorsports Hall of Fame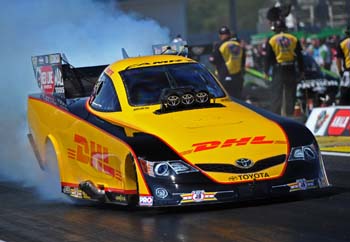 Del Worsham
later this month. I always say what an honor it is for a drag racer to be inducted into that Hall of Fame and if you don't believe me just ask
Kenny Bernstein
or
John Force
who were the last drag racers to be so honored. When you look around the room and see your picture on the wall with all the greats of the motorsports industry it is very humbling indeed. Congratulations to Don and his family for all they have done for our sport..I should point out that
Del Worsham
, who went to the final round in
Gainesville
, has now competed in 821 rounds of racing in his career.
Did you know
that those four rounds moved
Del
past
Bob Glidden
and into tenth place on the all-time list for most rounds raced in the professional classes?
As I mentioned last week with three different winners in the first three races of the season it appears that all of the pro classes are wide open this year and nowhere is that more apparent than in the Top Fuel class. Not only have there been three different winners to start the season but there have been five drivers in the six available final round spots at the first three races. Only Tony Schumacher has been to two finals while Shawn Langdon, Morgan Lucas, Antron Brown and Clay Millican have also made it to the money round. Did you know that there are only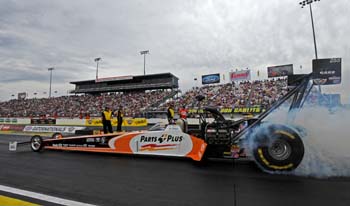 Clay Millican
two Top Fuel drivers who have won a round at all three races so far this year? Only
Khalid alBalooshi
and Antron Brown have managed to get past the first round at all three races so far and that's really surprising. Once again it points out how tough the pro classes are and how evenly matched a lot of the teams are and that should make for some good racing for the fans and some anxious moments for the teams. Let's face it, there are no easy draws anywhere in the pro ranks anymore, are there?...When you consider the fact the five drivers have shared the performance numbers so far it again illustrates how much parity there is in the class. Tony Schumacher, Shawn Langdon, Antron,
Doug Kalitta
and
Steve Torrence
have all had their names on the re-cap sheet that lists the number one qualifier along with the driver who set low elapsed time and top speed at the race. Torrence was the latest to join the group when he set top speed at the Gatornationals.
Did you know
that was the first time that Steve had the fastest car on the property? In the process Steve became the 100
th
Top Fuel driver to record Top Speed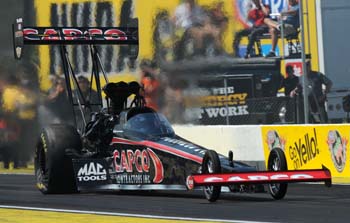 Steve Torrence
and he joins a list of "one-timers" that includes
Chuck Kurzawa
,
Gerry Glenn
and
Kenny Safford
among others.
Did you know
that Tony Schumacher leads all Top Fuel drivers with 91 top speeds recorded and that is far ahead of the second place driver,
Joe Amato
, who recorded top speed at sixty-nine events? Tony will be one of five former event champions in action in the dragster class this week.
It seems that I have been promoting, or at least mentioning, a lot of new books lately and I'm going to do it again. Hall of Fame member Steve Reyes, who is a frequent contributor to this website, has published another book and this one centers on Pro Stock. Called "The Dawn of Pro Stock" it features some of the greats and a lot of the lesser known Pro Stock drivers from the early days of the sport. Naturally you'll see lots of Bob Glidden, Lee Shepherd and Warren Johnson shots but you'll also see Nelson De Champs, Bert Strauss and "Super" John McFadden. Now I ask you, where else can you get all of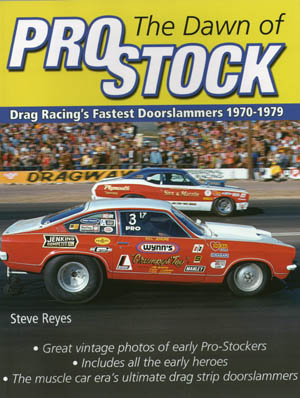 that in one place? Steve, who made a living shooting spectacular shots of fuel cars on fire, blowing up, crashing or all of the above, has gathered some of the best Pro Stock pictures available for this book, and while not all of the pictures are his they do tell a very interesting story about the history of the class, and if you're a fan of the gasoline burning "door slammers" this book is a must for you. The book is published by
Cartech
and can be found at
www.Amazon.com
.
Allen Johnson waited until the third race of the season to get his first win of the year and it sure looks like he will be a factor again this year in the race for the championship. Allen won the race in Phoenix in 2005 and that is the earliest in the season that he has ever recorded a win. Of course that turned out to be his only win that year and by the end of the season he was out of the top ten altogether. Did you know that at the end of 2005 Allen had a grand total of eighty-three round wins? He now has 314 so that means that he has won 231 rounds since then and that shows you how good he has been in recent years. Those 314 round wins have him tied with Bruce Allen for tenth place on the all-time Pro Stock win list and just goes to show what determination and drive can do for a team. AJ was 83-188 for his career after that '05 season and he is now 314-265 and a threat to win every race. Allen is the defending champ in Vegas and he will be one of six former winners of the event who will be in action this week..Since I mentioned Allen's numbers since 2005 it's only right that I throw out a couple of others to show you how he stacks up by comparison. Did you know that among the top drivers in the class since the end of 2005 Greg Anderson has won an amazing 299 rounds, his Summit Racing Teammate Jason Line has won 264 and Mike Edwards has won 232? And since this is (or was) the time of March Madness I wouldn't be surprised if those drivers make up the "Final Four" in Pro Stock at the end of the year. Of course Jeg Coughlin, Vincent Nobile, V. Gaines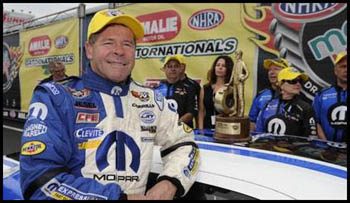 Johnson enjoys his Gainesville win.
Photo copyright 2013 NHRA
and others may and probably will have something to say about that and that's what will make the season so exciting...The
K&N Horsepower Challenge
will take place this week and Jeg Coughlin won the fan vote for the eighth and final spot in the lucrative event.
Did you know
that Jeg has won the event three times and that is second best in the history of the "Challenge?"..Two of the best drivers in the class will try to break long droughts in the "Challenge."
Did you know
that Mike Edwards has been in the race nine times and Jason Line has been in it eight times and neither one of them has ever won it? Amazing, isn't it? By the way, based on the way they are both running now if I were a betting man (which I'm not), I would bet on one of them to win it this year. Stay tuned..
As tough as the economy is and has been for a while it's interesting to note that most of the Lucas Oil sportsman classes are full for the Las Vegas event. Super Stock, Super Comp and Super Gas are at 100% of quota while Stock Eliminator is over 90%. Only the Top Alcohol Dragster and Comp fields are lagging in entries but overall the quantity and quality of cars looks pretty good for this event and that's a good sign for everyone..Eighteen year old Ashley Sanford will make her debut in a Top Alcohol Dragster this week and she will be a welcome addition to the class. While the field is a little short on entries right now she will be joining the likes of World Champion Jim Whiteley, former Las Vegas winner Joey Severance and Megan McKernan among others in the field. Ashley comes from a family of racers and we'll see if she can do as well on the asphalt as her father has done on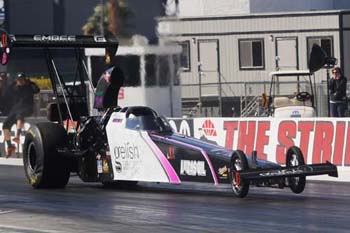 Ashley Sanford
Photo copyright 2013 Tim Marshall
the sand. Good luck to Ashley who lists snowboarding and wakeboarding as her hobbies. Gee, me, too!!...In a completely unrelated story, if you can't make it to
Las Vegas
but you can make it to
Charlotte
you may want to take in the special racing seminar that will be presented by
Hagerty Insurance
. To be held in conjunction with the huge Auto Fair at the
Charlotte Motor Speedway
the special panel discussing drag racing will be held on Saturday and will include
Bruce Larson
,
Buddy Martin
,
Jon Lundberg
and
Bob Doerrer
along with moderator
Norman Mayersohn
of the
New York Times
. It sounds like a fun time and anytime you have Jon and Bob in the same place you never can tell what may happen. Both are great story tellers, both former drag racing announcers and both have been around the sport for a long time. Now that I think about it there probably aren't two drag racing announcers who are farther apart in style than Bob and Jon.
Still, with Bruce and Buddy along it promises to be a fun day..
Did you know
that one of the many drag races that I announced in my career took place on the return road at the Charlotte Motor Speedway? That's something that even Jon and Bob can't say that they ever did.


NHRA: 10 Most Recent Entries
[ top ]
Apr 24
-
CHARLOTTE 1 - Steve Torrence Enjoying Four-Wide Success Heading to NGK Spark Plugs NHRA Four-Wide Nationals
Apr 24
-
CHARLOTTE 1 - Fact Sheet
Apr 24
-
Kalitta Motorsports Welcomes NASCAR Stars to the SealMaster Track Walk in Charlotte
Apr 24
-
zMAX Dragway Celebrates 10th Anniversary
Apr 24
-
CHARLOTTE 1 - NGK Spark Plugs NHRA Four-Wide Nationals Brings 40,000 Horsepower Thrill Show to zMAX Dragway
Apr 23
-
HOUSTON - Lucas Oil Drag Racing Series Wrap Up The NHRA Lucas Oil Drag Racing Series Wrap Up
Apr 23
-
CHARLOTTE 1 - J.R. Todd Aiming for Two Four-Wide Racing Wins in 2018
Apr 23
-
Mid America Dragway Joins NHRA Member Track Network
Apr 23
-
HOUSTON - Special Awards
Apr 23
-
HOUSTON - Sunday Video