Sun, 24 Mar 2013, 15:52 PM



Hough, Rupert Blast to Victory at Arizona Nitro Jam



Courtesy of IHRA Communications



First Time Winners Dominate Headlines at First Nitro Jam of 2013 at SIR



TUCSON, Ariz. --
Last year was a bit of an oddball season for IHRA rookie Kyle Hough.
Hough was good alright, visiting seven finals and winning the 2012 Nitro Jam Fuel Altered championship all in his first season behind the wheel. But, despite his championship producing season, Hough didn't collect one victory. Not one.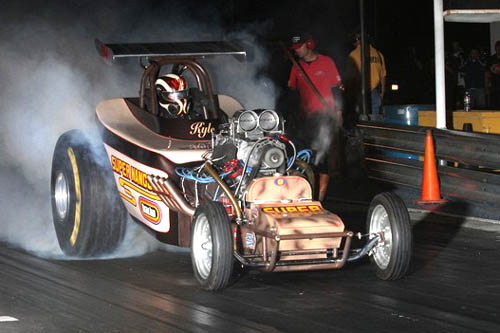 Fuel Altered driver Kyle Rough won his first career Nitro Jam Saturday at SIR.
That all changed Saturday night.
With consistency being key to Hough's championship during his rookie campaign last season, Saturday Hough put it all on the line and let the numbers do the talking as the Las Vegas, Nevada native blasted to his first career Nitro Jam win behind the wheel of the famed "Nanook" machine at the Arizona Nitro Jam presented by CarSafe and Good Vibrations Motorsports at Southwestern International Raceway.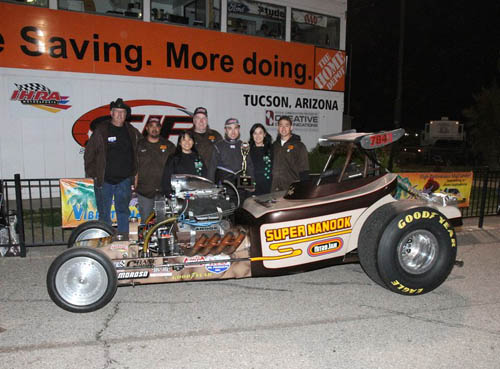 Hough and crew celebrate win.
Hough joined AMSOIL Prostalgia Nitro Funny Car champion Jason Rupert, also collecting his first Nitro Jam win, and sportsman winners Vern Bolton (Top Dragster), Howard Gerstel (Top), John Nacis (Mod), Grant Jones (Junior Master) and Samantha Barajas (Junior Beginner).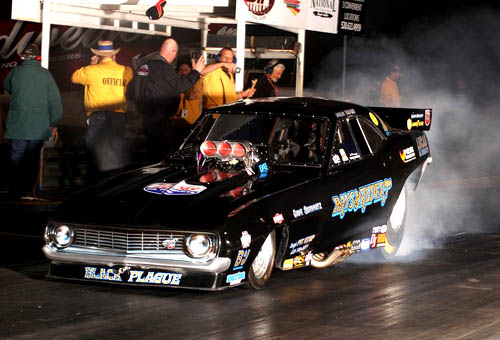 Jason Rupert collected the win in AMSOIL Prostalgia Nitro Funny Car
when opponent Steven Densham went red.
Hough put together two solid laps on Saturday, blasting past Ron August Jr. in the "Pure Hell" machine in round one and adding another winning pass against the fan-favorite "Arizona Thunder" driven by Mike Hilsabeck. Knowing he had been to this point seven times in 2012 only to come up short, Nanook steered the "Nanook" Fuel Altered right down broadway with a 6.829, 198.52 in the final to collect his first career win over Hilsabeck who ran a 7.081, 160.21. The pair had identical .176 reaction times.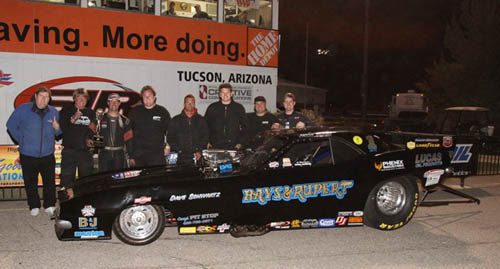 Rupert and crew celebrate win.
In the Fuel Altered consolation round Ron Maroney in "Blind Faith" drove around August in the "Pure Hell" entry.
Also picking up his first win on Saturday was California native Jason Rupert in his shiny new "Bays & Rupert" Camaro Funny Car. Rupert, the two-time defending NHRA Heritage Series champion, had the lane all to himself in round one against a broke Mike Halstead and used a red light from Steven Densham in the "Teachers Pet" Camaro to collect his first career Ironman. John Hale in the "Nitro Boss" Mustang won the consolation pairing over Halstead and the "Candies & Hughes" team with the best Funny Car pass of the night, a solid 5.903, 247.02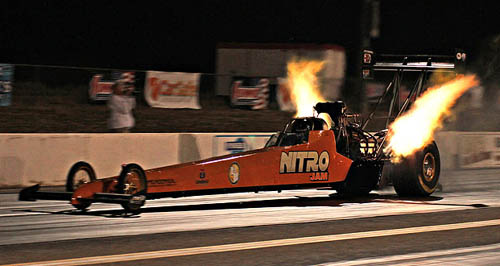 Bruce Litton brought the sold out crowd to its feet Saturday at SIR.
Saturday's other big winner was Indianapolis, Indiana native Bruce Litton who drove his Top Fuel machine to two easy wins over Curt Eierdam in the "Invader" jet-powered dragster. While Eierdam closed the night with the fastest speed of the weekend, Litton's 8,000 horsepower machine was too much off the line and easily coasted across the finish line for two round wins.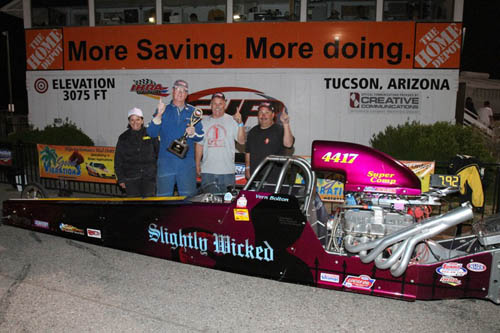 Bolton won Top Dragster.
In sportsman action Roswell, New Mexico's Vern Bolton went four big rounds on Saturday to win the Top Dragster shootout, defeating Tucson's own Tom Koenen in the final with a near-perfect .001 light and a 7.92 on a 7.963 dial at 156.77 miles per hour.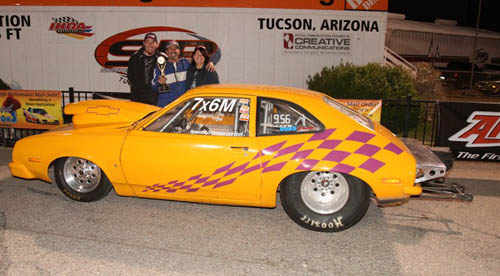 Gerstel won Box ET
Top winner Howard Gerstel, of Sahuarita, Arizona, drove his unique 1975 Ford Pinto six rounds on Saturday to pick up a win over Luis Martin who broke out, while John Nacis of Huachuca, Arizona won in Mod over Bruce Stone with a 10.80 on an 11.292 dial at 97.76 mph in his '68 Chevy Camaro.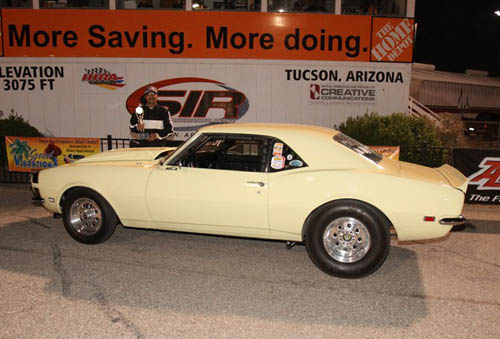 Nacis won No Box ET.
Rounding out Saturday's big winners were Grant Jones who defeated Gabriel Brown in the Junior 13-17 category and Samantha Barajas who defeated Keeli Tatge in the Junior 8-12 category.
Next up for Nitro Jam is a trip to San Antonio Raceway for the biggest U.S.-based Nitro Jam of the year. Featuring Top Fuel Dragster, AMSOIL Prostalgia Nitro Funny Car, Fuel Altered, Nitro Harley, jet dragsters, jet funny cars, the 30,000 horsepower Super Shockwave jet truck, wheelstanders, fireworks and more, the San Antonio Nitro Jam presented by CarSafe and Good Vibrations Motorsports promises to be a night fans won't soon forget.
The San Antonio Nitro Jam is April 5-6 at San Antonio Raceway. For tickets visit www.nitrojam.com.
The following are Saturday's final results from the 2013 Nitro Jam Series IHRA Arizona Nitro Jam:
TOP FUEL
Bruce Litton, Indianapolis, Ind., 5.007 seconds, 246.35 mph def. Curt Eierdam, , , 5.734 seconds, 280.66 mph.
PROSTALGIA NITRO FUNNY CAR
Jason Rupert, Anaheim, Calif., '69 Camaro, 12.704, 74.04 def. Steven Densham, Bellflower, Calif., '68 Camaro, foul.
NOSTALGIA FUEL ALTERED
Kyle Hough, Las Vegas, Nev., '23 roadster, 6.829, 198.52 def. Mike Hilsabeck, Phoenix, Ariz., '23 roadster, 7.081, 160.21.
TOP DRAGSTER
Vern Bolton, Roswell, N.M., dragster, 7.963, 156.77 def. Tom Koenen, Tucson, Ariz., dragster, 6.671, 200.71.
BOX ET
Howard Gerstel, '75 Ford Pinto, 9.580, 138.26 def. Luis Martin Salido, dragster, 10.220, 135.86.
NO BOX ET
John Nacis, Huachuca, Ariz., '68 Chevy, 11.292, 97.76 def. Bruce Stone, Fulton, Md., dragster, 15.262, 104.79.
JUNIOR DRAGSTER ADVANCED
Grant Jones, dragster, 8.361, 76.65 def. Gabriel Brown, , , dragster, 7.972, 82.47.
JUNIOR DRAGSTER BEGINNER
Samantha Barajas, Tucson, Ariz., dragster, 9.073, 70.94 def. Keeli Tatge, Tucson, Ariz., dragster, foul.




IHRA: 10 Most Recent Entries [ top ]

Apr 24- Racers Receive Prizes at IHRA Summit Sportsman Spectacular Opener
Apr 24- Comeaux, Hughes Make History at IHRA Summit Sportsman Spectacular
Mar 21- 2018 IHRA Summit Sportsman Spectacular Series on April 20-22
Feb 26- Weather-Related Construction Delays Postpone IHRA Xtreme Raceway Park Opener
Feb 16- IHRA Summit Sportsman Spectacular Schedule Announced
Feb 15- New York Track Finds Value for Racers with IHRA Agreement
Feb 15- IHRA Summit Sportsman Spectacular Debut Only One Month Away Now is the Time to Pre-Enter
Feb 15- Summit Texas Location is a Racers' Paradise
Feb 15- Canadian Track Makes Large Commitment to IHRA Drag Racing
Jan 27- Mid-Michigan Destination Joins IHRA Family