Wed, 20 Mar 2013, 14:26 PM



Bruce Litton Ready for a Fresh Start in New 'Pumpkin' Top Fuel Dragster



Courtesy of IHRA Communications



New look, same team ready for a unique year on the IHRA Nitro Jam Tour



NORWALK, Ohio --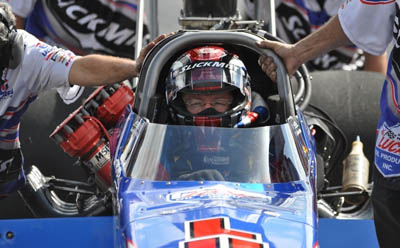 The former IHRA Top Fuel World Champion is ready
for another exciting season in 2013.
When all else fails, ask your grandson.
That is exactly what longtime IHRA veteran and Top Fuel driver Bruce Litton resorted to during the offseason as he turned to his biggest fan and CEO of his trailer business, his 4-year-old grandson Landon, to pick the color for his 8,000 horsepower, 320 mph ride.
And the final selection? A nice shade of bright orange.
Not only did young Landon pick the color, but he picked the exact shade that Litton will have on display during his 2013 Top Fuel campaign and, quite frankly, he can't wait to show off his grandson's handiwork beginning at the Arizona Nitro Jam presented by Good Vibrations Motorsports and CarSafe later this month.
"To be quite honest, we didn't quite know what direction we wanted to go with for the car this year. It has had the same look for so long, we were scratching our heads on where to even start," Litton said. "And that is when I turned to Landon. Not only did he pick the color, but he picked the exact shade and we are looking forward to showcasing his unique design this season. It should especially pop at night."
While a brand new look is certainly something exciting for the team, what really has the team amped up is the fulltime return of Top Fuel to the IHRA Nitro Jam schedule. After competing only at the Canadian events in 2012, where Litton won two of the four races, Litton will return fulltime to the IHRA Nitro Jam circuit where he will race everything from a pack of fellow Top Fuel Dragsters to even a jet-powered one.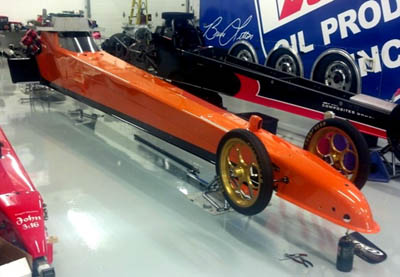 Litton will welcome a brand new look
in 2013 with his bright orange dragster
designed by his own grandson.
"It is definitely the most unique schedule I have ever run," Litton said. "We have 13 races currently on our 2013 schedule, but I don't think it has ever included such a variety of opponents. But we are looking forward to matching up against a jet for the first time and of course reigniting some old rivalries with longtime friend Bobby Lagana and our teammate Kyle (Wurtzel)."
Litton will be traveling to all nine IHRA Nitro Jam events in 2013. His slate will include matchups with teammate Kyle Wurtzel and the "High Yield" Top Fuel Dragster at a majority of the events, while a bigger field of Fuel Dragsters will be a part of the lineup at the two Canadian races.
The most unique matchup will pit Bruce Litton up against a pair of jet-powered dragsters at the season-opening Arizona Nitro Jam March 23 and again at the Suzuki Pittsburgh Nitro Jam in June. Litton will battle Curt Eierdam in the "Invader" dragster in Tucson and he will square off against the fastest jet dragster in the land in the "Queen of Diamonds" powered by Jill Canuso in Pittsburgh.
"It will definitely be a big contrast of styles for the fans, but let me tell you neither jet will know what hit them," Litton said.
Litton is one of the most successful racers in IHRA history with 16 victories and a championship coming in 2007 prior to the new Nitro Jam lineup and another 10 victories coming after the switch to the new format. Away from Nitro Jam Litton also has a number of additional races planned in 2013 including the World Series of Drag Racing in August as he competes against and mentors Melanie Troxel in one of his cars.
Litton will also return the services of longtime crew chief Mike Wolfarth who will oversee the team operations in 2013.
"There are a lot of people that make this car go down the track and Mike is a big part of that," Litton said. "I have a great group of people around me and I couldn't do this without them. We all look forward to a big year and a successful year on the track."
Catch Bruce Litton and the return of Top Fuel at all nine Nitro Jam events in 2013 beginning with the Arizona Nitro Jam April 23 at Southwestern International Raceway in Tucson. For more information visit www.nitrojam.com.




IHRA: 10 Most Recent Entries [ top ]

Mar 04- Marion County Raceway Ready for Next 50 Years
Mar 01- The Best Value in Bracket Racing Comes to Farmington Dragway
Mar 01- The Best Value in Bracket Racing Comes to Xtreme Raceway Park
Feb 26- IHRA, Racing Electronics Announce Renewal
Feb 20- Roxboro Motorsports Park Joins IHRA Family
Feb 18- Top Canadian Facility Renews IHRA Sanction
Feb 18- IHRA, Half Scale Dragsters Announce Multi-Year Partnership
Feb 01- London Dragway Renews Commitment to IHRA
Jan 30- Weather Forces Postponement of IHRA Summit Sportsman Spectacular at State Capitol Raceway
Jan 22- The Best Value in Bracket Racing is Only One Week Away Feb. 1-3