Wed, 20 Mar 2013, 10:58 AM



Pro Mod Records Fall as Meadors, Goodguys Racing Team Leave Mark on WCOPM Season Opener



Courtesy of John Drummond


Photo Courtesy of Steven Bunker





SONOMA, Calif. --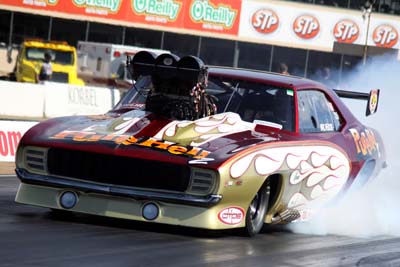 Marc Meadors
The Pro Mod drag racing record books took a beating this past weekend at Sonoma Raceway in Sonoma, California as several class heavyweights did battle in an open 8 car show promoted by the West Coast Outlaw Pro Mods.
After qualifying was over Saturday evening, Southern Californian Dan Nickelson had run the quickest ET ever for a Pro Mod, clicking off a 5.706 @ 251.53 in his '02 Dodge Viper landing him atop of the qualifying sheet. In the first round of eliminations, Nickelson backed up the historic number with a 5.736 @ 248.43 establishing the earlier 5.706 as a new national record. It was also in qualifying that Marc Meadors driving the "Pure Hell2" '69 Camaro Pro Mod Meadors became the first converter-driven blown pro mod to break the 250 MPH barrier clicking off a 252mph blast. But there was more to come. Much more.
During eliminations, a classic semi-final race between #2 qualifier Mike Magio and #3 qualifier Marc Meadors netted the quickest-ever side by side Pro Mod drag race. Meadors' flamed Camaro got the win with a career best 5.759 @ 252.24mph to Maggio's 5.778 @ 256.60mph.
The final round pitted new record-holder Nickelson against Meadors but proved anticlimactic when a trans brake button failure led to Meadors leaving before the tree was activated, sending Nickelson and his red Viper down track soloing to a 6.912 @ 133.63 win.
While the red-light for Meadors and the Goodguys team was disappointing - the weekend overall was a huge success for the first outing of the year. "Nothing to hang our heads over," said Meadors following the event. "I'm so proud of Crew Chief Jason Bunker, Danny Miller, Billy Fereira and Greg Lee for making our Pure Hell2 Camaro the fastest converter driven blown Pro Mod in history. That right there made our weekend. To take down Maggio in that historic semi-final and run our career best ET and speed in the process - that's the kind of things you dream about. I've never been part of something like that before. It was the best moment in my racing career."
For complete event results and pictures, visit www.westcoastoutlawpromods.com. For more on Marc Meadors and the Pure Hell2 '69 Camaro, visit www.facebook.com/pages/Goodguys-Racing

"PureHell2" qualifying efforts...
Q1 5.88/250
Q2 5.85/252
Q3 5.82/252



Pro Mod Summary Eliminations

Final Round Eliminations:
(W) Nickelson - 6.912 / 133.63 (L) Meadors - N/T

Semi-Final Eliminations:
(W) Nickelson - 5.895 / 244.56 (L) Bailey - 5.936 / 245.27
(W) Meadors - 5.759 / 252.24 (L) Maggio - 5.778 / 256.60

First Round Eliminations:
(W) Nickelson - 5.735 / 248.43 (L) Smith - 12.975 / 59.60
(W) Bailey - 6.048 / 238.17 (L) Myers - N/T
(W) Maggio - 5.798 / 255.77 (L) Gillette - 6.957 / 199.08
(W) Meadors - 5.819 / 247.66 (L) Berney - N/T

Final Pro Mod Qualifying Order:
1) Nickelson - 5.706 / 251.53
2) Maggio - 5.815 / 257.43
3) Meadors - 5.826 / 252.66
4) Bailey - 6.065 / 242.80
5) Hanger - 6.144 / 235.56
6) Berney - 6.507 / 214.72
7) Gillette - 6.945 / 200.11
8) Smith - 7.620 / 208.81
--------------------------------------
9) Myers - 8.632 / 204.35
10) Oksas - 10.326 / 90.26





Drag News: 10 Most Recent Entries [ top ]

Apr 22- K&N Spring Fling Million Final Day Results
Apr 21- K&N Spring Fling Million Friday Results
Apr 20- K&N Spring Fling Million– Thursday Results
Apr 19- K&N Spring Fling Million- Wednesday Results
Apr 18- Buckeye S/SS @ National Trail April 28th
Apr 18- Don "the Snake" Prudhomme Returns To Baja Competition After 50 Years
Apr 18- K&N Spring Fling Million Tuesday Results
Apr 17- K&N Spring Fling Million Pre-Race
Apr 12- Summit Racing Equipment is Newest Sponsor of Midwest Junior Super Series
Apr 12- Summit Racing Named Official MWPMS Sponsor and Event Title Rights Holder