Thu, 14 Mar 2013, 13:08 PM



The Important Things In Life



By Bob Frey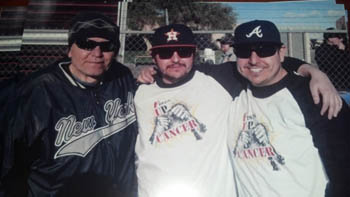 Toby, Zack and RJ at the Arizona Nationals
Everyone knows what a great family atmosphere exists in the NHRA. Since the early days of the Chrisman brothers to the current Force family, mothers and fathers, sons and daughters and now even third-generation family members have made this sport what it is, a fun place to be. Whether you're a driver, like Courtney Force, Brandon Bernstein or Chad Head, or a crew chief like Dickie Venables and Todd Smith, there is a real sense of family in drag racing, and there's a good chance that if your parents were involved in the sport you will be, too. On the track alone there have been over ninety different families who have had multiple members win an NHRA national event. Some of them have even had three family winners and that number is only going to grow as the years go by. One family, the Torres family from El Paso, Texas, has the father, Toby, and the sons, Zack and R.J. all in action. In fact Zack won the recent Arizona Nationals while his big brother, R.J., followed that with a win at the Division 7 race at the same Firebird Raceway. But as good as the boys are running and as really nice as their cars are none of that is foremost in their minds, because right now the thing the boys think most about is the health of their father.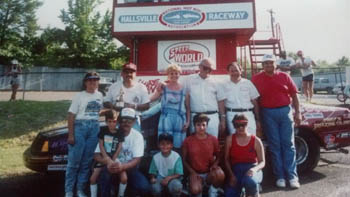 Toby celebrates win at Hallsville.
Toby Torres is the patriarch of the family and I did a story on him in 2002, and while I don't usually do "follow-up" stories this one is warranted. At the time of the last story I mentioned how Toby was racing after overcoming a horrendous industrial accident that left him as a double amputee. "My dad lost both of his legs below the knee," Zack Torres, the younger of the two racing Torres brothers said. "He did a great job to be able to come back from that, run the family business and be able to race." But now, as hard as it may be to believe, Toby is fighting an even tougher battle. "He has Stage 4 kidney cancer," Zack said. "He's undergoing chemotherapy right now and the doctors hope to be able to contain it." While I have never experienced anything like what Toby is going through, or has gone through, I do know from talking to people who have that the mental part of it is very important, and in that regard his two sons are doing all they can to help. "Dad was with both of us for those races and it was just what the doctor ordered," Zach said. "It was great to see him happy and smiling."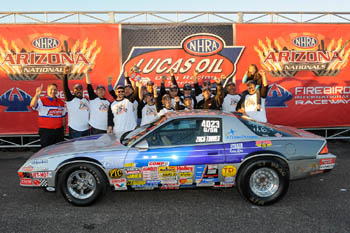 Zack celebrates Arizona Nationals win.
Photo copyright 2013 Bob Johnson Photography
Racing is in the blood of both brothers and they can thank their father for that, or maybe even their grandfather. "Our grandfather, Ralph Torres, raced for a long time and our dad has been racing for as long as I can remember," Zack said. "He always raced Fords and he had a classic Thunderbird and a 1968 Mustang that he raced for years." Today, as much as Toby would like to think he passed down that "blue oval" heritage to both of his sons, apparently only R.J. got the message. "Yeah, I run a Chevrolet," Zach said, "but my brother does run a Ford." Ok, so there's something else Toby can smile about. Not only is R.J.'s car a Ford but it is an original 428 Cobra Jet Mustang. "The car has been around for a while and we got it a few years ago from Sean Cour," R.J. said. "It's a really nice car." Now that's an understatement, and so is the statement that the Torres brothers are off to a fast start this year. "The fact that we both did well in Arizona has changed our racing plans a bit," Zack said. "We were going to just do some local racing but now I think we'll head to the two races in Las Vegas and then maybe catch the next Division 4 race." The family lives in El Paso and that means they have a long way to go to get to any divisional or national event. "It's actually closer for us to go to Pomona than it is to go to any of the major Texas tracks like Dallas or Houston and they're in our home state." Fortunately they once again have a track to race at near home. "For a while there wasn't any place near here to race," Zack said, "but now we have the El Paso Motorplex and my brother and I both do some bracket racing there."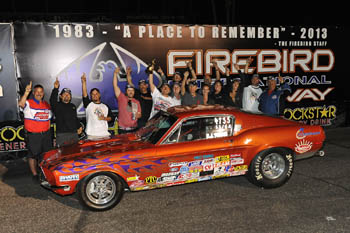 R.J. celebrates D-7 win at Phoenix.
Photo copyright 2013 Bob Johnson Photography
Zack has recently accomplished two things that were on his "to do" list and they both made his father and mother very happy, he graduated from college and he won a national event. "Let me tell you, I think winning the race was tougher than college and it took longer, too." He went on to say that there was no real reason why he succeeded at the track this time other than some extra preparation and a little luck. "We completely went over the car during the winter and freshened it up and that had to help." So did the fact that when he had to be Zack was very good at both ends of the track, after all, when you beat Al Corda, Don Keen and Dan Fletcher, all former World Champions, you know that it was your day. "Everything just fell into place and it was the best feeling in the world, and to be able to share it with my father was even better." Brother R.J. echoed those sentiments after his win. "You dream about it happening and when it actually does happen you can't believe it. I was racing one of my best friends, Darren Smith, in the final round and I thought that if I do lose it might as well be to a friend and I'm sure he felt the same way. I didn't even know that he fouled until I was about half-way down the track and saw the win light on in my lane. It was just awesome for my father to be able to see both of his sons win." Zach went on to say that "Dad had won a lot of races and for us to be able to give him a win when he needed it the most was great. It was nice for me and R.J. to win but I really think it meant more to dad." R.J. went on to say that in addition to his family there are some folks he wanted to thank. "I have to thank Val, Gabe and Rita Torres," he said. "We have the same last name but we aren't related, still, they are like family to me, and Val Jr. and Lynsi Torres, too. Also everyone at Pro Trans including Darren Smith and his fianc?e, Julia, along with Dave, Staci and Cindy Smith. Plus a special thank you to Lyle Byrum at ATI Jet Services, Mike Judson at Mickey Thompson Tire, Larry Brian and all the Zavala family. Thanks, too, to Jim, Jimmy and Tony DeFrank, Golden Shine and California Car Cover."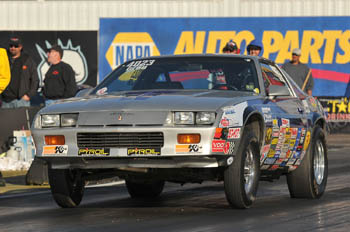 Zack Torres
Photo copyright 2013 Bob Johnson Photography
While in school Zack played baseball on a scholarship at the University of Arizona, not too far from Firebird Raceway. "I was a 'closing pitcher' and that carried a lot of pressure with it. I did well but after a while I realized that my genetic makeup just wasn't right to be a professional athlete." That's when he returned home and enrolled at the University of Texas at El Paso and he graduated with a double major, Political Science and Criminal Justice. For now, though, his career is on hold while he helps take his father to his weekly doctor's appointments and that allows mom to keep working at her job. "As a family we all do what we can to help out."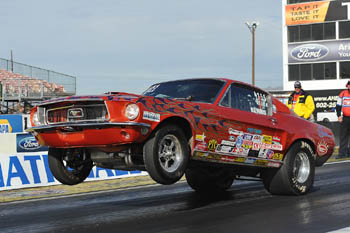 R.J. Torres
Photo copyright 2013 Bob Johnson Photography
As nice as it is to win a race both of the Torres brothers and their mother, Judy, know how important it is to help keep Toby's spirits high. "At best the doctors say that dad can be stabilized, but he won't get any better. He just went for some more tests and we're really hoping that the doctors will clear him to go racing. That would be great. He loves everything about the races and it's been such a big part of his life for years, so if he can go to the track I know it makes him feel better." For a man who went to his first divisional final round in Amarillo in 1989 and was still racing right up until a few weeks before he was diagnosed with cancer last year, Toby Torres has been an inspiration to a lot of people and he has to be proud of his sons, even the one driving the Chevrolet. "Hey, I used to race Honda's," Zack added with a smile." With a little luck and a lot of prayers from the racing community maybe 2013 is the year that Toby can join his sons in the winner's circle. Now that would really be special!




NHRA: 10 Most Recent Entries [ top ]

Apr 20- HOUSTON - Erica Enders Hopes Turnaround Comes at Hometown Track for NHRA SpringNationals
Apr 19- HOUSTON - Friday Schedule
Apr 19- Tige Boats Named Presenting Sponsor of E3 Spark Plugs NHRA Pro Mod Drag Racing Series Portion of NHRA SpringNationals
Apr 19- HOUSTON - Previous Success, Early Win has Funny Car's Courtney Force Excited
Apr 18- Haney Headed for NHRA Pro Mod with Summit Racing on His Side
Apr 18- HOUSTON - Richie Crampton Enjoying Early-Season Success Heading to 31st Annual NHRA SpringNationals
Apr 18- 2018 Mustang Cobra Jet Celebrates 50th Anniversary of Racing Legend with Quickest
Apr 18- New Ford Mustang Funny Car Scheduled to Debut In 2019 NHRA Mello Yello Season Opener
Apr 16- HOUSTON - Fact Sheet
Apr 16- HOUSTON - After Early-Season Mishap Funny Car's Jonnie Lindberg Looks to Get On Track