Tue, 12 Mar 2013, 19:06 PM



Racing from Coast to Coast



By Bob Frey



Once the NHRA drag racing season gets underway there aren't a lot of weekends off for the teams. About the only time they get to sit back and relax is usually between the
Phoenix
race and the Gatornationals. With two open weekends between those two events you would think that most drivers, crew members and teams would want to take that time to do whatever it is they do when they are not racing. Oh, wait. What they do when they are not racing is go to the races. Whether it's to watch or race, a lot of the members of the teams involved in the
NHRA Mello Yello
series will search out a track or an event near them and spend their "free" weekend doing something that involves racing. Last week a lot of them could be found at the famous track in
Bakersfield, California
taking part in the equally famous "March Meet." With
Billy Meyer
serving as the "Grand Marshall" and the great
Art Chrisman
being named as the "Honorary Starter" the event carried on a tradition that started in 1959 when Mr. Chrisman himself won the first race by beating
Tony Waters
in the final round. Since I have recently mentioned a couple of great books that I think every drag racing fan would like this is the perfect time to mention another.
"The Chrisman Legacy,"
written by
Tom Madigan
, is a wonderful book about one of drag racing's great families. With classic stories and lots of historic pictures this book tells the history of the Chrisman family and it details that first
Bakersfield
race, a race that changed everything for Art and his family. I can highly recommend this book although the tough part maybe finding it. I suggest you go to
www.chrismanlegacy.com
and order yours today while they last.
Now, back to
Bakersfield
.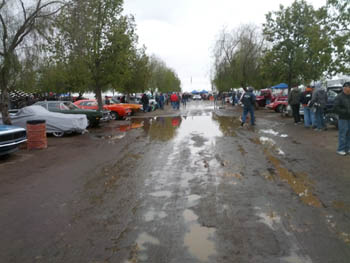 The Car Show Corral.
Photo copyright 2013 Dave Gerard
It doesn't seem to make any difference what coast you are running on when it rains! The weather played havoc with the schedule in Bakersfield and they scrambled just to get the race finished. As tough as it was for the racers it wasn't exactly a picnic for the fans either, many of whom came for the car show and the swap meet and it was wet and muddy in both of those locations. When they finally did get on the track the winners were Jim Young in the dragster class and Tim Boychuk in the Funny Car class. Of course when they first ran the event "Funny Cars" were the ones with the engines in sideways or the ones with three wheels. Believe it or not cars with those particular configurations actually ran at Bakersfield at one time or another, and one of them was raced by the Chrisman family. Among the current NHRA stars who were in Bakersfield were Ron Capps, Del Worsham, Jim Head, Robert Hight and, as every early drag racing commercial said for years, "many, many more." The legends were there, too, and that's what makes the "March Meet" such a fun place to be.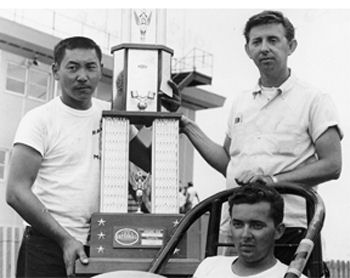 Hirata, Hobbs and Vodnik
Photo copyright 2013 NHRA
With previous winners like
Don Prudhomme
,
Bob Muravez
,
Art Malone
,
Connie Kalitta
and
Don Garlits
, having your name on the winner's trophy from Bakersfield is quite an accomplishment for any drag racer, and believe me they had some nice trophies. And just taking a quick look at this year's roster shows names like
Gotelli,
Sorokin
and
Haight
among others who are carrying on the great Fuel & Gas tradition...The team of
Hirata, Hobbs and Vodnick
will be honored this week at the Hall of Fame inductions in Florida and they have a great history at Bakersfield.,
Did you know
that
Kenny Hirata
and
Phil Hobbs
won the Top Gas class in 1966, the same year that
Mike Sorokin
won the Top Fuel class? And
Bobby Vodnick
etched his name into the Fuel & Gas record books, too.
Did you know
that in 1965 Bobby, who was driving for
Dick Belfatti
at the time, was the number one qualifier at the "March Meet?" But here's the most amazing part. Bobby qualified with a time of 7.32 and the number two qualifier, a man by the name of
Danny Ongais
, qualified with a time of 7.60. When you can lead a field of sixty-four top caliber cars at
Bakersfield
by almost three-tenths of a second you know that you did something special. Congratulations to all of the winners at this year's March Meet and thanks to everyone who has kept that great tradition alive...And, since I mentioned the Hall of Fame here's a special thanks to
Summit Racing
,
NHRA
and
Lucas Oil
who will be the major sponsors of the event for this year and, hopefully, for years to come.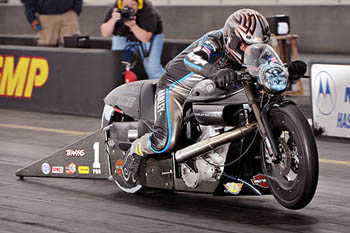 Eddie Krawiec testing at South Georgia Motorsports Park.
Photo copyright 2013 Chris Simmons, BME Photography
While thousands of fans and racers were on the West Coast last weekend it's the East Coast that will be the center of the racing world this weekend. The annual Amalie Oil Gatornationals is set to kick off in a couple of days and it will include the Pro Stock Motorcycles and the Pro Mod Cars for the first time this year. Without getting too technical (because I can't) there are some new rules in both of those classes that could have an impact on which type vehicles and which drivers win the race and maybe the championship. In the bike class it is a two-valve engine with standard pushrod sizes and that directly affects the Harley-Davidson riders, Eddie Krawiec and Andrew Hines. Having said that I don't think there is anyone involved with the bike class that doesn't think the two Harley riders, and the Vance & Hines team, will again be threats before the year is over. They may not hit the ground running in Florida (although they could) but they will be factors before too very long. Remember, when they first came out with the Harley's they struggled a lot, but after a few races they hit their stride, and last year they had one of the most dominating teams ever in any class. I have always said that no matter what the rules are the really good teams, and make no mistake about it the V & H team is really good, will adapt and thrive in the end. For instance, you could tell Frank Manzo that he has to run a four-barrel carburetor on his car, and as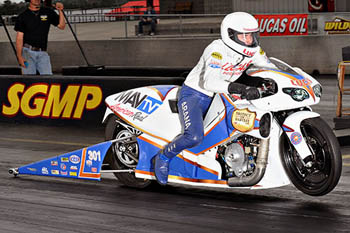 Adam Arana testing at South Georgia Motorsports Park.
Photo copyright 2013 Chris Simmons, BME Photography
radical a change as that would be, before long Frank would be at the head of the pack and the same is true for
Terry Vance
,
Byron Hines
and their entire organization..In addition to the changes in the rules the bike class will see
Matt Smith
fielding three bikes, the
Sovereign Racing
team, led by
George Bryce
, will have a new look and the "Hectors" will be joined by Adam. That's
Adam Arana
joining his father and brother in the Pro Stock Motorcycle class and that should be, or at least it could be, a very potent trio.
Matt Smith
will have three bikes racing in Florida including his, his wife
Angie
and
John Hall
, and after some early season testing Matt is very optimistic about his chances this week. Stay tuned.The Pro Mod class also underwent a rules change in an effort to make to bring parity to that class. Of course any time you have more than one engine combination in a heads-up class you're never going to make everyone happy and the Pro Mod class has three. There are the turbocharged cars, the supercharged cars and the nitrous-powered machines, and regardless of how you set the rules someone is going to be unhappy. With my limited knowledge of the rules I do think that this may be the most competitive season ever in the Pro Mod ranks and all three combinations seem capable of winning. Eight of last year's top ten finishers, including the reigning champion
Troy Coughlin
, are entered for this week's event so we should get an indication of just how those changes worked out.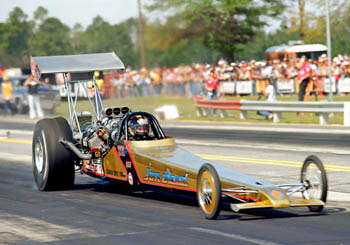 Jim Head at the 1982 Gatornationals.
Photo copyright 2013 Auto Imagery, Inc.
Chad Head was in Bakersfield this past weekend and he made it to the semi-finals in the Nostalgia Funny Car class before an untimely red light put him on the sidelines. This week he will make his NHRA Funny Car debut at the wheel of his father's car. Jim Head, who has always said that he likes tuning the car more than driving it, will give the keys to the family car to Chad who will try to make the tough sixteen car field. As tough as it is for a rookie driver to make the field I think that Chad will get in and he could be a factor on race day. Did you know that Jim Head competed at twenty-seven Gatornationals events and that thirteen of those were in a Funny Car? His best start was in 1998 when he qualified second in the dragster class while his best Funny Car start came in 2008 when he was fifth in the field. His best showing on race day was a semi-final and he did that twice, in 2007 and 2008. Did you know that Jim's first Gatornationals event was in 1982? He qualified 16th in the field and lost to Connie Kalitta in round one while Shirley Muldowney went on to beat Don Garlits in the final round. Just mentioning those few names gives you an indication of the star power that has always been a great part of this race...I mentioned Frank Hawley and his seminar with Jack Beckman last week and this would be a good time to mention that Frank is a two-time Gatornationals' champion. Did you know that Frank won the race in 1982 and 1983 and he went on to win the championship in both of those years? Frank is one of eight Funny Car drivers who have won the race more than twice and out of that group three drivers, John Force, Ron Capps and Tony Pedregon will be competing this week. All in all there will be eight former Funny Car winners in the field, or attempting to get in the field this week so it should be quiet a shootout in the Funny Car class.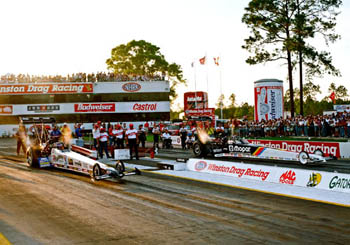 Joe Amato defeated Mike Dunn
in the 1997 Top Fuel final.
Photo copyright 2013 Auto Imagery, Inc.
In the dragster class six former champs will be in Florida this week and of those Tony Schumacher and Larry Dixon lead the way with four wins each. Did you know that they are tied with Don Garlits and Joe Amato for the most wins at this historic event? Since both drivers appreciate the history of the sport how neat would it be for one of them to win and be all alone at the top of the Gatornationals' Top Fuel list?....Larry and his team, led by Lee Beard, may be the surprise team of the year so far. Ok, so it's only been two races and that doesn't really indicate any trend but the fact that they are in the top ten is pretty impressive I think. With his four wins it's obvious that Larry has had success in Florida but did you know that he has an overall record there of 37-12 and that computes to a 75% winning record? A good showing here could solidify his spot in the top ten before he and the team head to Australia to race there over the Easter weekend. Regardless of what happens this weekend it looks like Santo Rapisarda made a good choice in Larry and Lee and I hope they get to race at most of the NHRA events this year. If so, they could be one of the big stories of 2013..We're only two races into the season and did you know that there are only four teams in Top Fuel who have won a round at each race? To show you how competitive the class is this year think about the fact that Shawn Langdon won the first race and then lost in round one at the next while Morgan Lucas lost in round one at Pomona and made it to the final round in Arizona. It's going to be that kind of season this year in the dragster class. The only constant so far has been Tony and the Army car which has made it to the final round at both races so far. Did you know the only other time Tony did that to start the year was in 2000 when he was runner-up at Pomona and won in Arizona? Ironically that year Tony didn't win the championship, Gary Scelzi did. Of course in 2012 Antron Brown opened the season with back-to-back final rounds and we all know how that turned out, don't we?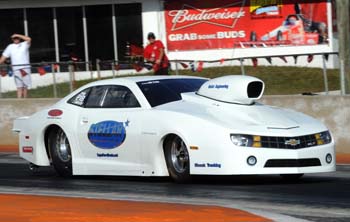 Curt Steinbach testing
earlier this year at Bradonton.
Photo copyright 2013 Auto Imagery, Inc.
Depending on the weather the Pro Stock class could be the one to watch this week. Historically the Gainesville track is very fast and the Pro Stock teams love it. Even after racing at every other national event track since last year's event the Gainesville track is still the site of two of the quickest and four of the fastest Pro Stock runs in history. To show you how much the Pro Stock teams love Gainesville did you know that the Pro Stock record, either elapsed time or speed, has been set twenty-five times at the Gatornationals and that is by far the most of any track on the circuit?....All of the usual contenders will be there and it's always nice to see new faces in any of the classes too, so we welcome Curt Steinbach to the Pro Stock class. Curt has raced a lot of fast cars over the years, from Top Sportsman and Pro Mods, from 2004 Cavaliers to 1963 Corvettes, but this will be his toughest test ever. Competing at the highest level, and that's what NHRA Pro Stock is, will be a challenge for anyone so good luck to Curt in his debut in the class..Six current or former champions will be in action and Mike Edwards will be looking to defend his championship. Did you know that only four Pro Stock drivers have successfully defended their titles in Gainesville? The best is Warren Johnson who won it nine times overall including four years in a row (1991 - 1994) and Jason Line who has four wins including three straight between 2009 to 2011. It should be some fun in Florida this week.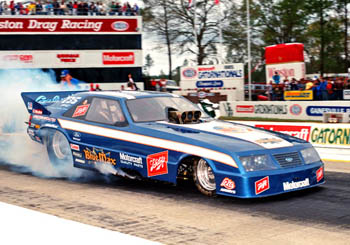 John Lombardo at 1985 Gainesville.
Photo copyright 2013 Auto Imagery, Inc.
In addition to all of the excitement in the pro ranks and the Pro Mod class I will be watching the battle in the Top Alcohol Funny Car class as well. Frank Manzo, who has won this race eight times, will be in action and he will get a real early-season challenge from several of the other drivers including Mickey Ferro who has already won the Gatornationals three times. Did you know that every time Mickey won the race he beat Paul Gill? John Lombardo Jr., who put up big numbers at the Division 4 race two weeks ago, and who won the season-opening Winternationals, will also pose a big threat to Frank. John made it to the semi-finals in Florida last year and his NAPA car is running very well. Did you know that John's father went to the final round here in the Funny Car class in 1985 where he lost to Kenny Bernstein? The TAFC class could be one of the most exciting eliminators at the race and that's saying a lot..Good luck to all the racers in Florida and let's hope for lots of sun which means lots of great racing.




NHRA: 10 Most Recent Entries [ top ]

Apr 23- HOUSTON - Lucas Oil Drag Racing Series Wrap Up The NHRA Lucas Oil Drag Racing Series Wrap Up
Apr 23- CHARLOTTE 1 - J.R. Todd Aiming for Two Four-Wide Racing Wins in 2018
Apr 23- Mid America Dragway Joins NHRA Member Track Network
Apr 23- HOUSTON - Special Awards
Apr 23- HOUSTON - Sunday Video
Apr 22- HOUSTON - Sunday Pro Mod Wrap Up