Tue, 12 Mar 2013, 11:54 AM



Jim Young Wins Top Fuel and Tim Boychuck Wins Funny Car



Courtesy of Rob Gibson, Auto Club Famoso Raceway


Photo copyright 2013 Bob Johnson Photography





BAKERSFIELD, Calif. --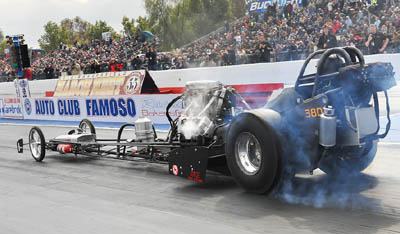 Jim Young
Jim Young takes home the Top Fuel trophy after beating Denver Schutz in the final on Sunday night at Auto Club Famoso Raceway. Both cars ran hard, but Young reached the stripe in 5.651 @ 269.08 mph to beat Schutz's losing 5.703 @ 242.15. This is back to back wins for the Cropduster team.
The Funny Car final paired off Mark Sanders and Tim Boychuck. Sanders car had been running strong all day, beating veteran big show driver Ron Capps on his way to the finals. Tim didn't have an easy time getting to the finals either, having to get past the #1 qualifier Jason Rupert in round 2. When the green light came on, both cars took off side by side, but the "Mr. Explosive" car piloted by Sanders broke and his race was over. Tim went 5.81 @ 249 mph while Mark limped through the lights at 15.39.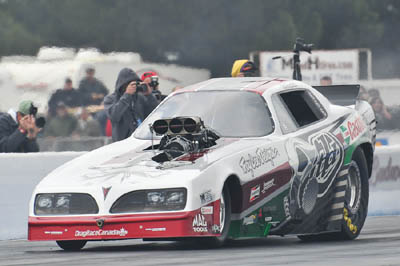 Tim Boychuck
A/Fuel was an emotional round for the Waters crew. The legendary Tony Waters passed away in December 2012 and Darrell Waters had been to the finals before only to be denied the victory. Waters qualified #1 and was paired up Bill Wayne in the finals on Monday. Both drivers were on the wheel with Waters trailing Wayne off the line by a 1/100 of a second. Waters ran him down running 6.352 @ 220.58 mph just nipping Wayne's 6.432 @ 211.69.
Wayne Ramey survived the Jr/Fuel eliminations meeting Richard Brady in the finals. Brady went red and Ramey ran a 7.046 @ 187.68 mph on a 6.98 dial in.
Michael Peck battled through the 23 car 7.0Pro class to take the win over Bobby Cottell in the final round. Peck wins with a 7.027 @ 166.91mph on a 7.0 index. Cottrell had problems and coasted through the lights 18.88 @ 39 mph.

NE1 - 7.60 Index
Winner - Danny Schrokosch 7.627 @ 167.93mph.
Runner Up - Steve Schoenfeld 7.631 @ 165.76 mph.

NE2 - 8.60 Index
Winner - Rick Nordness 8.611 @ 145.69 mph.
Runner Up - Jason Francev 8.550 @ 154.67 mph (Broke out).

NE3 - 9.60 Index
Winner - Roger Turley 9.539 @ 135.67
Runner Up - Lindsey Lister 9.507 @ 134.60 mph.

A/Gas - 7.60 Index
Winner - Dean Hill 7.551 @ 183.49 mph.
Runner Up- Ray Padgett 7.604 @ 180.14 mph. Foul -.003

B/Gas - 8.60 Index
Winner - John Saliani 8.612 @ 157.37 mph.
Runner Up- Kevin Riley - 8.584 @ 151.41 (Broke out)

C/Gas - 9.60 Index
Winner - Ken Brown 9.576 @ 130.48 mph.
Runner Up- Jason Barta 9.544 @ 137.13 mph.

D/Gas - 10.60 Index
Winner - Ed Carey 10.681 @ 120.83 mph.
Runner Up- David Mallory 10.753 @ 124.51 mph.

Hot Rod
Winner - Alan Ross 10.355 @ 129.38 mph on a 10.37 dial in
Runner Up- Bill Smith Jr. 11.981 @ 113.45 mph on 11.99 dial in. Went red by -.078





Drag News: 10 Most Recent Entries [ top ]

Apr 22- K&N Spring Fling Million Final Day Results
Apr 21- K&N Spring Fling Million Friday Results
Apr 20- K&N Spring Fling Million– Thursday Results
Apr 19- K&N Spring Fling Million- Wednesday Results
Apr 18- Buckeye S/SS @ National Trail April 28th
Apr 18- Don "the Snake" Prudhomme Returns To Baja Competition After 50 Years
Apr 18- K&N Spring Fling Million Tuesday Results
Apr 17- K&N Spring Fling Million Pre-Race
Apr 12- Summit Racing Equipment is Newest Sponsor of Midwest Junior Super Series
Apr 12- Summit Racing Named Official MWPMS Sponsor and Event Title Rights Holder