Sun, 10 Mar 2013, 21:29 PM



International Flavor At Rockingham's ADRL Season Opener



Courtesy of Dave Densmore/Rockingham Dragway


Photo by Roger Richards/ADRL





Flamholc, Jackson, Martin, Deflorian and McKinney Take Hardware



ROCKINGHAM, N.C. --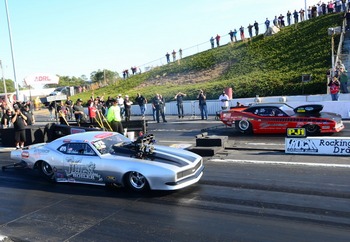 Flamholc (near lane) vs Matos
Sweden's Adam Flamholc won the first all-international final round in American drag racing history Sunday, beating Puerto Rico's Raymond Matos to win the Pro Modified championship at Rockingham Dragway's Dragpalooza IX, the first race in the 2013 American Drag Racing League series.
Driving a replica 1967 Chevrolet Camaro, Flamholc covered the eighth-mile distance in 3.962 seconds at 189.10 miles per hour to best Matos who, in the semifinals, drove his 1970 Plymouth Barracuda replica to an upset victory over pre-race favorite Rickie Smith, the six-time former IHRA Pro Stock Champion from King, N.C.
The veteran Flamholc easily was the top performer of the NHRA rules Pro Modified field, qualifying No. 1 and running the quick time of all four competitive rounds including a race day best of 3.871 seconds.
It was Flamholc's sixth ADRL final since he shipped his car from Malmo, Sweden in 2011, but his first win. It likely won't be his last but it will be his most emotional.
"My biggest fan was my grandmother," Flamholc said. "She passed away two weeks ago and I wand to dedicate this win to her."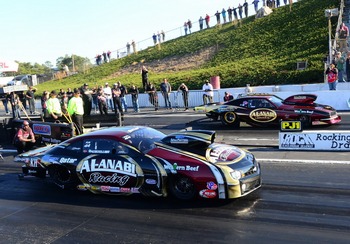 Jackson (far lane) vs Castellana
In addition to Flamholc-Matos, the Pro Nitrous final also had an international flavor insomuch as it involved a pair of cars funded by Sheikh Khalid bin Hamad Al Thani of Qatar, whose drag racing support extends from the Pro Modified classes to Top Alcohol Funny Car and Top Fuel dragster.
No. 1 qualifier Steve Jackson was the winner of the Al-Anabi Racing final, his early model Chevrolet Camaro getting the best of veteran Mike Castellana's late model.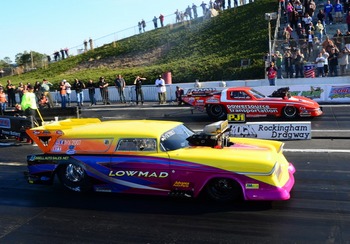 Martin (near lane) vs Mick Snyder
"We've dreamed of running against guys Mike (Castellana) and Shannon (Jenkins). It was an honor just to be in the final," Jackson said. "Me and my guys thrive off of pressure and it was just our day. We had two Al-Anabi cars in the final so even if we had lost, we would have still won. It was great."
Other winners were Joey Martin of Milton, Fla., whose 1955 Chevy Nomad replica prevailed in Pro Extreme, John DeFlorian of Arnold, Mo., who benefitted from a final round red light in Extreme Pro Stock; and reigning champion Eric McKinney of Homerville, Ohio, who denied Canadian Terry Schweigert in Extreme Pro Stock Motorcycle.
"I'm absolutely thrilled," DeFlorian said. "To win the first new ADRL race. I want to dedicate the win to (the late) Bert Jackson. We loved him and we miss him. But, I'll tell you, I was sick because I thought I screwed up in the final. I didn't know (about John Pluchino's final round red light) until I got to the finish. I felt so bad for John. They ran unbelievable all weekend. But we'll take the win. We love it. We're glad to be back."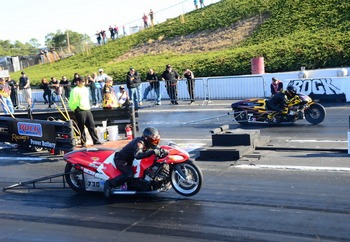 McKinney (far lane) vs Terry Schweigert
Martin, whose "Lowmad" was the most distinctive vehicle in the field outside of, perhaps, the Chevy S-10 school bus qualified by Steve George, wore out the field in Pro Extreme, especially 1963 Corvettes.
He beat the '63 of former ADRL champion Jason Scruggs of Saltillo, Miss., in round one; the 'Vette of No. 1 qualifier Von Smith of Oak Ridge, Tenn., in the second; the 1969 Camaro of Richard Holt of Giddings, Texas, in the semis; and the '63 Corvette of reigning series champion Mick Snyder of Demotte, Ind., for the $7,000 top prize.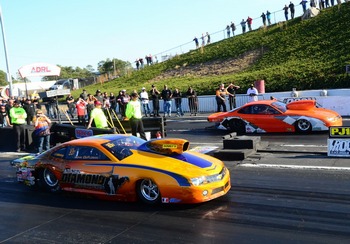 Deflorian (near lane) vs John Pluchino
ROCKINGHAM, N.C. - Final round results from Sunday's Dragpalooza IX American Drag Racing League event at Steve Earwood's Rockingham Dragway:
PRO EXTREME - Joey Martin, Milton, Fla., 1955 Chevy Nomad, 3.670, 206.86 mph, def. Mick Snyder, Demotte, Ind., 1963 Chevrolet Corvette, foul.
PRO NITROUS - Steve Jackson, Martinez, Ga., 1968 Chevrolet Camaro, 3.771, 196.50 mph, def. Mike Castellana, Muttontown, N.Y., 2012 Chevrolet Camaro, 3.813, 197.48 mph.
PRO MODIFIED - Adam Flamholc, Malmo, Sweden, 1967 Chevrolet Camaro, 3.962, 189.10 mph, def. Raymond J. Matos, Toa Alta, Puerto Rico, 1970 Plymouth Barracuda, foul.
EXTREME PRO STOCK - John DeFlorian, Arnold, Mo., 2012 Chevrolet Camaro, 6.732, 71.21 mph, def. John Pluchino, Commack, N.Y., 2006 Ford Escort, foul.
EXTREME PRO STOCK MOTORCYCLE - Eric McKinney, Homersville, Ohio, 4.032, 176.70 mph, def. Terry Schweigert, Abbotsford, B.C., Canada, 4.074, 174.84 mph.
TOP SPORTSMAN - Robert Jones, LaPlata, Md., 1963 Chevrolet Corvette, 4.401 on a 4.400, 166.72 mph, def. John Lassiter, Graham, N.C., 2006 Pontiac GTO, 4.183 on a 4.170, 167.99 mph.
TOP DRAGSTER - Barry Brown, Blountville, Tenn., 4.238 on a 4.210, 166.99 mph, def. Travis Harvey, Elon, N.C., 4.458 breakout on a 4.490, 145.80 mph.
PRO JR. DRAGSTER - Noah Strickland, Concord, N.C., def. Courtney Howard, Mocksville, N.C.
TOP JR. DRAGSTER - Caleb Russell, Ardmore, Ala., def. Tucker Brown, Blountville, Tenn.