Sun, 10 Mar 2013, 10:13 AM



Von Smith Leads Pro Extreme Qualifying at The Rock



Courtesy of Dave Densmore/Rockingham Dragway


Photo copyright 2013 Roger Richards/ADRL





Jackson, Deflorian, Flamholc and McKinney Also #1 In Qualifying



Rockingham, N.C. --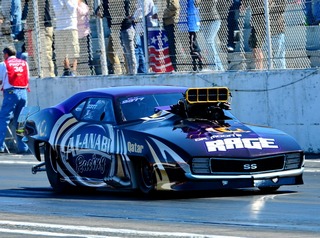 Von Smith
Von Smith, driving one of the many cars funded by Sheikh Khalid bin Hamad Al Thani of Qatar, secured the No. 1 qualifying position in the featured Pro Extreme class Saturday in the highlight of the preliminary phase of Dragpalooza IX which continues Sunday at Steve Earwood's Rockingham Dragway.
Smith, a former NHRA Pro Modified Champion from Oak Ridge, Tenn., stopped the eighth-mile timers in 3.598 seconds at 212.09 miles per hour in his Al-Anabi 1969 Chevy Camaro. Smith's time was just a tick off the American Drag Racing League records of 3.581 and 212.09 mph.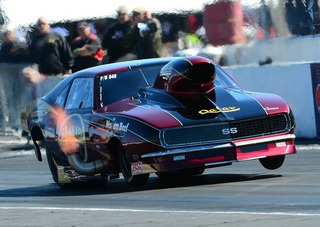 Steve Jackson
Behind Smith in the Pro Extreme qualifying order was a virtual Who's Who of Extreme racing including Alex Hossley of Canton, Ill., No. 2 at 3.603 seconds; Tommy D'aprile of Port Charlotte, Fla., No. 3 at 3.614 seconds; and former ADRL champ Bubba Stanton of Potts Camp, Miss., No. 4 at 3.622 seconds.
Unfortunately, it wasn't such a good day for Smith's Al-Anabi teammate, Shannon Jenkins, who was uninjured in a spectacular crash on his final qualifying attempt. As a result, the veteran from Tuscaloosa, Ala., will be a spectator Sunday when Smith goes after the first championship of the new ADRL season.
Sunday's eliminations will begin with Top Dragster and Top Sportsman first rounds at 10 a.m. with the first round of pros at 12:30 p.m. The most unique aspect of the ADRL Series is that general admission tickets are free. Fans pay only for parking, which is $20.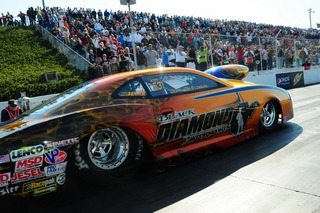 John Deflorian
Other No. 1 qualifiers Saturday were Steve Jackson of Martinez, Ga., in Pro Nitrous; Adam Flamholc of Malmo, Sweden, in Pro Modified; John Deflorian of Arnold, Mo., in Extreme Pro Stock; Eric McKinney of Homersville, Ohio, in Extreme Pro Stock Motorcycle; and Chuck Mohn of Fountainville, Pa., in Top Sportsman.
Jenkins wasn't the only driver to flirt with disaster Saturday. In an earlier accident, Monte Grace of Muscatine, Mo., was uninjured when his Camaro hit the left wall leaving the starting line, careened across the track where it slammed head-on into the rightside guardwall.
Notable among the Top Sportsman qualifiers was 22-year-old Lizzy Musi of Mooresville, N.C., who put her Camaro, a rebuilt version of the one she crashed last year at Bristol, Tenn., in the No. 2 position.