Thu, 07 Mar 2013, 11:50 AM



It's A Porsche. Well, Almost!



By Bob Frey


Photo copyright 2013 Bob Johnson Photography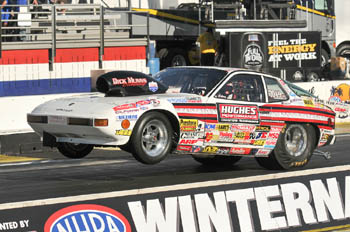 Pete Bothe
When you go to the drag strip you never really know what kind of car you will find. Granted, over the past few years the cars in a lot of the classes have become a bit homogenized, that is, it's hard to tell one from another, but that wasn't always true. When I started my announcing career (no comments, please) there was a wide variety of cars in almost every class. The dragsters featured single and twin-engine cars, the Modified and Gas class cars included everything from early Fords and Austins to the classic Willys and Anglias and the Stock classes featured station wagons, sedan delivery vehicles and so much more. In my early days at Atco there were even several Triumphs and MG's that raced and all were very competitive. There was even an Aston-Martin that I saw race once, but try as I might I can't think of too many racers in all the years that I have been involved with drag racing that raced Porsches. I've seen Jaguars, Crosleys, Austin Healys, Kellisons and even a Ferrari or two (although not with a real honest to goodness Ferrari engine) but not many Porsches. That is until I saw Pete Bothe.
Bothe lost to Jason Schade
in the Division 7 final.
Pete Bothe is a fifty-six year old Californian who delivers cookies for Nabisco for a living. "The good news is that I have been doing that for about twenty-two years," Pete said. "The bad news is that my work schedule is so tough that I can't get out and race as much as I would like." While that may not seem like a big problem to many, when you are as hot as Pete is right now and you're leading the points it's a shame that you may not be able to go to the maximum number of races this year and make a serious run for the championship. "Las Vegas will be my next race and then I probably won't run again until the Sonoma divisional race. The way I figure it by the time I get to Vegas I won't be in the points lead any more." It should be noted that Pete's car is powered by a small block Chevy engine and it's been a long while since a small block car lead the Super Gas points. Pete finished runner-up at the Auto Club Finals at Pomona last November and then started the year off with another runner-up finish at the Winternationals at the same track. He followed that with a great weekend at the season-opening double-header Division 7 event at Firebird Raceway this past weekend. That's where he went to another final at one of the races and he lasted until the semi-finals at the other. This is the best start that he has ever had and when asked why the hot start Pete said succinctly, "I have no idea."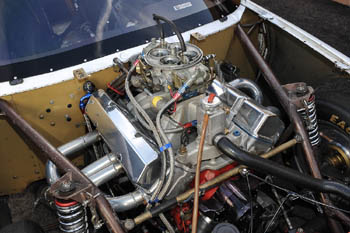 Bothe's engine.
While running a small block engine in the highly competitive world of Super Gas is a little surprising the fact that Pete drives a Porsche 924 is absolutely stunning. "No, there aren't a lot of Porsches in the class," he said. With its 92-inch wheelbase the car is also one of the shortest cars in the class. "I ran a guy with a Volkswagen in the finals at Firebird and he told me that his car is 93 inches long." It's hard to believe that you can be competitive with a car that's smaller than a VW but Pete is and has been for a long while. Proof of that lies in the fact that he is the only four-time champion in the highly competitive West Coast Pro Gas Association. "I won the title in 1997 and 1999 and then again in 2007 and 2008. My good friend Gary Mignacca has won the title three times." When Pete calls Gary his "good friend" it might be an understatement. "We do everything together at the races and if one of us can't go the other one won't go either."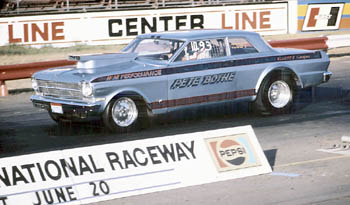 Bothe at OCIR in 1981.
Prior to running his now famous Porsche Pete had a more conventional 1962 Chevrolet Nova. "I got that car in 1978 and ran it for about four years. I started off at Orange County and we did all the bracket stuff in Southern California, and while it was a good car I was always looking for something a little swoopier." Enter the Porsche. "I kept looking at the newspapers and finally found a car that was listed as a wreck and I bought it. I knew nothing about Porsches and after I sold off all the parts someone told me that I basically gave the stuff away. But between what I got when I sold the Nova and what I got for the parts I'm into this car for about a thousand dollars." Not bad for a Porsche, is it? Once he had the car Pete said that he drove it around for about two weeks and then started taking it a part. "It had a damaged front end so we taped the headlights down and drove it on the street for a while, but it was always going to be a race car. I did all the work on the car myself, except the paint, and it took about a year to finish it the way I wanted it." And what a car it's been. In some years, with all of the Southern California association races that they have in his neck of the woods Pete said that he would sometimes make as many as 250 runs on the car in a single season. Now, with his work schedule the way it is that number has been pulled way back. Still, the car runs well and has been a great investment. At first Pete transplanted the 350 from the Nova into the car and that eventually became a 383 engine, and over the years he has only had about five different engines in the car. "I have close to three hundred runs on this engine without a rebuild," he said. "I put this combination, the 427 small-block, in the car in 2004 and it's run well ever since. Some people say that I'm old school but I actually feel like I'm pre-school."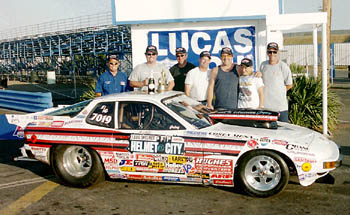 Bothe won the Sacramento
divisional race in 2002.
While there are no official records on the subject, at least none that I know of, there can't be many racers out there who have run the same car for as long or longer than Pete has. "Randy Fabbro has had his Pinto for a long time, probably longer than me, but I've had mine longer than Ted Seipel has had his car and that's saying something." Ted's car would be the Ferrari that I mentioned earlier. And for all the years that he has had the Porsche Pete has had a lot of fun. "This is a real hobby for me," he said. "Gary and I love racing and we do it for fun. We travel together along with his wife, Nancy, usually just the three of us, and we all enjoy ourselves." But he has probably never enjoyed it as much as he has this year. "I have to be honest and tell you that I'm relishing the moment, but like I said, my schedule will probably keep me from making a run for the championship. That's never been my real goal anyway, I just want to race, do my best and have fun doing it. Of course you couldn't do this without help from some great people and I would like to thank Dick Munns Company, Hughes Performance, Lucas Oil, Goodyear Tire, Hot Rod Performance, Vellios Machine, Aldan Shocks and Helmet City." Pete added that he and Gary talked after his strong showing in Arizona and said that you like to strike while the iron is hot, and Pete is certifiably hot. "We were kidding around and said we can't wait for the next race so let's pack up and go to the Gatornationals." We know that won't happen and that's too bad, because think how great it would be to tell the world that a Porsche won a national drag racing championship. A Porsche with a Chevrolet engine!




NHRA: 10 Most Recent Entries [ top ]

Apr 24- CHARLOTTE 1 - Steve Torrence Enjoying Four-Wide Success Heading to NGK Spark Plugs NHRA Four-Wide Nationals
Apr 24- CHARLOTTE 1 - Fact Sheet
Apr 24- Kalitta Motorsports Welcomes NASCAR Stars to the SealMaster Track Walk in Charlotte
Apr 24- zMAX Dragway Celebrates 10th Anniversary
Apr 24- CHARLOTTE 1 - NGK Spark Plugs NHRA Four-Wide Nationals Brings 40,000 Horsepower Thrill Show to zMAX Dragway
Apr 23- HOUSTON - Lucas Oil Drag Racing Series Wrap Up The NHRA Lucas Oil Drag Racing Series Wrap Up
Apr 23- CHARLOTTE 1 - J.R. Todd Aiming for Two Four-Wide Racing Wins in 2018
Apr 23- Mid America Dragway Joins NHRA Member Track Network
Apr 23- HOUSTON - Special Awards
Apr 23- HOUSTON - Sunday Video