Mon, 04 Mar 2013, 20:40 PM



ADRL Introduces Scruggsfarm.com Squad 660 Track Prep Team to be Led by Traction Twins



Courtesy of Autographix Motorsports Communication



LAKE ST. LOUIS, Mo. --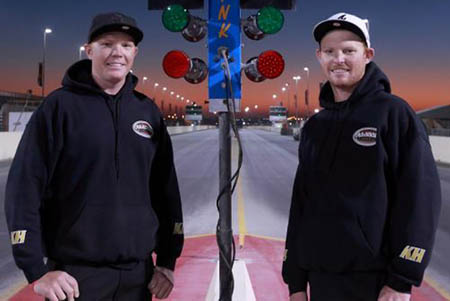 Traction Twins (ADRL photo)
Officials from the American Drag Racing League announced today that SCRUGGSFARM.com, the website for Scruggs Farm, Lawn, and Garden Home Improvement Warehouse, will sponsor its all new ADRL Squad 660 track prep team. The team will be led by twin brothers Cale and Cody Crispe. Affectionately known as the "Traction Twins", Cale and Cody are widely regarded as the best track prep duo in all of drag racing.
"We have had several big announcements since reacquiring the ADRL, but this might just be the most significant," said ADRL President Kenny Nowling. "The safety of our competitors has always been our number one priority and a properly prepared and maintained racing surface is one of the most important components to keeping our racers safe. In addition to being outstanding and hard working young men, Cale and Cody are the absolute best at preparing and maintaining a drag strip. I know I speak for all of our race teams when I say we are ecstatic to have them back for the 2013 ADRL Tour."
If you are going to hire the best personnel then you need the best equipment as well. SRUGGSFARM.com has purchased an entire arsenal of brand new track prep equipment which will debut this weekend at the ADRL's 2013 season opening Dragpalooza IX event at Rockingham Dragway. The state-of-the-art equipment was built by Cale and Cody's father and mentor Larry Crispe.
"We can't thank the Mitchell, Jason and the entire Scruggs family enough," said ADRL Competition Director Bubba Corzine. "I have known Larry for years and he is the foremost expert on drag racing track prep in the world. Since hiring the Crispe family to do our track prep in 2010 the ADRL has had the best tracks in drag racing. With Cale and Cody heading up our new Squad 660 and this new equipment, that will no doubt be the case again in 2013."