Sun, 03 Mar 2013, 10:12 AM



Big Money Kick-off Classic @ San Antonio, 2/17/13



By J M Hallas



MARION, Texas --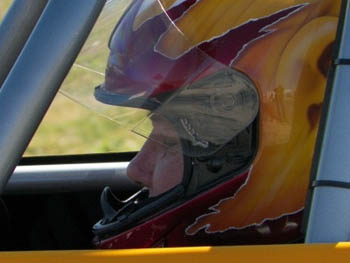 David Johns
Sunday started off on a rather somber note as word circulated of the passing of Bob Gregory, long time San Antonio are drag racer. Gregory, one of three generations of Gregory's racing at one point succumbed to his battle with cancer. Bob, the elder statesman, was embattled in a point's race with his grandson one year, losing only after a rain out took away points for the previously scheduled event.
On the brighter side, Paul Schneider looked to make track history by winning on three consecutive nights of a multi-day show. Mother Nature provided a near perfect day for racers, crews and fans as the final day of the Kick-off Classic began on the 1/8 mile, IHRA sanctioned track east of San Antonio. Schneider's chances of the three-peat ended in round two of both the red and green brackets when he failed to advance.
Johns/Ball Split Electronics Final
Floresville's David Johns and Scott Ball(San Antonio) opted to split the combined money in the Electronics finals. Johns, in the Johns Automotive, Wayne's Paint, Worthy Chassis Got by Kyle Williams in the semi's to meet up with former track and National Champion Scott Ball, debuting a different ride this weekend.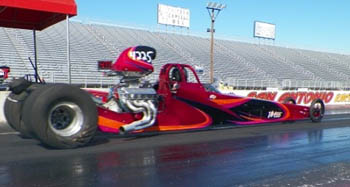 Scott Ball
After a round 1 loss in the green bracket, Johns rebought and took down William Simpkins, Brent Ritter, Austin Cowan and Phillip Pennington. Ball knocked down Carlos Carrasco sr. twice, Mike Echols twice, and Brett Zampese.
Jenke Knocks out No-box Finals
After finishing runner-up to Todd Zampese on Saturday Jacen Jenke(Austin) took up where he left off, winning rounds. Jenke, in his Austin Performance Plus Machine, 89 Mustang faced off against Aaron Tschoepe's 81 Chevy Malibu sponsored by O'Bryant Automotive. Tschoepe gave up 3/10th on the tree and Jenke easily ran him down to take the victory.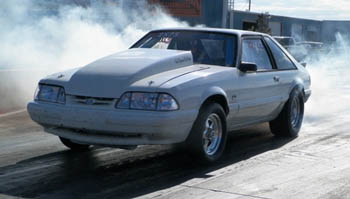 Jacen Jenke
Jacen Jenke, 6.949 @ 86.17 defeats Aaron Tschoepe, 7.866 @ 86.32
Coming from the blue No-box bracket, Jenke bested Brandon Mitchan, Josh Gaspard, Dennis Soefje, and D. Alvarez before getting a bye in the semi's.
Casey Captures Second Weekend Win
After taking a victory in Friday nights Kick-off Classic opener, Ty Casey(Van Vleck) in the Casey Boyz Racing Jr. Dragster edged out last night's winner, Kenneth Hillin on a hole shot. Hillin, who nearly tagged his dial in perfect, gave up a tenth on the starting giving Casey the opening to eke out the win at the line.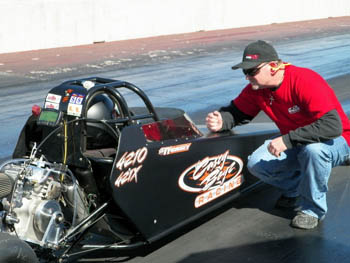 Ty Casey
Ty Casey, 9.047 @ 68.22 defeats Kenneth Hillin, 8.900 @ 76.41
Ty Casey got a round 1 bye, then posted wins over Caden Mueth and Aaron Philpot, while Hillin took out Emily Ball twice and Austin Philpot.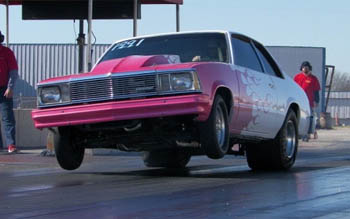 Kerrville's Jimmy McGehee twists his
Chevy off the starting line.




Drag News: 10 Most Recent Entries [ top ]

May 16- Winners Crowned at .90 Series Opener
May 16- 32 Members of the International Drag Racing Hall of Fame will be at be at Spring Classic Nitro Revival May 18-20
May 16- 18th Annual NMRA Ford Motorsport Nationals Final Results
May 16- PDRA Reemphasizes Commitment to Pro Extreme
May 16- For Better or Worse
May 16- Musi Racing Engines and Buck Racing Engines Take Early Lead in Flatout Gaskets Nitrous Wars
May 16- St. Louis Nostalgia Rendezvous this Weekend at Gateway Motorsports Park
May 16- Reichardt Wins Second Round of Sharks of the Strip
May 16- Cook wins Carl's 4WD Bracket Series Super Pro final at Gateway Motorsports Park
May 16- Inaugural VP Racing Lubricants Mid-America SuperCar Showdown Results