Sun, 03 Mar 2013, 09:54 AM



Big Money Kick-off Classic @ San Antonio Raceway, 2/16/13



By J M Hallas



MARION, Texas --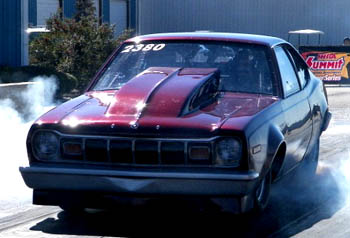 Paul Schneider
After chilly night temperatures saw several drivers pass on Friday nights race, everyone was happy to see sunny, warm conditions coming for Saturday. Once the morning chill broke the weather and track were ready for some high-speed, wheel-standing action on the track outside of San Antonio.
Electronics and No-box both ran two rounds of time trials prior to the double card brackets, or as I call it, 'red fish, blue fish' racing, on the 1/8 mile, IHRA sanctioned drag strip. Jr. Dragster held a single elimination race after their three rounds of time trials.
It was a fairly clean day as racing goes with only a few breakages and a couple minor fuel leaks delaying action and providing extra work for the SAR crew. The final races ended just before sundown and well before cooler evening temperatures had a chance to make the racing surface slick.
Schneider Snatches Another Win
Paul Schneider(San Antonio) made it two wins in row going home with his second winner's trophy of the weekend in his 74 AMC Hornet. Schneider got the victory over Cole Bracey(Levelland) driving his 2009 Mullis Dragster powered by Sunset Racing Engines, when Bracey barely broke out. Schneider was close to his 5.81 dial in running a 5.823 while Bracey went under his 4.76 with a 4.751.
Paul Schneider, 5.823 @ 112.98 defeats Cole Bracey, 4.751 @ 141.42
Todd Zampese
Schneider and Bracey both began the day in the 'green bracket' and 'red brackets.' Schneider and Bracey also both lost in round 1 of the 'red bracket, but continued in the 'green bracket to the finals.'
Schneider then put away Todd Zampese, Michael Keylich, William Simpkins and Preston Pennington in the 'green bracket, then got a bye before taking on Pr. Pennington a second time in the combined bracket semi-finals.
Bracey got by Joe Pruchnicki, Billie Peters and R. Hinton before getting a bye, then facing off with Aaron Cole and Phillip Pennington to make it to the finals.
Zampese Zips to No-box Victory
Former San Antonio Raceway owner/promoter Todd Zampese(San Antonio) took advantage on the new IHRA rules regarding No-box putting his dragster in the finals against Austin's Jacen Jenke's 89 Ford Mustang. T. Zampese got the win in a double break out finish being the least under his dial. T. Zampese ran a 5.472 on a 5.48 dial, with Jenke, winner of a Winter Doubles race earlier this month, turning in a 6.734 on a 6.76 dial.
Todd Zampese, 5,472 @ 127.41 defeats Jacen Jenke, 6.734 @ 102.72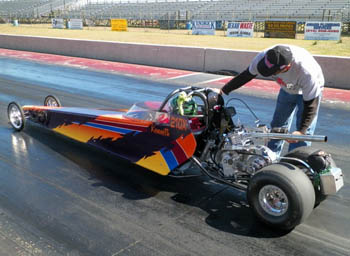 Kenneth Hillin
T. Zampese lost in round 1 of the 'blue bracket, rebought and worked his way through Brandon Mitchan, Alberto Flores, last night's winner Ruben Gallegos, then a bye before taking down Cole Herbold in the semi's.
Jenke came out the 'white bracket' putting away Al Baldwin, T. Zampese, Alberto Flores, Brandon Mitchan and Carlos Carrasco jr. on his way to the second meeting with T. Zampese.
Hillin Handed Jr. Dragster Honors
San Antonio's Kenneth Hillin got an early gift in the Jr. Dragster finals from Aaron Philpot who went red handing then win to Hillin. Ironically, Hillon would have lost on a double break going farther under his dial in than A. Philpot.
Kenneth Hillin, 8.890 @ 76.87 defeats Aaron Philpot, 8.141 @ 81.80
Hillin bested Austin Philpot twice and picked up a bye on his way to the finals. A. Philpot lost in round 1, used a bye back, then beat Trace Casey and Emily Ball to face off with Hillin in the finals.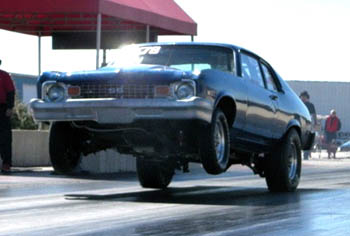 William Simpkins does one of
his crown favorite wheelies.




Drag News: 10 Most Recent Entries [ top ]

Apr 22- K&N Spring Fling Million Final Day Results
Apr 21- K&N Spring Fling Million Friday Results
Apr 20- K&N Spring Fling Million– Thursday Results
Apr 19- K&N Spring Fling Million- Wednesday Results
Apr 18- Buckeye S/SS @ National Trail April 28th
Apr 18- Don "the Snake" Prudhomme Returns To Baja Competition After 50 Years
Apr 18- K&N Spring Fling Million Tuesday Results
Apr 17- K&N Spring Fling Million Pre-Race
Apr 12- Summit Racing Equipment is Newest Sponsor of Midwest Junior Super Series
Apr 12- Summit Racing Named Official MWPMS Sponsor and Event Title Rights Holder