Wed, 27 Feb 2013, 08:39 AM



It Was Cold In The Desert!!



By Bob Frey


Photo copyright 2013 Auto Imagery, Inc.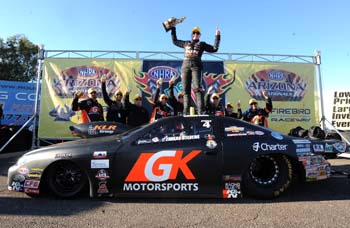 Enders-Stevens celebrates with team.
Ok, so I wasn't there, but I could tell from the reports coming out of
Firebird Raceway
that it was cold. Of course the golf tournament which was held a little further south in
Arizona
was postponed a day because of snow, so I guess we shouldn't complain that it was a bit chilly and windy, should we? Maybe we should complain that for the second consecutive week NHRA had a female WINNER while
NASCAR
grabbed a lot of headlines because
Danica Patrick
finished eighth. I know, I should let it go, but it just bothers me that we have such a great diversity of drivers (and have for years) and we seem to get overlooked by the main stream press, not to mention the sports reporters. Oh well, I guess as a fan I should simply enjoy the fact that
Erica Enders-Stevens
won, that
Antron Brown
came back from his unbelievable crash in Pomona and that the second race of the 2013
NHRA Mello Yello
series finished safely and on time. When it was over two drivers who came close to winning in
Pomona
did win and that is something that has never happened before.
Did you know
that in all the years that the Winternationals has been contested, and that goes back to 1961, the two runners-up at
Pomona
never came back to win the next race? Never! There were lots of Top Fuel drivers who finished second in Pomona and won the next race and a couple of Funny Car drivers who did it, but in all these years the two second place finishers at the Winternationals both never came back and won the next race. So, with that said, congratulations to
Tony Schumacher
and
Ron Capps
, the winners in
Arizona
and the new leaders in the standings. Something tells me it won't be the last time these two lead the points this year.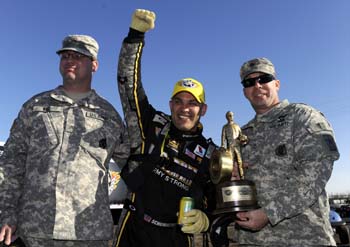 Schumacher celebrates 70th career win.
Tony Schumacher and the Army team lost the Winternationals to Shawn Langdon in a classic Top Fuel race, 3.721 to a losing 3.747, and won in Arizona with a time of 4.606. Go figure! Of course when the guy in the other lane is only running 4.652 it makes it a lot easier for you to win. Still, that just shows you how interesting this sport is when you can make an almost perfect run one weekend and lose and then stumble the next weekend and win. As I (and most drivers) often say, if you're going to win one of these races you probably need at least one lucky round along the way, and it sure doesn't hurt when that lucky round is the final round, does it?...Tony's crew chief, Mike Green, and his team just continue to make one good run after another, well except for that final round, and that's why they will be in the championship chase for the entire season. Of course Tony has had years when he hardly led the points at all during the year and still won the championship (think 2006) but anyone who thinks he isn't one of the top contenders for the championship this year is wrong. Tony's win was his fourth at the Arizona track and that's tops in the Top Fuel class and his four round wins on Sunday gave him a total of 638 for his career. Did you know that ties him with Larry Dixon for fourth place on the all-time professional list?...The road to the winner's circle got considerably easier when the number one qualifier, Doug Kalitta, lost in round one. After his strong showing during qualifying it was stunning to see Doug lose, especially when it was on a holeshot. We all know that Spencer Massey is good on the line but Doug is no slouch either, and that's what made the loss so surprising. Of course Spencer did run 3.774 which is very good, but I'm sure Doug will tell you that if your car runs 3.756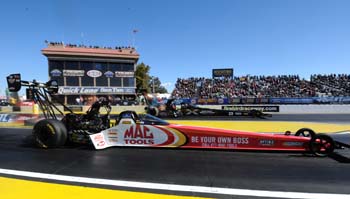 Kalitta lost to Massey in round one.
you should probably win the round.
Did you know
that Doug has only lost sixteen rounds on holeshots in a career that spans 752 rounds, and of those loses exactly half have come in the first round? He's an excellent driver but even the best get beat on the line every now and then. I guess since the number one qualifier in Top Fuel has only won twice in the last nineteen races Doug shouldn't feel too badly about the fact that he couldn't close the deal from the top spot. Having said that I believe that he has the best car he has driven in quite some time and it would be great to see him make another run at the championship..
Morgan Lucas
was in the other lane in that final round with Tony and as good as he has been in his Top Fuel career he just can't seem to be able to beat Tony, at least not with any regularity.
Did you know
that Morgan is 8 - 30 in his career against the "Sarge" and that four of those losses have come in final rounds? In fact, of his thirteen Top Fuel finals six of them have come against Tony and Morgan has won just two of them. Those thirty losses, by the way, are by far the most for Morgan against any driver. In fact, the next closest is
Larry Dixon
who has beaten Morgan seventeen times. I should point out that as lopsided as that record is Morgan and Tony
have
split their last six meetings and each time Morgan beat Tony over that six-race span he also won the race. Do you see a pattern developing here?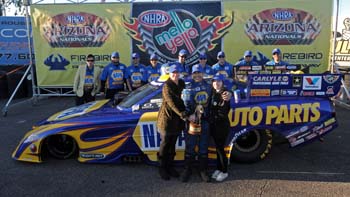 Capps and team celebrate win.
Ron Capps is off to a great start, that is, if you consider a win and a runner-up at the first two races of the year a great start. Ron just continues to have a very good career and it looks like he has the car to make a serious run at the title.again. Ron's four round wins in Arizona gave him 467 for his Funny Car career. Did you know that moves him past Cruz Pedregon and into third place on the all-time Funny Car list? For the record Ron picked up his round wins in 369 races while Cruz has competed at 414 Funny Car events and only John Force and Tony Pedregon have won more rounds in a Funny Car than Ron has. Ron's win continued a pretty good run for the Team Schumacher Funny Cars in Phoenix. Did you know they have now won five of the last six races in the desert? Not bad, is it?.... "Team Don" had a good weekend altogether with the double-up in the fuel classes and three of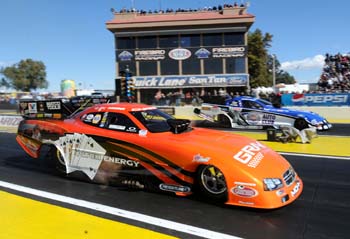 Gray lost to Hight in round one.
their four Funny Cars doing very well. Two, Ron and
Matt Hagan
, were in the final round and a third,
Johnny Gray's
car, qualified number one. Only the reigning champ,
Jack Beckman
, struggled a bit but it's early so don't worry, Jack will be alright. Jack has dropped first round races at both races so far this year and that hasn't happened to him in a while.
Did you know
that you have to go back to the
Denver
and
Sonoma
races in 2011 to find the last time Jack started two races and came away without a round win? But like I said, don't worry..Johnny Gray looked like he had the car to beat until he lost in the first round. I know that sounds strange, kind of like a NASCAR driver dropping out in the first ten laps and then telling everyone "we had a car that could win today." Johnny really did have a car that could win but a brush with the wall in round one ended his day prematurely. Johnny lost to
Robert Hight
who uncharacteristically qualified in the sixteenth spot. How unusual is that? Well,
did you know
that in Robert's 186 races this was just the second time that he qualified at the bottom of the field? The other time was in
Norwalk
last year when he raced, you guessed it, Johnny Gray. Actually it wasn't much of a race because Johnny's parachute came out on the burnout and he never even got to stage the car. That time Robert ran 5.43 to get the win and this time around he went 5.70. Hey, a win is a win, right? Still, it looks like Johnny has a very good car although weekends like this have to be especially frustrating..When Johnny lost it meant that both of the top qualifiers in the fuel classes went out in the first round and that, too, is very unusual.
Did you know
that the last time that happened was in 2007? At the race in Richmond that year Tony Schumacher was number one in Top Fuel and
Tommy Johnson
was tops in the Funny Car class and they both got bounced in round one. Tony lost to Morgan Lucas, of all people, and TJ lost to Cruz Pedregon. So you see it does happen, it just doesn't happen a lot.
Mike Edwards
Mike Edwards had a very good car in Phoenix, but just like the other top qualifiers he didn't win the race. Having said that, I think if you ask any of the Pro Stock teams out there they will tell you that Mike's runs over the weekend were vintage Mike Edwards, and by that I mean that he made some of the more impressive passes of the early season, or any season for that matter. He was the only car in the 6.4 range during qualifying and then he ran 6.522 in the semi-finals which was four hundredths better than his final round opponent, Erica Enders-Stevens. Plus he made three runs over 213 miles per hour on Sunday while the rest of the field made none. Still, as I always say, that's why we make them run the races on the track and when we ran this one Erica won on a holeshot. When you look at her second round win over V. Gaines in which each driver turned a 6.553 that gave Erica two holeshot wins on the day and that was all she needed to get the win. She made reference over the weekend to her father "looking for sponsorship" and let's hope they get it because she is too good to lose..When Mike failed to win it continued an interesting streak in Phoenix. Did you know that the number one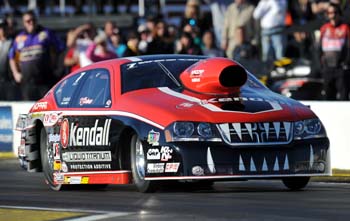 V. Gaines
Pro Stock qualifier at Firebird Raceway has only won twice in the last twenty-one years? And that's more amazing when you figure that in the first eight years of the race the top qualifier in Pro Stock won every year!....
Greg Anderson
didn't win the race but he did do something he hasn't done in a while.
Did you know
that when Greg made it to the semi-finals it marked the first time that he has been past the second round since the Sonoma race last year and that was his longest such drought since the end of the 1999 and beginning of the 2000 season. Amazing, isn't it?....Both Greg and his
Summit Racing
teammate,
Jason Line
, made it to the semi-finals and that's the first time they did that since the Sonoma race last year and both appear to have cars that can challenge Mike..Everyone knows I'm not a real technical guy (a major understatement) but I do observe the races and I will say that Mike definitely has the car to beat right now and some of his runs in Phoenix were stunning, and when he gets to the fast track in Gainesville you could see all kinds of records. Of course for Mike the main concern will be to win the race, after all it's nice to say
"I Am Second"
on your car but on Sunday everyone, even Mike, wants to be first.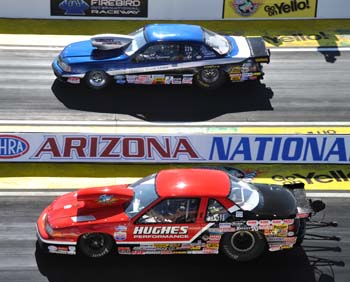 Kleineweber defeated Ryan Giacone
in the final.
The Hawk family almost pulled off a rare accomplishment when father and son made it to the final round in Arizona. Dad, Chuck Hawk, did manage to win the Top Dragster category while his son, Matt Hawk, made it to the final in Stock Eliminator only to lose to Zack Torres. Did you know that Matt's brother, Brad Hawk, was the runner-up in Stock Eliminator at this race last year? ..And Alan Reinhart sent me a message to let me know that Kevin Kleineweber did something that may never have been done before. Did you know that when Kevin won the Super Street category he did it in the same car that he had won with in Top Sportsman, Super Comp and Super Gas? That's four wins in four different classes with one car. Amazing!!...And congrats to the other Lucas Oil winners, too. Harry Doolittle moved from Stock to Super Stock and won the race. That's taking a fast Stock class car and making it a slow Super Stock car, but in the end he won so it was a good move for Harry. Tom Kasch, who knows about these things, e-mailed me to say that running 12.08 like Harry did with a "3800 V-6" is very good. I'll take your word for it, Tom..Brad Pierce won for the fifth time in Super Gas and for the second time in Arizona while Jack DeRencin won in Super Comp and JR Lobner garnered Top Sportsman honors.




NHRA: 10 Most Recent Entries [ top ]

Jun 19- NORWALK - Fact Sheet
Jun 19- BRISTOL - Mickey Thompson Top Fuel Harley Series Championship Points
Jun 18- Farewell to the Mongoose Part III
Jun 18- BRISTOL - Lucas Oil Drag Racing Series Wrap Up
Jun 18- Mark Oswald Named 2018 Legend of Thunder Valley
Jun 18- BRISTOL - Sunday Pro Mod Wrap Up
Jun 18- BRISTOL - Special Awards
Jun 18- BRISTOL - Pro Mod Championship Points
Jun 18- BRISTOL - Sunday Video
Jun 18- BRISTOL - Championship Points