Mon, 25 Feb 2013, 19:45 PM



Local Racers Win in Phoenix



Courtesy of NHRA Field Marketing


Photo copyright 2013 Auto Imagery, Inc.





CHANDLER, Ariz. --
Three Arizona racers took home the hardware from the NHRA Arizona Nationals and the NHRA Lucas Oil Drag Racing Series this past weekend at Firebird International Raceway. Phoenix resident Kevin Kleineweber won in Super Street, Harry Doolittle, Wickenburg, Ariz., took the win in Super Stock, and Chuck Hawk, Tucson, Ariz., was victorious in Top Dragster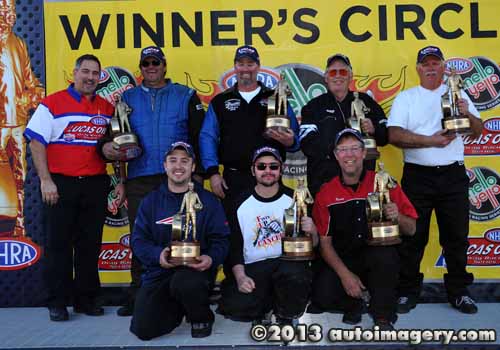 Standing: Chuck Hawk, Brad Pierce, Harry Doolittle and Jack Derencin
Kneeling: JR Lobner, Zack Torres and Kevin Kleineweber
Kleineweber knocked out fellow Phoenix racer Ryan Giacone in his Hughes Performance sponsored '94 Lumina in 11.001 seconds at 143.26 mph while Doolittle held off Mike Graham, Tempe, Ariz. Hawk over powered Moe Trujillo with a lap of 197 mph in 6.914 seconds in his '11 dragster.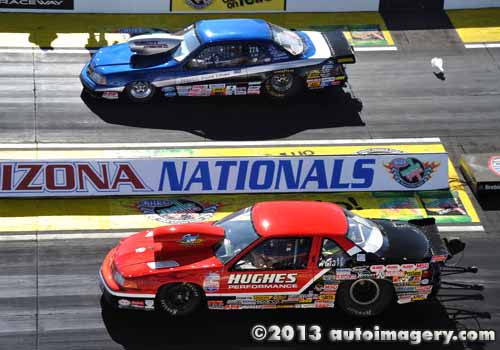 Kevin Kleineweber defeated Ryan Giacone
Zack Torres and JR Lobner turned their trips to Phoenix into wins with Torres coming from El Paso, Texas, to beat Matthew Hawk (Chuck's son) in the Stock Final for Torres' first NHRA national event win of his career. Lobner, Gardner, Kan., got the starting line advantage over Ted Carli, Temecula, Calif., to take his first win at the national level as well.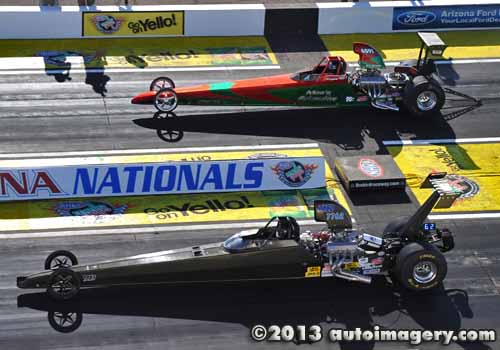 Chuck Hawk defeated Moe Trujillo
Brad Pierce and Jack DeRencin rounded out the winners taking the Super Gas and Super Comp titles respectively. The win is Pierce's fifth national in six final rounds as he took the hole-shot to beat Russ Ginger. DeRencin, Buena Park, Calif., was near perfect running 8.905 on the 8.90 index to take out Jim Berry.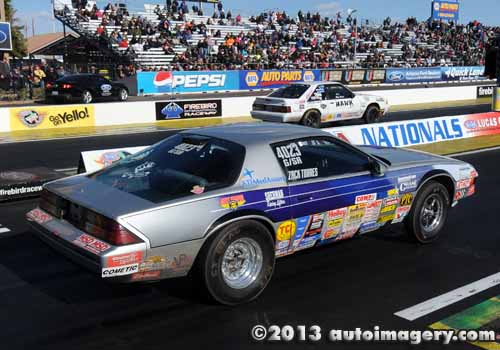 Zack Torres defeated Matthew Hawk
Most of the racers in competition this weekend will return to Firebird International Raceway on Thursday when they kick off an NHRA Pacific Division Lucas Oil Drag Racing Series double-header. The first of two events will run qualifying and time trials on Thursday with eliminations on Friday. Racers in the Top Alcohol Dragster and Funny Car classes will join the action for the second race that will take place on Saturday and Sunday, March 2-3.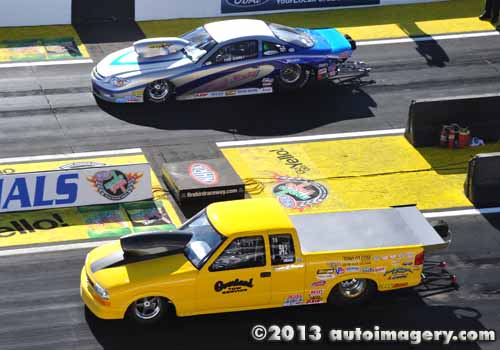 JR Lobner defeated Ted Carli
The following are the final results from the NHRA Arizona Nationals at Firebird International Raceway:
Super Stock -- Harry Doolittle, Pontiac Firebird, 12.069, 109.67 def. Mike Graham, Ford Mustang, 10.265, 129.74.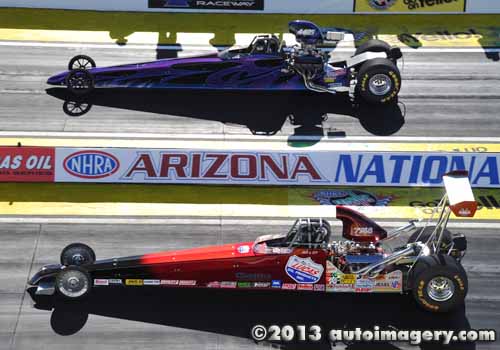 Jack DeRencin defeated Jim Berry
Stock Eliminator -- Zack Torres, Chevy Camaro, 11.622, 110.88 def. Matthew Hawk, Ford Mustang, 12.367, 100.56.
Super Comp -- Jack DeRencin, Dragster, 8.905, 164.47 def. Jim Berry, Dragster, 8.924, 166.89.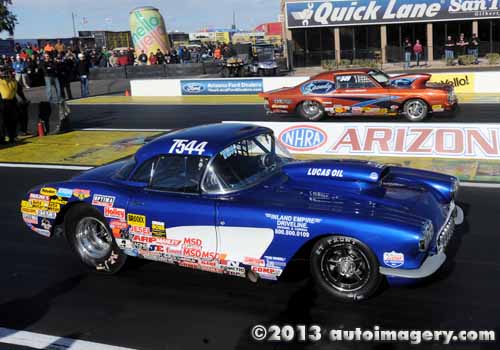 Brad Pierce defeated Russ Ginger
Super Gas -- Brad Pierce, Chevy Corvette, 9.899, 141.34 def. Russ Ginger, Dodge Aspen, 9.857, 161.21.
Super Street -- Kevin Kleineweber, Chevy Lumina, 11.001, 143.26 def. Ryan Giacone, Ford Thunderbird, 11.127, 119.57.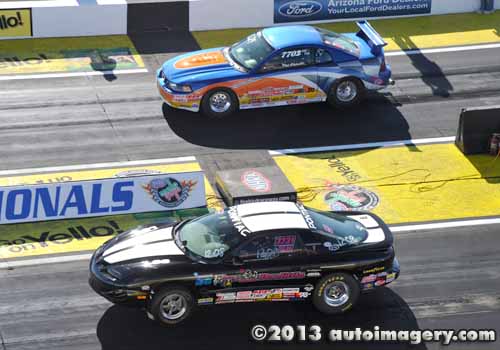 Harry Doolittle defeated Mike Graham
Top Dragster -- Chuck Hawk, Dragster, 6.914, 197.16 def. Moe Trujillo, Dragster, foul.
Top Sportsman -- JR Lobner, Chevy S-10, 7.457, 184.22 def. Ted Carli, Chevy Cobalt, 6.682, 207.75.




NHRA: 10 Most Recent Entries [ top ]

Apr 24- CHARLOTTE 1 - Steve Torrence Enjoying Four-Wide Success Heading to NGK Spark Plugs NHRA Four-Wide Nationals
Apr 24- CHARLOTTE 1 - Fact Sheet
Apr 24- Kalitta Motorsports Welcomes NASCAR Stars to the SealMaster Track Walk in Charlotte
Apr 24- zMAX Dragway Celebrates 10th Anniversary
Apr 24- CHARLOTTE 1 - NGK Spark Plugs NHRA Four-Wide Nationals Brings 40,000 Horsepower Thrill Show to zMAX Dragway
Apr 23- HOUSTON - Lucas Oil Drag Racing Series Wrap Up The NHRA Lucas Oil Drag Racing Series Wrap Up
Apr 23- CHARLOTTE 1 - J.R. Todd Aiming for Two Four-Wide Racing Wins in 2018
Apr 23- Mid America Dragway Joins NHRA Member Track Network
Apr 23- HOUSTON - Special Awards
Apr 23- HOUSTON - Sunday Video