Sun, 24 Feb 2013, 21:01 PM



Schumacher, Capps and Enders-Stevens Score Wins at NHRA Arizona Nationals



Courtesy of NHRA Communications


Photo copyright 2013 Auto Imagery, Inc.





CHANDLER, Ariz. --
Schumacher, Enders-Stevens and Capps
Tony Schumacher won a wild tire-smoking final round against Morgan Lucas Sunday to claim the Top Fuel victory at the NHRA Arizona Nationals at Firebird International Raceway.
Ron Capps (Funny Car) and Erica Enders-Stevens (Pro Stock) also were winners at the NHRA Mello Yello Drag Racing Series event near Phoenix.
Schumacher raced to his 70th career victory and fourth at FIR when he was able to get his 8,000-horsepower U.S. Army dragster under control and finish just in front of Lucas' charging GEICO/Lucas Oil dragster. Both dragsters lost traction early in the side-by-side race and both drivers were on and off the throttle as they navigated the dragstrip.
"When you can win ugly like that it is so much fun," said Schumacher, who beat Sidnei Frigo, Khalid alBalooshi and Antron Brown in earlier rounds. "Both cars were set up to run really fast and we both lost it and smoked the tires. It was lift, pedal, lift, pedal all the way down. I could hear Morgan beside me the whole time. As a driver that kind of race is so much fun and I enjoy winning like that more than a record run."
It was the fourth consecutive final round appearance for Schumacher dating back to last season and he moves into the series points lead with the victory.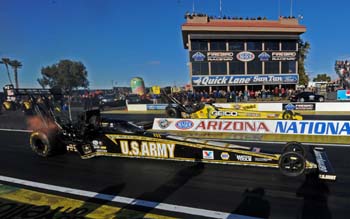 Schumacher defeated Lucas
"Four finals in a row, it's unbelievable that our team is that good," Schumacher said. "Win number 70. I like that number. I was stuck on 69 for a long time."
In Funny Car, Capps earned his 39th career victory and third at this event, outrunning Matt Hagan in the final round. Capps powered his NAPA Auto Parts Dodge Charger to a 4.064 at 314.90 to finish in front of Hagan's Mopar/Rocky Footwear Charger, which trailed with a 4.158 at 300.33.
Capps reeled off a series of quick runs in the mid 4.0 second range in early round wins over Tony and Cruz Pedregon and Tim Wilkerson. His machine was just as quick in the final round over Hagan.
"This new car really likes to be planted early, and so [crew chief] Rahn Tobler has been working on a new clutch package," Capps said. "In (the final qualifying session) yesterday, we finally found out what it really liked. And when you give Tobler a new combination, he's going to 'bracket car' it to death."
With the victory Capps moves into the series points lead. With back-to-back final rounds to open the season, Capps says his NAPA team is picking up right where it left off last season.
"We are starting to feel like we are getting into the same rhythm that we were last year when we went to six finals in a row," Capps said. "I think that both Rahn and I built up some confidence in each other [with our runner-up] at Pomona, and now here."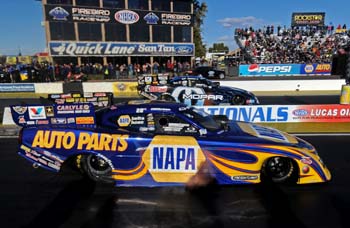 Capps defeated Hagan
Enders-Stevens outran top qualifier Mike Edwards in the Pro Stock final round to earn her fifth career victory. She used a quicker reaction time in her GK Racing Chevy Cobalt to take the win from Edwards in his Interstate Batteries / I Am Second Chevy Camaro. Enders-Stevens finished in 6.538 at 211.99, just in front of Edwards' quicker but losing performance of 6.520 at 213.74.
"Coming off the season we had last year, and starting the way that we did this year, it was a kind of a gut check in that we wonder if we can ever get it done again," Enders-Stevens said. "Our guys really worked their butts off during the winter, but we didn't get the chance to test a lot. And I was a little bit nervous coming into this year because the other big teams got to test a lot. But our guys proved that they can pick up where they left off, and I'm excited."
Enders, who moved to second in the points standings with the win, defeated Shane Gray, V. Gaines and Jason Line in the first three rounds and won from the No. 7 qualifying position.
"My crew chief, Dave Connolly, reminded me that every time that Jimmie Johnson wins, we win," Enders-Stevens said with a smile. "And he told me that Jimmie won today's Daytona 500 prior to the final. So needless to say, we're going to be cheering for Jimmie all year."
Following Courtney Force's Funny Car win at Pomona, Calif. last weekend, this is the first time in NHRA history that two female drivers have won races in back-to-back events to open a season.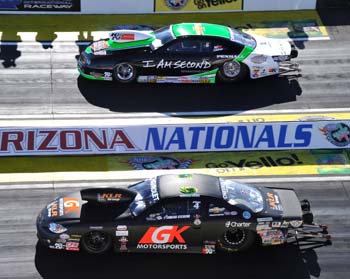 Enders-Stevens defeated Edwards
The NHRA Mello Yello Drag Racing Series continues March 14-17 with the Amalie Oil NHRA Gatornationals at Auto-Plus Raceway at Gainesville (Fla.).
Sunday's final results from the 29th annual NHRA Arizona Nationals at Firebird International Raceway. The race is the second of 24 in the NHRA Mello Yello Drag Racing Series:
Top Fuel -- Tony Schumacher, 4.606 seconds, 213.20 mph def. Morgan Lucas, 4.652 seconds, 258.67 mph.
Funny Car -- Ron Capps, Dodge Charger, 4.064, 314.90 def. Matt Hagan, Charger, 4.158, 300.33.
Pro Stock -- Erica Enders-Stevens, Chevy Cobalt, 6.538, 211.99 def. Mike Edwards, Chevy Camaro, 6.520, 213.74.
Super Stock -- Harry Doolittle, Pontiac Firebird, 12.069, 109.67 def. Mike Graham, Ford Mustang, 10.265, 129.74.
Stock Eliminator -- Zack Torres, Chevy Camaro, 11.622, 110.88 def. Matthew Hawk, Ford Mustang, 12.367, 100.56.
Super Comp -- Jack DeRencin, Dragster, 8.905, 164.47 def. Jim Berry, Dragster, 8.924, 166.89.
Super Gas -- Brad Pierce, Chevy Corvette, 9.899, 141.34 def. Russ Ginger, Dodge Aspen, 9.857, 161.21.
Super Street -- Kevin Kleineweber, Chevy Lumina, 11.001, 143.26 def. Ryan Giacone, Ford Thunderbird, 11.127, 119.57.
Top Dragster -- Chuck Hawk, Dragster, 6.914, 197.16 def. Moe Trujillo, Dragster, foul.
Top Sportsman -- JR Lobner, Chevy S-10, 7.457, 184.22 def. Ted Carli, Chevy Cobalt, 6.682, 207.75.




NHRA: 10 Most Recent Entries [ top ]

Apr 24- zMAX Dragway Celebrates 10th Anniversary
Apr 24- CHARLOTTE 1 - NGK Spark Plugs NHRA Four-Wide Nationals Brings 40,000 Horsepower Thrill Show to zMAX Dragway
Apr 23- HOUSTON - Lucas Oil Drag Racing Series Wrap Up The NHRA Lucas Oil Drag Racing Series Wrap Up
Apr 23- CHARLOTTE 1 - J.R. Todd Aiming for Two Four-Wide Racing Wins in 2018
Apr 23- Mid America Dragway Joins NHRA Member Track Network
Apr 23- HOUSTON - Special Awards
Apr 23- HOUSTON - Sunday Video
Apr 22- HOUSTON - Sunday Pro Mod Wrap Up