Tue, 12 Feb 2013, 14:08 PM



Happy Anniversary



By Bob Frey



I've kind of fallen into a routine over the past few weeks of not getting into the heart of my story until after the first paragraph. Well, guess what? I'm doing that again. Before I talk about the 50
th
anniversary of Top Fuel at the Winternationals I wanted to mention a very special program that is taking place this year. I'm sure you all read about the latest endeavor by
Rodger
and
Karen Comstock
and their partnership with
Don Schumacher Racing
, the one where they will raise awareness for the
Wounded Warriors Project
. There will be cards available at
Jack Beckman's
pit area at every race that fans can sign and send their best wishes to members of the armed forces who have been injured in combat. As part of the program Jack's car will carry a special Wounded Warriors logo at selected events beginning with the race in
Arizona
in a few weeks. "
Mail Terminal Service
will provide the cards and take care of seeing that they are delivered to our men and women in uniform," Rodger said. But there's more. In addition to all that the Comstock's are doing with the card program they announced that
MTS
will also donate one dollar for every card that is signed throughout the year, and if fans get behind the program that could amount to a great deal of money, money that Rodger and Karen will gladly donate. The Comstock's are special people and this is a great program, so when you're at an
NHRA Mello Yello
event this year make sure you visit Jack's pit area and sign a card. It's simple and quick but it will mean a lot to the service members who get one. Congratulations to Rodger and Karen, MTS and Don Schumacher Racing for this great program.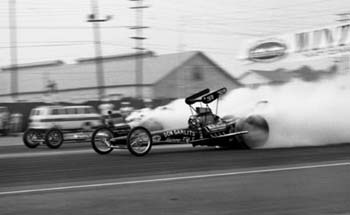 "Big Daddy" Don Garlits
won Top Fuel in 1963.
Photo copyright 2013 NHRA
Did you know that this will be the 50th anniversary of Top Fuel racing at the Winternationals? 1963 was the first year that fuel cars ran in their own eliminator at Pomona and this year some of the best drivers in the sport will carry on a tradition that began with "Big Daddy" Don Garlits beating his friend Art Malone in the final in 1963. Ironically the Top Fuel cars weren't the stars of that race, the Top Gas cars were. And of course history will show that 1963 was the year that Bob Muravez drove the "Freight Train" to the win over Connie Kalitta in the Top Gas final round. Of course Bob didn't get any credit for it at the time since the driver was listed as John Peters, who actually owned the famous twin-engine dragster. Since Bob was not supposed to be driving, thanks to a family decision, he ran as John Peters and that's who was credited with the historic win. Did you know that at one time or another there was sixteen different drivers for the "Freight Train" (including a couple of stints for Bob) but that John Peters wasn't one of them? Nope, the famous owner never did make a competitive run in the car, but Bob did, and so did his alter ego Floyd Lippencott as well as many others.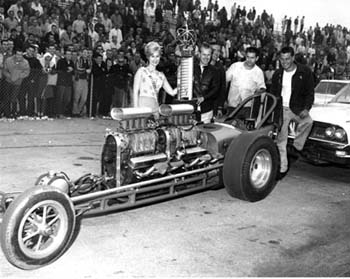 Bob Muravez won Top Gas
in the Freight Train.
Photo copyright 2013 NHRA
At
Pomona
in '63 Bob beat
Jack Chrisman
and the
Frye Brothers
and their twin-engine Buick-powered car before meeting Connie who had already stopped
Danny Ongais
and the great
Gordon Collet
in order to make the final round. If you would like to hear more about that 1963 race just stop by the
NHRA Wally Parks Museum
on Friday night for the "Night of Champions" because I'm sure Bob will be there..As hard as it may be to believe both Top Gas and the Stock Eliminator classes got more attention and publicity than the fuel cars did in 1963. After all, the big twin-engine cars were engineering marvels and the Stock cars featured all of the factory-backed machines going head to head. Still, it was at this race fifty years ago that NHRA crowned their first Top Fuel champion...I just thought that I would mention that
Charlie Smith
, Todd's father who I included in last week's story, won the A/SR class in '63,
Jim Dunn
, who will have his Funny Car at Pomona, won the AA/A class and
Bob Lambeck
, whose son is entered in Competition Eliminator this week, won the C/S class.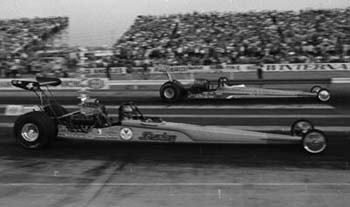 Shirley Muldowney won Top Fuel in 1980.
Photo copyright 2013 NHRA
Since that first race there have been thirty-five different drivers who have won in the Top Fuel class and among that group are four women. Shirley Muldowney, Lori Johns, Shelly Anderson and Melanie Troxel all won Top Fuel at Pomona, and of that group did you know that only Shirley won it more than once? She beat Connie Kalitta in 1980 and came back to beat Jody Smart three years later. This year there are two women entered in the dragster class, Brittany Force and Leah Pruett, and they will both be making their debuts in the sport's premier class. As exciting as it will be to see those two in action did you know that it's not unusual to have two women in the Top Fuel field at Pomona? In fact it has happened ten times in the history of the event with the most recent year being 2007 when Melanie Troxel and Hillary Will both made the starting lineup. Hillary also made the field in 2008 and that was the last time a woman was among the top sixteen qualifiers at Pomona..Speaking of Brittany she will be using a Ford engine and that will continue a long tradition at the Winternationals. Ford-powered dragsters have been part of this race for many years, although not recently, and they have also been in the winner's circle. In an earlier column I mentioned Connie Kalitta's 1967 win over Gene Goleman but there have been other highlights for Ford at the Winternationals. Did you know that in 1968 three Ford-powered fuelers made the starting lineup in California? Of course Connie was one, Don Prudhomme with the "Shelby Super Snake" (the Best Engineered Car at the '68 race) was another and Mr. Muravez, driving the spectacular "Assassin" car of Jim Crooke was the third. Connie's win in '67 was, however, the only time that a Ford dragster went the distance in Top Fuel at the Winternationals. Maybe Brittany can change that this week. Did you know that there hasn't been a Ford-powered Top Fuel car in the winner's circle at any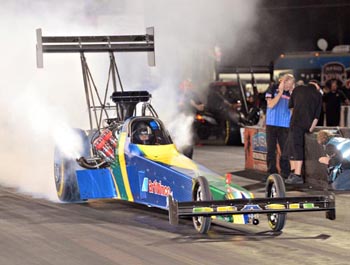 Sidnei Frigo
Photo copyright 2013 BME Photography
NHRA national event since
Pete Robinson
won in York in 1970?....While the women will certainly get a lot of attention this week and throughout the year there will be another rookie driver trying to make the field.
South America
's
Sidnei Frigo
, who ran a few races in the Top Alcohol Dragster class over the past two years, is entered in the "Big Go West."
Did you know
that Sidnei made the final round at Indy last year where he lost to
Duane Shields
? In his ten race alky career he made it to the semi-finals three times and he'll try to upstage the ladies at
Pomona
this week. Actually, if he's like every other racer out there he'd like to upstage everyone, men and women alike. Good luck to the three rookies and it will be interesting to see which ones, if any, make the starting field...Let's put to rest the
Spencer Massey
controversy, ok? He and Don Schumacher issued a joint statement last week that should answer most of the questions about what went on in the off season. I hope Spencer and his team can concentrate on racing now and put all of that "stuff" behind them. Spencer is going to try to do what only one other Top Fuel driver has done in the previous fifty years and that is win
Pomona
in back-to-back seasons.
Did you
know that
Larry Dixon
, who won in 2002 and 2003, is the only dragster driver to win the Winternationals in consecutive years? The only one and he will be in action this week with his new team and crew chief,
Lee Beard
.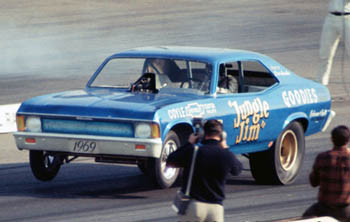 Clare Sanders won the
Winternationals in 1969.
Photo copyright 2013 Auto Imagery, Inc.
The Funny Cars became part of the Winternationals in 1969 when Clare Sanders drove "Jungle Jim's" team car to the win. I mentioned last year that Clare's win, like Bob Muravez's win in 1963, almost got credited to the wrong guy, "Jungle" himself. This year the Funny Car field will have a slightly different look since Team Force is only bringing three cars. I firmly believe that will make them a better and stronger team and that's bad news for the rest of the competitors in that class. Of course with five wins in the last seven years at this event Team Force may not need any extra advantages. John comes in as the defending champion and that was just one of his six wins at the Winternationals. Did you know that Bob Glidden holds the record with seven season-opening victories? John is one of four active Funny Car drivers who have multiple wins at Pomona. His teammate, Robert Hight has three wins at the Winternationals while Ron Capps and Tony Pedregon each have won twice. With twenty-seven former Pomona Funny Car winners John will be trying to do what only Don Prudhomme and Al Segrini have done and that is win the race in back-to-back years..Phil Burkart is a surprising entry and he'll be driving the Steve Pluger car. This will be Phil's first start in the class since Maple Grove in 2010 and only his sixth start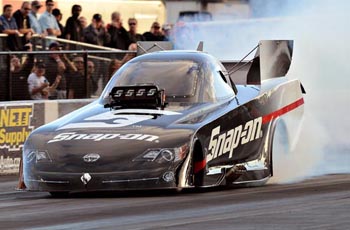 Cruz Pedregon
Photo copyright 2013 BME Photography
since 2007. It hasn't been widely publicized but Phil's father passed away a few weeks ago and this will be a nice distraction, if that's the right word, for Phil. "My dad would have loved to see me driving again, even it is only for a couple of races," Phil told me. "He was such an inspiration to me and I would really like to make the field and dedicate it to him." Currently there are nineteen cars on the entry list and I can count on fourteen of them making the field. Put another way, if one of the fourteen I am counting on doesn't qualify it will be a surprise and that leaves just two spots for the other five teams to fight for and I wish them all good luck..Surprisingly, at least to me, there are only five former event champions on the entry list, John, Robert, Ron, Tony and
Cruz Pedregon
so the chance of a repeat winner may seem slim although all five of those are certainly capable of going the distance on Sunday..If I had to pick a favorite, and I'm not, I may have to go with Robert Hight. I say that for a couple of reasons. First of all he and his team are always well prepared and he does an excellent job of driving to put it mildly. Secondly, he loves
Pomona
.
Did you know
that Robert has a record of 17-5 at the Winternationals and that computes to a 77% winning record and that just happens to be his best record of any event on the tour? Oddly enough Robert's toughest round there is the first where he is only 5-3, so if you want to get him you better get him early because he gets really tough to beat as the day goes on in
Pomona
.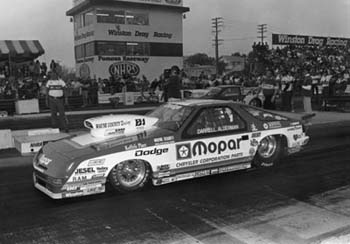 Darrell Alderman won the
Winternationals in 1991.
Photo copyright 2013 NHRA
While Pro Stock has been around since 1970 its been a while since anyone could say this..there are seven Dodges on the entry list for the Winternationals. Seven! With that many of the big honkin' Hemis on the grounds the Dodge folks have a chance to do something they have only done twice in the forty-two previous Winternationals and that is win the race. Did you know that Darrell Alderman is the one and only Dodge driver to ever win the first race of the season? He did it in 1991 when he beat Warren Johnson and again in 1995 when he beat his Wayne Country teammate, Scott Geoffrion, in a very rare all-Dodge final round. Other than those two years the Dodges have been shut out of the winner's circle at the Winternationals. This year could be different, because beside the fact that there are seven on the entry list the Dodge stable is loaded with talent. Of course Allen Johnson, the reigning World Champion will be there and he would like nothing better than to kick the year off the same way he ended it, with a win...The two Summit Racing team drivers, Greg Anderson and Jason Line, might have something to say about that, and since they have won the race in six of the last seven years you have to like their chances. In addition to Greg (a five-time winner) and Jason (a two-time champ) there are four other previous winners and a whole pile of talent in Pro Stock so that class should be wide open...Pro Stock is the one class that has pretty much gone according to form over the years, and with the rare exception of George Marnell in 2002 there really isn't anything that you could call an upset in the class. There have been some drivers who came close to pulling an upset, like Kevin Rotty in 1980, Pat Musi in 1981 and Billy Huff in 1996, but for the most part the strong and the favorites survive in Pomona.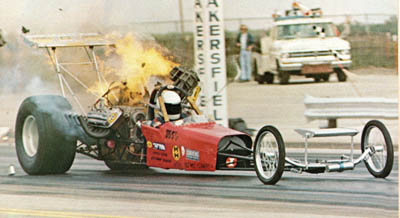 One of many of
Les Welch's great shots.
This will be the first time in recent memory that I haven't been at Pomona and I will miss it terribly, but I hope they get four days of great weather (which means no rain or snow!) and that they have a safe race that ends on Sunday. Now wouldn't that be a great way to start the year?.....And finally my condolences to the family of Les Welch who passed away last week. Les was a wonderful man and a very talented photographer who made his living shooting drag race photos for many years. He was always very kind to me and presented me with a lot of great pictures over the years, pictures of cars, drivers, and occasionally, me. I enjoyed them all as well as his friendship. I went back through my archives and found this very early shot of Ray Stutz at Bakersfield in 1973. It wasn't one of Ray's better efforts but it was one of Les's and he captured it in all its glory and had it published that year in Hot Rod Magazine. Thanks to his pictures, among other things, he will be remembered and missed by all in the drag racing community.




NHRA: 10 Most Recent Entries [ top ]

Apr 24- CHARLOTTE 1 - Steve Torrence Enjoying Four-Wide Success Heading to NGK Spark Plugs NHRA Four-Wide Nationals
Apr 24- CHARLOTTE 1 - Fact Sheet
Apr 24- Kalitta Motorsports Welcomes NASCAR Stars to the SealMaster Track Walk in Charlotte
Apr 24- zMAX Dragway Celebrates 10th Anniversary
Apr 24- CHARLOTTE 1 - NGK Spark Plugs NHRA Four-Wide Nationals Brings 40,000 Horsepower Thrill Show to zMAX Dragway
Apr 23- HOUSTON - Lucas Oil Drag Racing Series Wrap Up The NHRA Lucas Oil Drag Racing Series Wrap Up
Apr 23- CHARLOTTE 1 - J.R. Todd Aiming for Two Four-Wide Racing Wins in 2018
Apr 23- Mid America Dragway Joins NHRA Member Track Network
Apr 23- HOUSTON - Special Awards
Apr 23- HOUSTON - Sunday Video