Thu, 07 Feb 2013, 18:47 PM



Finally



By Bob Frey


Photo copyright 2013 Auto Imagery, Inc.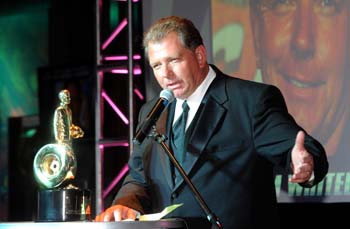 Jim Whiteley
There is an old expression that says something about "death and taxes" and you probably know what it is. Words like "inevitable," "can't get away from them," "one of the few guarantees in life" and things like that are also mentioned with that old saying. Today there is probably more talk about death than taxes and maybe that's because there is something you can do about taxes, or at least some think there is. I don't. Anyway, in our sport there are also a few things that seem to be inevitable, like the Summit Racing Pro Stock drivers contending for a championship, the Harley-Davidson riders making a final round or the Team Force and Team Schumacher drivers all being in title contention this year, or every year for that matter. And while all, or at least a lot of those things, seem to be part of the fabric of the sport there is another thing you could include on that list and that is the fact that a nitro-burning, fuel injected dragster will win the Lucas Oil World Championship. Or at least that's the way it seemed for the last decade. Not since the reign of Rick Santos has a supercharged car won the season long championship, and his last title was in 2001. That all changed in 2012 when Jim Whiteley, who had been knocking on the door of the title for a few years, finally broke through to win the championship with his supercharged dragster.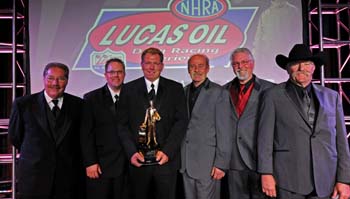 Whiteley and crew celebrate championship.
Jim Whitely is a very successful businessman who appears to be successful at just about anything and everything he sets his mind to, "Well, that's not entirely true," he said while taking a break from the forty degree below zero weather on his current job site in North Dakota. "In high school back in Jay, Oklahoma, I was on the baseball, football and basketball teams. It was a small school and we didn't win anything so I guess you can say that I played at sports." While that may be true he has been playing at the Top Alcohol Dragster game for several years now, although "play" may not be the correct word. "We want to have fun but make no mistake about it we take this very seriously and want to win every time we go out," he said. And in 2012 he did just about that. With nine wins for the season, including a career best six national event wins, Jim put the Lucas Oil Championship away before the end of the season and that was just fine with him. "We had come so close before and to finally win it is just unbelievable. I have to say it's even better than I expected."
The fact that they had the title secured by the time they left Dallas, one of the many races they won in 2012, enabled Jim and his team, led by Norm Grimes, to really let lose at the last couple of events. "When you're running for the championship you don't want to make mistakes and give something away so we were probably a little conservative during the season. But once we wrapped up the title we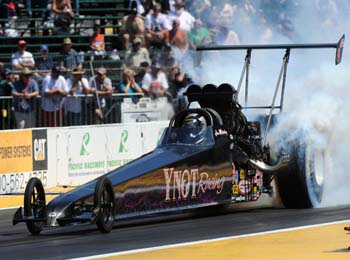 Jim Whiteley
knew we could try some things and when we went to Pomona we decided to throw the book at it." That attitude resulted in one of the best runs of the year and one of the best runs in class history, a historic 5.178 - 277.43 that got everyone's attention. "We knew that the car could run that fast but we had been having tire-shake problems with it throughout the year," he said. "But at Pomona Norm and I talked and decided to be a little more aggressive and I guess it paid off." I guess it did!
Norm, of course, is Norm Grimes who is acknowledged to be one of the brightest men in the sport. "When we were putting our team together someone suggested that Norm might be ready for a change, so we talked and he became part of our team. He's wonderful to work with and everyone on the team gets along real well." When asked who makes the final tuning decisions on the car Jim said, "Well, Norm will ask me my opinion and then he'll go and do what he thinks is right. Actually, if I am adamant about something he'll do it my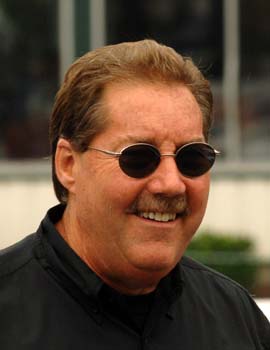 Norm Grimes
way but when you have a guy like him on your team you'd be silly not to listen to him." And silly is something that Jim is not. He works hard and he races hard and it shows in his performance. "We were overjoyed with the way the car responded at Pomona and can't wait for the new season to begin. It's going to be fun."
One of the things that has long been a topic of discussion and debate in the class is the parity between the blown cars and the fuel-injected ones, and Jim says he thinks that the two are about as equal as they can get right now. "Randy Meyer has a very good car and I think he can go in the mid to low teens right now and I think that if we get the right track and the right weather we could probably run a '14' or a '15, and if that gets us in trouble with the NHRA tech guys than we'll worry about that at that time."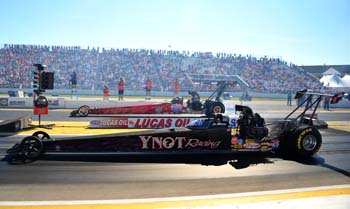 You would think that with a company to run, J & A Services, and a championship to defend Jim's plate would already be rather full, but 2013 will see his team expand to another car. "Of course Annie (his wife) will run her Funny Car again and my son, Steven, has a new Pro Mod car that he'll race. We're getting ready to test it in a few weeks." At twenty years old Steven will be one of the youngest members of the NHRA Pro Mod ranks, a group that he hopes to join by mid-season. "We have a Tim McAmis car for him and Norm will tune it. We're excited about that and look forward to racing with Steven." And it goes without saying that Jim is really thrilled with how well Annie did last year. "With Roger Bateman, Jeff, Lindsay and Mike Strasburg all helping out she has done remarkably well. To have the season like she did in her first full year in the car was amazing. I couldn't be prouder of her or happier for her." Annie, who competes in the rugged Top Alcohol Funny Car ranks, went to seven final rounds this year between the regional and national events, and included in that were finals at the Brainerd and Las Vegas national events and all of that added up to a fourth-place finish and a regional championship for her.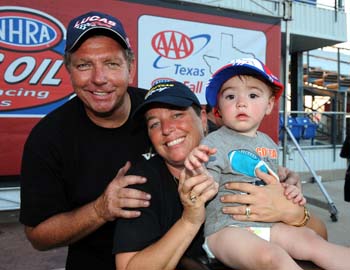 Jim with wife Annie and their first grandchild.
As he sits in the cold, or more correctly sits inside out of the cold in North Dakota, Jim is already thinking about his race schedule for next year. "We're going to go after it very aggressively and may add a race or two. With Steven's and Annie's cars we may add the two Charlotte races to our schedule and then see what happens. I can tell you this we're looking forward to it and I can't wait to begin defense of the championship. We worked long and hard to finally get it and we'd like to keep it." Based on what he has done already the nitro cars and all the other supercharged cars in the class better bring their "A" game to every race because they are going to need it in 2013.




NHRA: 10 Most Recent Entries [ top ]

Apr 24- CHARLOTTE 1 - Steve Torrence Enjoying Four-Wide Success Heading to NGK Spark Plugs NHRA Four-Wide Nationals
Apr 24- CHARLOTTE 1 - Fact Sheet
Apr 24- Kalitta Motorsports Welcomes NASCAR Stars to the SealMaster Track Walk in Charlotte
Apr 24- zMAX Dragway Celebrates 10th Anniversary
Apr 24- CHARLOTTE 1 - NGK Spark Plugs NHRA Four-Wide Nationals Brings 40,000 Horsepower Thrill Show to zMAX Dragway
Apr 23- HOUSTON - Lucas Oil Drag Racing Series Wrap Up The NHRA Lucas Oil Drag Racing Series Wrap Up
Apr 23- CHARLOTTE 1 - J.R. Todd Aiming for Two Four-Wide Racing Wins in 2018
Apr 23- Mid America Dragway Joins NHRA Member Track Network
Apr 23- HOUSTON - Special Awards
Apr 23- HOUSTON - Sunday Video