Wed, 06 Feb 2013, 18:25 PM



Second Generation



By Bob Frey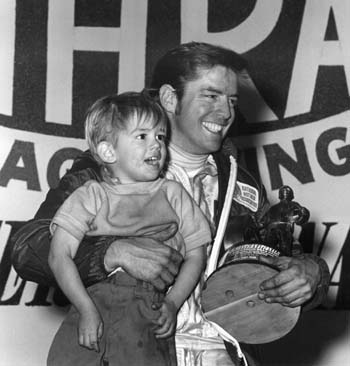 Larry Dixon in the '70 Winternationals
winner circle with son Larry Jr.
Drag racing has been around a long time. Ok, so not as long as baseball which has been around forever, but when you're talking about a sport (and that's what drag racing is) that has been played for over sixty years that's a long time. At the recent Division 1 awards banquet I was reminded just how long when I was handing out trophies to the grandchildren of racers that I announced for at
Atco Raceway
back in the 1960's. Now that I think about it maybe that doesn't mean that drag racing has been around for a long time maybe it just means that I have! Anyway, it's amazing to me how many people who raced "back then" are still involved in the sport today, and this includes drivers, crew chiefs, sponsors and even officials, and as the bumper stickers on many trailers said years ago, drag racing is addictive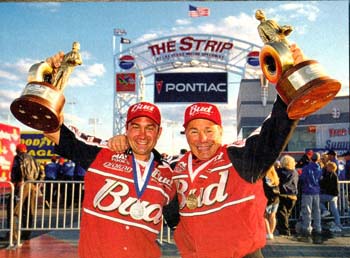 Brandon and Kenny Bernstein shared
the Las Vegas 2001 winner circle.
Photo copyright 2013 NHRA
As we head into the new racing year a lot of the second generation racers are obvious. Larry Dixon, whose dad won the Winternationals in 1970, comes to mind. And while it's not one hundred percent guaranteed that Larry and his crew chief, Lee Beard, will be in action in Pomona next week, we do know that we will see him on the track this year. Of course the daughters of John Force, Courtney and Brittany, will also be part of the action on the NHRA Mello Yello tour this year and they are following in the footsteps of their sister, Ashley, not to mention their dad. Brandon Bernstein has big shoes to fill as he follows his Hall of Fame father, Kenny, in the Top Fuel ranks. Like Larry, Brandon's dad had some great moments at the Winternationals including wins in 1987 and again in 1992. Unlike Larry, who won it four times, Brandon will be looking for his first win at the historic event, and based on what we saw last time the cars were in Pomona it wouldn't surprise anyone if Brandon went the distance next week. Steve Chrisman is another second generation driver and he'll try to win just like his famous father did in 1961 when he won the Top Gas Eliminator title over Tom McEwen. And even TJ Zizzo, who is slated to make a start in Pomona, has his dad to look up to. A former racer in the alky ranks, the elder Zizzo has to be very pleased with how his son has turned out both personally and professionally. Did you know that this will be the second time that TJ has started the year at the Winternationals? He was also there two years ago when he made the field in the eleventh spot...Besides those that I have already mentioned the Pedregon brothers, Cruz and Tony,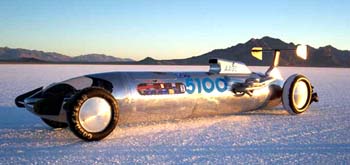 Tony Zizzo drove a Salt Flats car last year.
are also carrying on the legacy started by their father.
Did you know
that
"Flaming" Frank Pedregon
qualified for the Winternationals in 1966? And
did you know
that he qualified higher in the Top Fuel field than such stars as
Danny Ongais
, Tom McEwen,
Jim Dunn
and the legendary
Ramchargers
? Between them the Pedregon brothers have won this race three times and each would like to start the season off on a high note by making it four..Even though his son hasn't competed at the event
Gary Densham
certainly has and his son, Steven, would love to get a shot at driving the "big car" some day.
Did you know
that Gary has competed at twenty-nine Winternationals and that's second most in the Funny Car class behind only John Force who has been to thirty-four of them...In the tuning ranks
Jimmy Prock
is the son of former driver,
Tom Prock
, who made his mark as a driver back in the 1970's.
Did you know
that Tom attended six Winternationals and his best start was a forth place qualifying effort in 1975? His best results came in 1976 and 1978 when he made the semi-finals before losing to
Don Prudhomme
and
Tommy Ivo
, respectively.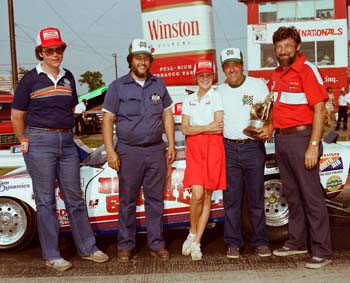 Roy Johnson celebrates 1983 Cajun Nationals win.
Photo copyright 2013 Auto Imagery, Inc.
This second generation theme isn't confined to just the fuel cars because there are a lot of families who have been at this a long while and are in the Pro Stock class. Allen Johnson, the reigning Pro Stock Champion, has his father to thank for his success and he said as much in his acceptance speech last November. Jason Line's father, and whole family for that matter, all raced and so did everyone in the Coughlin family. Did you know that Jeg Coughlin Sr. competed at the Winternationals in 1978 and 1979 and that he did it in the Top Fuel class? His son, Jeg, has won Pomona twice and so has Jason Line and those two could be on a collision course for the championship in 2013. I'm not saying that you can win or lose the title at the first race of the year but you certainly can send a message about who has the best car. Speaking of winning the title, did you know that there have been nine Pro Stock drivers who won the first race of the year and then went onto win the championship? Overall it's been done thirteen times in Pro Stock but that's only because Bob Glidden did it five times himself. In fact, Bob is the only driver to accomplish that more than once, but there are four Pro Stock drivers who will be in action next week who started the season with a win and then went onto win the championship, Jason, Jeg, Greg Anderson and Warren Johnson. When you figure that Pro Stock has been part of the Winternationals since 1970 that thirteen number doesn't seem like a lot, does it?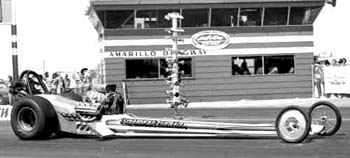 Dick Venables
As well known as most of those people are that I already mentioned there will be two other people who will have a major presence at this year's Pomona race who also have long family ties to the sport. One is Dickie Venables who was just named as the crew chief for Matt Hagan's car, and the other is Todd Smith who is the crew chief on the reigning Funny Car World Champion car of Jack Beckman. Dickie's father was partners in the Stephens and Venables Top Fuel car back in the 1970's, and in a surprising turn of events, one of the crew members on that car was an eighteen year old by the name of Rahn Tobler who is now also part of the Team Schumacher roster. "Rahn used to bag groceries at the store down the street from my dad's shop," Dickie said. "He used to come around and take pictures and he was so persistent that he eventually talked my dad into letting him work on the car." That association would prove to be very important in the life and career of Dickie Venable. "Years later when Rahn started working with Shirley Muldowney he asked me if I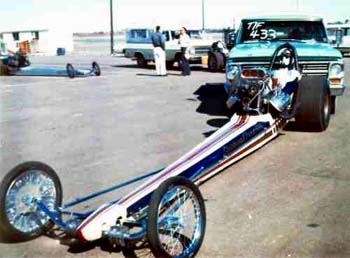 Dick Venables
would like to help out on the car. I was still in high school at the time but in the summer I went on the road with them." After Dickie graduated from high school Rahn called him to see if he would like a full-time gig with the team and the rest, as they say, is history. "I was going to the races before I was ten years old and I really loved it. My dad had his own front-engine car for a while and then he teamed up with
Steve Stephens
on their Top Fuel car." The team ran a lot of the IHRA and NHRA national events through the seventies and met with varying degrees of success. "My dad still comes to the races, especially Indy and the races in
Texas
," Dickie said. And as for the other half of that team? "I see Steve every now and then. He's still around and shows up in Dallas or Houston from time to time." The team confined most of their efforts on the tracks in and around the
Texas
region where they were based and they never competed at the Winternationals. Even so, it was a very good partnership that spawned one of the most talented crew chiefs in the sport.
Todd Smith's father, Charlie Smith, was part of a great one-two punch that featured him and his twin brother, Frank. "They were both so competitive, and like most brothers they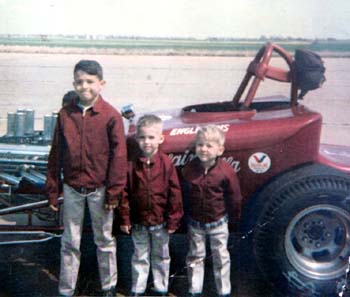 Todd Smith with his two older
brothers and Dad's car.
really liked to beat up on each other," Todd said. "Dad was kind of quiet and he just liked to race and beat anyone, and if it was his brother in the other lane so be it." It's hard to put into terms just how good Charlie Smith was, Frank too for that matter. In 1963 Charlie was the Division 4 Champion and the national champion in the "Hot Car" class. Back then there were only two classes of cars, "Hot" and "Stock." A year later NHRA expanded the classes and now there were six champions and one of them was Charlie Smith who won in the Competition Eliminator category. Around that same time "Uncle Frank" was winning a pair of Division 4 championships and giving everyone fits on the track including Charlie.
Charlie's cars were always called "Plain Vanilla" and Todd said that's because his father was running a very basic operation. "He was a concrete contractor and we didn't have a lot of money and I guess you could say there were a lot of 'junk yard' parts on the car. It wasn't fancy but it sure got the job done." Indeed it did, and in that 1964 championship season Charlie took home top honors at the Winternationals and the U.S. Nationals, and a year later he went back to Pomona and made the final round again. With his classic fuel injected, small block Chevy roadster he took on and beat all of the big name drivers of his era. "I was the youngest of three brothers and I was really young when dad was in his prime so I don't remember a lot. I do
Charlie Smith
remember the car and sitting in the truck as they push started it down the track. What a thrill that was." At one time in his career Charlie was so good that he held four different national records, two in the A/Street Roadster class and two more in the A/Altered category and he was more than competitive in both classes. In his later years he added a supercharger to the car and then stepped up to a Funny Car. "That car was destroyed in a towing accident and that was pretty much the end of dad's racing career," Todd said. And what a career it was. Todd's dad passed away in 1998 but left behind a great legacy, a legacy that is being carried on by his youngest son..Uncle Frank also had a great deal of success including a final round at the Winternationals in 1966 when he was runner-up in Competition Eliminator to
Arnold Chaves
...For the record the Smith brothers ran each other in a pair of final rounds and each picked up a win. Frank beat Charlie at the Division 2 race in
Phenix City
,
Alabama
and Charlie returned the favor by beating his brother at the
Six Flags Raceway
final in
Victoria, Texas
the same year.

Don Schumacher Wonder Wagon Vega.
Photo copyright 2013 NHRA
There are a lot of second generation racers who will be in action throughout the year and these are just a few of the high profile people who will be gunning for glory at Pomona next week..Of course Tony Schumacher, a two-time Winternationals' champion, is another one and his famous father, Don Schumacher, had success at Pomona and just about everywhere else he raced. Did you know that Don won the Winternationals in 1973 and that race included several finalists whose children would play a prominent role in the growth of the sport? Dennis Baca was runner-up in Top Fuel, Kenny Bernstein was runner-up in Funny Car and Brad Anderson was runner-up in Comp. Don also beat his good friend Ron O'Donnell in round one of that race..Speaking of the early years of the Winternationals did you know that several of the races in the early 1970's featured thirty-two car fields in both Top Fuel and Pro Stock? Did you know that at the 1972 Winternationals both Carl Olson and Bill Jenkins won from the bottom half of the thirty-two car fields? And did you know that was the only time in history that a driver who started the day from the bottom half of a thirty-two car field at any event won the race? The only time and it happened twice at the same event, the Winternationals.




NHRA: 10 Most Recent Entries [ top ]

Apr 24- CHARLOTTE 1 - Steve Torrence Enjoying Four-Wide Success Heading to NGK Spark Plugs NHRA Four-Wide Nationals
Apr 24- CHARLOTTE 1 - Fact Sheet
Apr 24- Kalitta Motorsports Welcomes NASCAR Stars to the SealMaster Track Walk in Charlotte
Apr 24- zMAX Dragway Celebrates 10th Anniversary
Apr 24- CHARLOTTE 1 - NGK Spark Plugs NHRA Four-Wide Nationals Brings 40,000 Horsepower Thrill Show to zMAX Dragway
Apr 23- HOUSTON - Lucas Oil Drag Racing Series Wrap Up The NHRA Lucas Oil Drag Racing Series Wrap Up
Apr 23- CHARLOTTE 1 - J.R. Todd Aiming for Two Four-Wide Racing Wins in 2018
Apr 23- Mid America Dragway Joins NHRA Member Track Network
Apr 23- HOUSTON - Special Awards
Apr 23- HOUSTON - Sunday Video