Tue, 05 Feb 2013, 18:17 PM



Defending NHRA Mello Yello World Champs Ready to Begin Title Defenses



Courtesy of NHRA Communications


Photo copyright 2013 NHRA





At O'Reilly Auto Parts NHRA WIinternationals



POMONA, Calif. --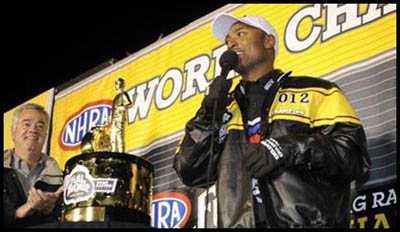 Antron Brown celebrates Championship.
The off-season couldn't slip by quick enough for NHRA Mello Yello Drag Racing Series world champions Antron Brown, Jack Beckman and Allen Johnson. All three drivers can't wait to get out to drag racing's birthplace in Southern California in less than two weeks and get the 2013 season started.
The three drivers will officially begin defense of their respective world championships in Top Fuel, Funny Car and Pro Stock at the 53rd annual O'Reilly Auto Parts NHRA Winternationals presented by Super Start Batteries, Feb. 14-17 at historic Auto Club Raceway at Pomona. The race, which will be televised on ESPN2 HD, is the first of 24 events in the 2013 NHRA Mello Yello Drag Racing Series.
Brown, who became the first African-American to earn a major auto racing championship last year in dramatic fashion over seven-time champ Tony Schumacher, says he's eager to begin working on becoming a two-time champ.
"Last year now is pretty much done and over with," Brown said. "So we're back at work, just like usual. We're putting those hours in. The effort is definitely going forward. We want to contend for a championship again and we want to defend our title."
Brown says he has been busy working out during the winter to keep his physical fitness in order and his crew has been hard at work fine-tuning his Matco Tools dragster. He says it is critical to have every component in peak condition to battle week in and week out with the likes of Schumacher, Shawn Langdon, Doug Kalitta, Morgan Lucas, Brandon Bernstein, Steve Torrence and Bob Vandergriff, just to name a few. This season three high-profile Top Fuel rookie drivers also will be jumping into the fray: Brittany Force, Sidnei Frigo and Leah Pruett.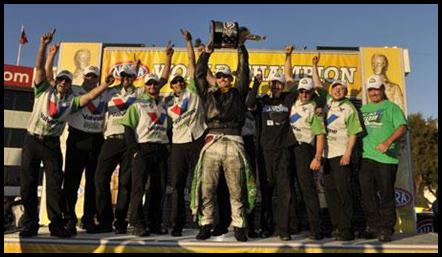 Jack Beckman and crew celebrate Championship.
"If you want to compete at the level we are now at NHRA racing, you have to have an A-plus game every week if you plan on just trying to win a race and also trying to compete for a championship," Brown said. "You have a lot of people coming out there this year and they want to win. This is going to be another year where the competition level is going to be at an all-time high. Top Fuel pound-per-pound is a rough category."
In Funny Car, Beckman has enjoyed celebrating his unlikely championship title, as his Valvoline/MTS Dodge crew led by Todd Smith rallied during the Countdown to the Championship playoffs and outlasted Ron Capps' NAPA Auto Parts team in another dramatic championship battle.
"Nobody would have bet on us to win the championship five races in last year," Beckman said. "What we did was relatively unheard of in motorsports, to take a partially assembled team, bring in a dragster crew chief, go out and do what we were able to accomplish."
Beckman, a San Fernando Valley native who now lives in Norco, is ready for the tough competition he expects to face as he sets into title-defense mode. The veteran driver, who will need to hold off Capps, 2011 champ Matt Hagan, Robert Hight, Cruz Pedregon, an unretired Del Worsham, top rookie Courtney Force, 15-time champ John Force and a host of others to become the champ once again, says he is ready to take on all challengers.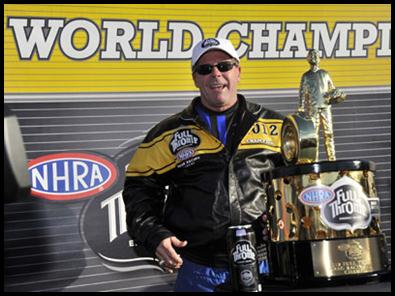 Allen Johnson celebrates Championship.
"Whoever's in the other lane," Beckman said about who he thinks will be the driver he's going to focus on most during the season. "I think that was brilliant of Force to bring (Mike) Neff back (as crew chief). I think they were dynamic together when John won his last championship (2010). Then you have (crew chief Rahn) Tobler and Capps. For those guys to get that close last year, they're going to be tough. I think we'll be right back in the mix, too. I think Courtney's car is going to be in the mix. If Tim Wilkerson figures out his clutch woes, the rest of us might be bothered by that. There's at least four other cars out there that are absolutely lethal and capable of winning the championship. We'll see how it ends up."
Pro Stock's Allen Johnson didn't have too much drama last season in earning his first championship title after more than 17 years of trying. His Team Mopar Dodge Avenger was the class of the field last year in the 200 mph category. This year he will add a four-time Pro Stock champ as a teammate and he's looking to build upon the successful run he started last year.
"First and foremost we're looking forward to just getting to Pomona," Johnson said. "This off-season has been a lot of work, a lot of additions to our team. Second thing is we have expanded our team. We brought Jeggy (Jeg Coughlin) onboard. We have three cars now to gather information from (also Vincent Nobile), expanded our team somewhat with some personnel that can add value."
Johnson, who set personal bests for wins (seven), final rounds (11) and No. 1 qualifying positions (10) last season, figures he'll need to improve on those stats in order to hold off a who's who list of challengers.
"I see it as the most competitive season in Pro Stock ever," Johnson said. "You have three people on my team, you're going to have three people on the KB team, you're going to have (Mike) Edwards, Erica (Enders-Stevens) and Dave (Connolly) at times with Cagnazzi Racing. There is your top 10 gone. Those eight, nine cars right there are going to be pretty darn equal. It's going to come down to decision making, lane choice, and how well the driver lets his foot off the clutch."
Johnson expects a big rally from the KB Racing tandem of multi-time world champs Greg Anderson and Jason Line, who have had more time to fine-tune their Summit Racing Chevy Camaros during the last few months. Anderson and Line have accounted for six of the world championships since 2003.
"We made them mad. I guarantee you, they'll be after our title," Johnson said. "We've got to fight them with all we've got, like always. We plan on the same thing: go out there and try to be offensive, but be consistent. I think we've got the manpower and the steam to do it."
As always, fans will have the opportunity to interact with their favorite drivers as they're granted an exclusive pit pass to the most powerful motorsports attraction on the planet. While visiting the pits, interactive NHRA Nitro Alley and the NHRA Manufacturers Midway, fans will also want to check out NHRA's popular Hot Rod Junction presented by the Wally Parks NHRA Motorsports Museum that offers a spectacular display of many nostalgic dragsters, vintage race cars and classic hot rods on display.
Fans also will want to take advantage of the popular Championship Sunday Track Walk, which is free to all Sunday ticket holders. This popular event gives fans the opportunity to walk down the legendary drag strip alongside some of the NHRA's biggest stars.
As NHRA continues its Nitro Generation celebration, NHRA is offering free general admission for kids 12 and under with a paying adult. Tickets are available online at www.NHRATIX.com or by calling the NHRA Ticket Sales Center at 800-884-NHRA (6472).




NHRA: 10 Most Recent Entries [ top ]

Apr 23- HOUSTON - Lucas Oil Drag Racing Series Wrap Up The NHRA Lucas Oil Drag Racing Series Wrap Up
Apr 23- CHARLOTTE 1 - J.R. Todd Aiming for Two Four-Wide Racing Wins in 2018
Apr 23- Mid America Dragway Joins NHRA Member Track Network
Apr 23- HOUSTON - Special Awards
Apr 23- HOUSTON - Sunday Video
Apr 22- HOUSTON - Sunday Pro Mod Wrap Up