Wed, 30 Jan 2013, 14:08 PM



Those Magnificent Men!



By Bob Frey


Photo copyright 2013 Auto Imagery, Inc.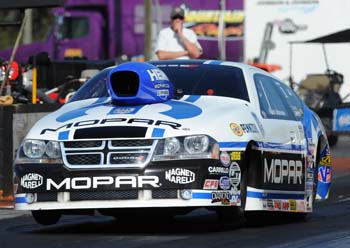 Allen Johnson
I mentioned last week that several of the Pro Stock teams were testing in
Florida
and doing well. I also mentioned that testing and performance on race day don't always go together. After all, as most teams will tell you, testing is just that.testing. You can learn as much from a poor run as you can from a good run, so sometimes the numbers can be a little deceptive. Having said that it looks like the teams that were strong in 2012 are going to be strong again this year. Among them are the
Summit Racing
team of
Greg Anderson
and
Jason Line
and the
Mopar
contingent led by the World Champion
Allen Johnson
,
Vincent Nobile
and
Jeg Coughlin
. Also among the contenders will be
Mike Edwards
,
V. Gaines
,
Erica Enders
and, I'm sure, several others. With some teams opting for a limited schedule and with
Ron Krisher
on the sidelines for the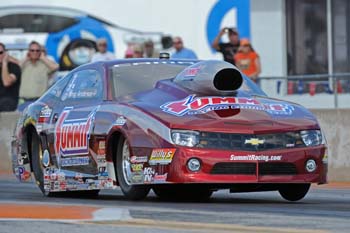 Greg Anderson
first time in years I fully expect the Pro Stock class to be a very interesting, competitive and exciting class this year. Ron's departure opens up a spot in the top ten for someone who didn't make it last year...We all know that Pro Stock will present some of the closest and most competitive racing on the tour this year and I want to pick my dark horse right now before the year begins. Look for V. Gaines to have his best year ever and win more than one event. Check back with me in November and see if I'm correct.. I was a little surprised when I saw that
Johnny Gray's
Funny Car is going to be self-sponsored this year and that his son,
Shane Gray
, will also run without any outside sponsorship, at least to start the year. Johnny will have "
Pitch Energy Drink
," a family business on his car but as of this time I don't know what, if anything, will be on Shane's car. I say that I am surprised because I thought that the
Service Central
folks and their related companies got a good bang for their buck with the Gray team last year. I know a lot of things go into sponsor decisions but I have to say that I'm sorry to see the Service Central group not involved with NHRA this year. In addition to the Gray team, and others that they sponsored on a full or part-time basis last year, the company also sponsored the Gatornationals with their
Tire
Kingdom
brand. They were a pleasure to deal with and did a lot to promote their teams and the sport. I, for one, will miss them. Good luck to Johnny and Shane at Pomona and for the rest of the year, a year that Johnny says will be his last as a full-time driver..Since I mentioned the Gatornationals, and I'm getting ahead of myself here, the event will be sponsored by
Amalie Oil
for the next few years and that's a good thing. Amalie has been around for as long as I can remember and they have been involved with some of the great teams in the sport's history. Many of the early Texas Top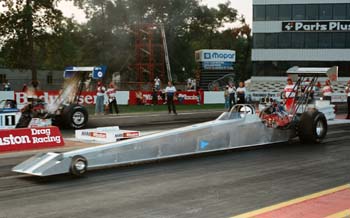 Al McFadyen driving Chuck Seyler'
Ford Top Fueler at ETown in '91.
Fuel and Funny Cars carried the Amalie decal as they raced around the country. I always remember
Gene Snow's
1970 Funny Cars sporting the Amalie colors along with the
"Blue Max,"
the
"Brand X" Mustang
and many others. It's a great company with a long history of involvement in drag racing and it's great to see them stepping up their involvement in the sport. Now how cool would it be for
Terry McMillen
to go out and win in
Florida
in two months?
Speaking of things from the past, how about the Ford Top Fuel dragsters? I mention that because Brittany Force will be competing in Top Fuel this year, and since she sports one of the engines from her dad's shop, it will be a Boss Ford engine that powers her throughout the year. Did you know that the last Ford to race in Top Fuel at an NHRA national event was in 1991? That was the car campaigned by Chuck Seyler and it carried on a long tradition of Fords in the dragster class. Connie Kalitta, Pete Robinson, Don Prudhomme, Tom Hoover and Canadian star Scott Wilson were just a few of the big stars who raced and won with the Ford power plants over the years. I guess you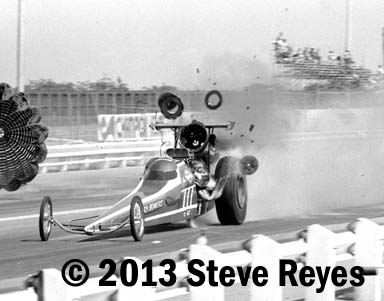 Larry Bowers
Photo copyright 2013 Steve Reyes
would have to say that Connie had the most success since he won three Winternationals' titles in 1967 including the NASCAR, AHRA and NHRA events and that was quite a start for the
"Bounty Hunter
." I'll have more on some of the Ford Top Fuel cars before Pomona but I just wanted to point out how long it has been since there has been a competitive Ford in the dragster class..Before I get letters, and I will, I also should mention
Kenny Winward
and his Top Alcohol Dragster because it was Ford-powered for many years and ran into the 1990's with that power plant....Brittany apparently will also run with a canopy on her car and that, too, continues a tradition that started a long time ago. Just like rear-engine dragsters there were a lot of fuel cars using the canopies back in the late 1960's and early 1970's. Our good friend
Steve Reyes
caught one of them, the one driven by
Larry Bowers
, in a wild action shot that later became one of his signature photographs.
Dale Funk
, of
English, Frakes and Funk
(and Hall of Fame) fame, had one on his car in the early 1970's, too. Whether they were for streamlining or for safety the cars with the canopies got a lot of attention back then just like they will now. Of course, for some reason, the enclosed cockpit, like streamlining, never really caught on, at least not with the majority of teams. But from what I have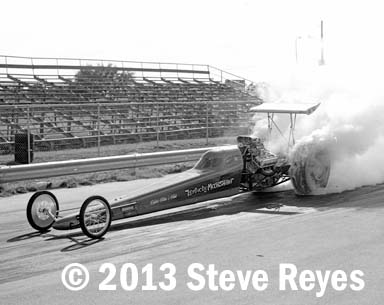 Dale Funk
Photo copyright 2013 Steve Reyes
seen in testing this year, and what we saw at the end of 2012, we will see more and more of them as the 2013 season goes on. Now if we could just bring back those twin-engine Top Fuel cars. Ok, so there weren't a lot of them but they sure were fun to watch.
The heading on this column mentions those magnificent men and refers to the crew chiefs who work on the cars that we all watch and enjoy. They don't always get the credit that they deserve, but without them the drivers wouldn't be able to do much on race day. For the most part the crew chiefs don't drive the cars, and a lot of them never really distinguished themselves behind the wheel. I compare it to a manager in baseball, or even a pitching coach. They weren't always the best players but for some reason they make great coaches or managers. Roland Leong would be one that fits into that category, after all, he made just a few runs as a driver and they didn't go so well so he hired a driver. Ok, so he hired lots of drivers, but they all seemed to do well and the common denominator was Roland. Let's face it, when you have as many drivers as Roland did and they all excel than he has to get a lot of the credit...Alan Johnson, generally recognized as a genius (my word) tried his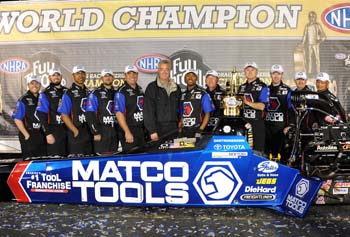 Antron Brown and crew celebrate Championship.
hand at driving and he did about as well as Roland.
Did you know
that Alan competed at thirteen races in the alky dragster class and failed to qualify for eight of them? But being the smart guy that he is he stepped out of the driver's compartment, put his brother
Blaine
behind the wheel and the rest is history. That was followed by a series of drivers, not nearly as many as Roland, but they all did well so Alan has to be mentioned among the best ever.
For the last few years the folks at Full Throttle have presented a special award to the top crews in the sport, and it comes as no surprise that most of the winners were event champions, World Champions or contenders for the crown. ESPN picked the nominees after each race, and while it was a subjective decision, it was hard to disagree with most of their choices. It was nice to see the crews, and therefore the crew chiefs, get some notoriety for the outstanding job that they do. In the end the fans picked the winner of the "Hard Working Crew" award for the 2012 season, and that again is subjective, but it was a great program and I hope it carries over with the Mello Yello series..At the end of each year National DRAGSTER gives credit to the "Mechanical Men" and that's a good thing. In 2012 it would be hard to imagine what Antron Brown, Jack Beckman, Allen Johnson and Eddie Krawiec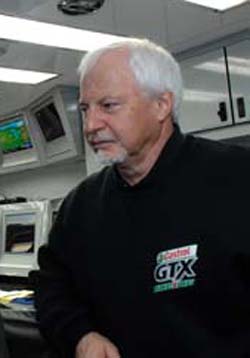 Austin Coil and Bernie Fedderly
could have done without their teams. Several of the champions even brought their crew members on stage at the award's ceremony and I thought that was a great gesture. I always say that the drivers are like the quarterbacks in football, and by that I mean that they get all the credit for winning (which they don't always deserve by themselves) and they take most of the heat for losing (which also isn't always their fault). But that's the nature of the beast and it's why some become drivers and others tuners.Of course there are anomalies like
Tim Wilkerson
and
Mike Neff
who do and have done both jobs and done them both well. But even Mike will tell you how rigorous it gets when trying to do both jobs, and as good as he was he admitted that it took its toll on him both mentally and physically and so now he will concentrate on the part I think he likes best, the tuning. With him at the helm of
John Force's
car this year they could make a serious run for the championship..For his part Tim has been amazing over the years, tuning and driving, constantly finishing in the top ten and making a run for the championship while becoming a fan favorite. I don't know how he does it, but he does it well. Still, in the back of his mind, Tim may like the idea of stepping out of the driver's seat and tuning for his son, Daniel, in the future.the distant future.
That co-crew chief thing seems to be working well, doesn't it? I don't know if it started with John Force, Austin Coil and Bernie Fedderly but they sure set the bar very high for everyone else. Antron Brown's guys, Brian Corradi and Mark Oswald, worked so well in tandem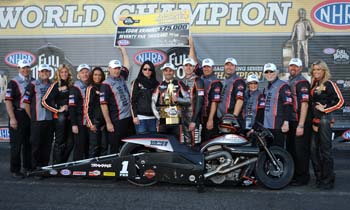 The Harley-Davidson crew celebrates Championship.
and they gave "AB" a great car all year long.
Todd Okuhara
and
Phil Shuler
did the same for
Spencer Massey
and now they'll get a shot with
Matt Hagan
in the Funny Car class and there's no doubt that they will do well there, too. You get the idea, there are tons of talented crew people in our sport who do wonderful, almost unbelievable things with an internal combustion engine, and we should be proud of them all.
For the year they had you would have to include any and all members of the Harley-Davidson teams in the "Mechanical Men" category. With a total domination of the season, at least on Sunday, Eddie Krawiec and Andrew Hines had years that most racers can only dream about. I say "on Sunday" because there were times when they didn't have the best bikes, at least based on qualifying, going into eliminations. Still, with almost flawless precision they marched through the fields and totally dominated on race day, but as I'm sure both will tell you they couldn't have done it without the help of "the guys at the shop" and certainly their crew members at the track. Did you know that of all the races he won in 2012 Eddie swept four of them? That means he was the number one qualifier, set low elapsed time, top speed and won the race. And every time he was the top qualifier in 2012 he also won the race, while his teammate qualified number one four times and he won all of those races. It's numbers like those that make for a dominating season and that's exactly what the pair did in 2012 and a lot of the credit has to go to the crew for giving them both really good bikes to ride..There are some new rules for the bikes this year and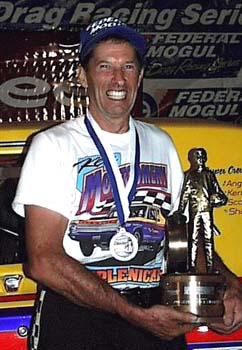 Ken Montgomery won Maple Grove in 1998.
it will be interesting to see how it plays out, but I think there is one thing that you can be sure of. Regardless of the rules, the
Vance & Hines
bikes will always be front-runners. Hey,
Byron Hines
won on a
Yamaha
one year so they can win on anything..There are so many crew members that deserve recognition and I can't mention them all, but you certainly have to tip your hat to the guys on
Jim Whiteley's
team and
Frank Manzo's
team from what they did in 2012. And
Jerry Maddern's
team did a great job on the car that
Chris Demke
drove, too. And there are more, so many more, (like all the championship teams) but I just want to say that we shouldn't forget the men and women behind the scenes who make it possible for the drivers to go out and do what they do. Nice job everybody!
I just received word of the passing of Ken Montgomery. Ken is one of the racers that I watched from the early years of my career and his. His "Triple Nickel" 1965 Plymouth was a classic and an original and it was a real joy to see him race and win with that car. Kenny was a class act and he has been involved in the sport since the 1960's. Did you know that he won the Gatornationals in 1973 and then won the Maple Grove race in 1998 and he won them both with the same car? And that car is an original 1965 factory Hemi car.a true classic. He also made several divisional finals in Super Stock and I announced at Atco in 1969 when he lost to Bill Jenkins and in 1971 when he lost a final round to Tim Richards. Even though he dabbled in Pro Stock he will be most remembered for that classic '65 car, a car that we all loved, just like we all loved Kenny.




NHRA: 10 Most Recent Entries [ top ]

Apr 24- CHARLOTTE 1 - Steve Torrence Enjoying Four-Wide Success Heading to NGK Spark Plugs NHRA Four-Wide Nationals
Apr 24- CHARLOTTE 1 - Fact Sheet
Apr 24- Kalitta Motorsports Welcomes NASCAR Stars to the SealMaster Track Walk in Charlotte
Apr 24- zMAX Dragway Celebrates 10th Anniversary
Apr 24- CHARLOTTE 1 - NGK Spark Plugs NHRA Four-Wide Nationals Brings 40,000 Horsepower Thrill Show to zMAX Dragway
Apr 23- HOUSTON - Lucas Oil Drag Racing Series Wrap Up The NHRA Lucas Oil Drag Racing Series Wrap Up
Apr 23- CHARLOTTE 1 - J.R. Todd Aiming for Two Four-Wide Racing Wins in 2018
Apr 23- Mid America Dragway Joins NHRA Member Track Network
Apr 23- HOUSTON - Special Awards
Apr 23- HOUSTON - Sunday Video