Tue, 22 Jan 2013, 09:00 AM



He's The Man...Again



By Bob Frey


Photo copyright 2013 Auto Imagery, Inc.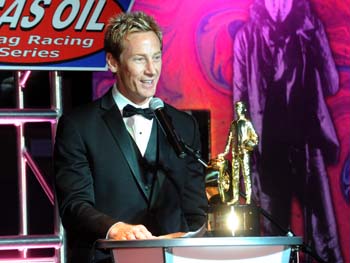 Bruno Massel
It's no secret, or at least it shouldn't be, that I love Competition Eliminator, after all, what's not to like about it? There's no other class in drag racing that provides the diversity that Comp does. Where else can you have a small four-cylinder dragster line up against a big, honkin' V-8 with a supercharger on it? Nowhere! And where else can you have a nostalgic, front-engine dragster square off with a production looking automobile? Nowhere! And where else can you find six-cylinder roadster racing against a supercharged, small-block Chevrolet or a four-cylinder Subaru? Again the answer is no where! In all my days of announcing I have seen the best of the Competition Eliminator class and I have loved all of it. From Pete Shadinger and Virgil Cates to Harry Luzader and Don Enriquez, from Tom Trisch and Jim Oddy to Dave Majors and John Lingenfelter I have enjoyed every moment of the races in Competition Eliminator over the years. And while those names all represent some of the best of the class it would be hard to argue that the current crop of racers in the class isn't among the best ever. David Rampy, Bo Butner, Doug Lambeck, David Billingsley, Arnie Martel, Dan Fletcher and, well, you get the idea, the racers in Comp today could compete on par with anyone. That's why winning a championship in this class is so hard and so special and that's why winning more than once is a major accomplishment.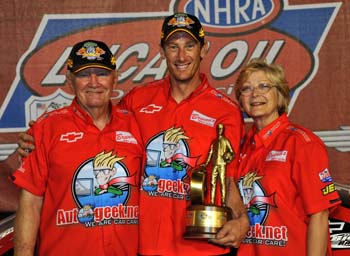 Bruno with his parents.
Bruno Massel won the Lucas Oil Championship in 2009 and again this year, but he said that the two seasons couldn't be further apart if they tried. "The first time we watched Dan (Fletcher) get way out ahead of us and it took us all year to track him down. This year we were fortunate enough to put some points on the board by mid-season and then had to sit back and watch the other guys try to catch us." A few of them almost did. "Yeah, it was amazing," Bruno said. "Going into the Las Vegas event there were a few guys who could still pass us. Granted it would have been tough but then they're all good racers so it was certainly possible." Those few included David Billingsley and Justin Lamb, both top notch racers, but as we all know strange things happen in Las Vegas. "Everyone who still had a chance at catching us lost in the first round, which I didn't think would happen in my wildest dreams," Bruno said. "I just breathed a sigh of relief knowing that we didn't have to go to Pomona."
One of the reasons Bruno didn't want to go West was because from the middle of the season to the end had been tough on man and machine in the Massel household. "We broke some stuff at a couple of races and that took a big toll on my dad. He was pretty worn out and I didn't want to have to put any extra pressure on him." When Bruno said that they broke "some stuff" he wasn't kidding. "We blew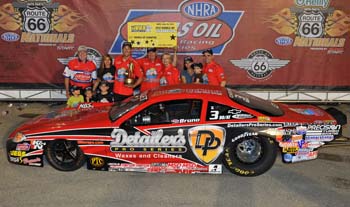 Massel celebrates win.
the car up so bad at the Noble, Oklahoma race that there wasn't a whole lot that we saved. When these things go, they go big." By "these things' Bruno is referring to the family's trademark power plant, a 135 cubic inch, four-cylinder turbocharged engine, and that brings up another major difference between the 2009 campaign and the one in 2012. "When we first came out with the turbo everyone thought it was a nice idea but they didn't really believe it would work. It was kind of a novelty back then, but now that they see what it can do we are the target of a lot of animosity. We went to a lot of races where we were protested by other racers. It was a little disheartening to be honest."
The road to two championships is never an easy one and it hasn't been for Bruno and his dad. "My father ran in Super Gas and Super Comp for years but we always wanted to step up. We ran Top Sportsman and Top Dragster for a while but while I was working the television shows for the Sport Compact series I got a first-hand look at these turbo cars and I saw how much potential they had. When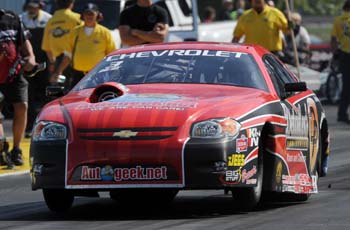 Bruno Massel
that series went away we decided to build one of these and give it a try." Well, as Bruno and his dad soon found out, there is a huge divide between seeing the potential of one of these cars and actually reaching it. "Oh yeah, it was a huge learning curve. We never expected it to be as tough as it was but I'm glad we stayed with it."
The car that Bruno took to the early lead in the points was the Chevrolet Cobalt that he had been running for a number of years. "Jerry Bickel initially built the chassis back in 2006 and dad took it from there and did all the work. Since then we have broken it, busted it, blew it up and caught it on fire but it's still with us." The family also has another car, a secret weapon that they unloaded midway through the year. "It's a 265-inch wheelbase dragster that runs the same engine as the door car. With the index system the way it is it's nice to have an option as the year goes on." That option, as Bruno calls it, was the top qualifier at the U.S. Nationals this year. "It ran well but it still had some bugs in it and we didn't have the weekend we wanted at Indy." The disappointment at Indy came after one of Bruno's best weekends ever, a weekend when he won in Brainerd, Minnesota. "That was like a home game for us," he said. "My wife and kids were there and it was a great win." It also didn't hurt in the point's standings, either.
Bruno said that he and his dad are going to shoot for another championship in 2013, and after that, who knows. "Once you have won a championship you want to do it again and again. To hold that trophy and stand in front of the crowd on the stage in California is so cool.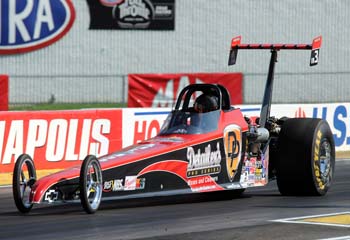 Bruno Massel
It's what we strive for and we hope to do it again this year. But all the work and the traveling can get to my dad so I don't know if we'll do it after this year." He also said that the mental strain this year was tough on both of them. "We became the villains in the class for some reason. We work and race hard and that, apparently, upset some people, but we'll plod ever forward."
Running a turbo car may seem like a new thing to some, but a legendary racer by the name of "Ohio George" Montgomery did it years ago and Bruno had a chance to meet the Hall of Famer at Indy. "He came over and we talked about the car and he couldn't have been nicer. It was a pleasure to meet him." Bruno went on to say that those early turbo pioneers, guys like George, Buddy Ingersoll, Hurley Blakeney and others were light-years ahead of the time. "Those cars were so much harder to race back then and I can't tell you how much I admire what those guys did. It was amazing." So is winning two Lucas Oil World Championships in Competition Eliminator, and that's something the old legends and modern day racers can all agree on.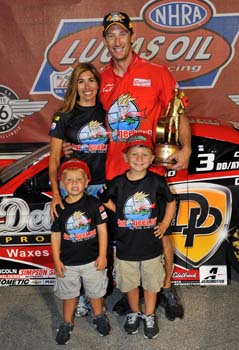 Massel with his wife Dayna and
their sons Anthony and Bruno.
"My father and I couldn't do this without the support of my Mom, my wife Dayna and our sons Bruno and Anthony as well as our partners at Autogeek.net, Chevrolet Performance, GM Powertrain, Lucas Oil, Precision Turbo, Big Stuff3, JEGS, NBS, Bruno's Automotive Products, PTC, Liberty's Gears, K&N, Goodyear, Weld, Aeromotive and Autometer."




NHRA: 10 Most Recent Entries [ top ]

Apr 24- CHARLOTTE 1 - Steve Torrence Enjoying Four-Wide Success Heading to NGK Spark Plugs NHRA Four-Wide Nationals
Apr 24- CHARLOTTE 1 - Fact Sheet
Apr 24- Kalitta Motorsports Welcomes NASCAR Stars to the SealMaster Track Walk in Charlotte
Apr 24- zMAX Dragway Celebrates 10th Anniversary
Apr 24- CHARLOTTE 1 - NGK Spark Plugs NHRA Four-Wide Nationals Brings 40,000 Horsepower Thrill Show to zMAX Dragway
Apr 23- HOUSTON - Lucas Oil Drag Racing Series Wrap Up The NHRA Lucas Oil Drag Racing Series Wrap Up
Apr 23- CHARLOTTE 1 - J.R. Todd Aiming for Two Four-Wide Racing Wins in 2018
Apr 23- Mid America Dragway Joins NHRA Member Track Network
Apr 23- HOUSTON - Special Awards
Apr 23- HOUSTON - Sunday Video