Sat, 19 Jan 2013, 18:18 PM



Morgan Lucas Racing Teams Have Informative Test Session in Florida



Courtesy of Rob Geiger


Photo copyright 2013 Roger Richards





JUPITER, Fla. --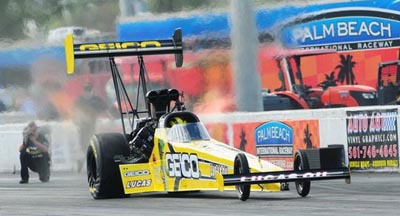 Morgan Lucas
Morgan Lucas Racing drivers Morgan Lucas and Brandon Bernstein wrapped up a successful week of testing their Top Fuel dragsters at Palm Beach International Raceway ahead of the start of the 2013 NHRA Mello Yello Drag Racing Series season.
"We had three real good runs of 3.76 (seconds), 3.78, and 3.79," said Lucas, driver of the GEICO/Lucas Oil dragster. "It ran really well last night, too. The car is running really good."
Bernstein, whose MAVTV/ProtectTheHarvest.com car won the season finale last year, had similar good times.
"We're pretty pleased with the test," Bernstein said. "We learned a lot and feel like we have a good handle on it. We had runs of 3.77 and 3.79. We'll get packed up and get ready to roll to Pomona."
Lucas said both teams headed to Florida with a checklist of items they wanted to focus on, but there were times during the week where track and weather conditions dictated they go in other directions.
"We went down there with the intention of working on consistency," he said. "The track was so good that it was almost difficult to approach. We wound up spending time figuring out the racetrack itself.
"Coming away we know we can still go fast, and we're still making good power. For the big picture, we know we've still got some things to work on. Hopefully, we'll still be able to open the season the way we did last year."
Bernstein said the team is careful not to get too excited about the results from preseason testing.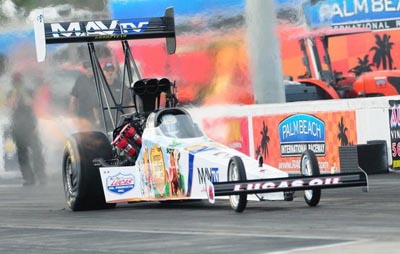 Brandon Bernstein
"Test sessions are test sessions," Bernstein said. "You can do well out here and start the season and not do anything. This feels like a normal beginning of the season to me. We worked on our list, ran good numbers, and we're happy with it."
Bernstein's crew chief, Joe Barlam, said both teams put in a lot of work in just a few days of testing and got familiar with new parts and new crew assignments.
"We've had the opportunity to run through a lot of items to try and learn something," Barlam said. "So far, so good. We focused our efforts with getting familiar with the Stage 7 Allen Johnson cylinder heads and the clutch package for this year. Both of those things have worked out real well.
"We were just trying to repeat last year's combination with this year's parts, and it looks like it is responding pretty good. We have a new guy and changed a few positions on the service team, so that has all gone smoothly as well. I feel like we're ready to go racing."
Morgan Lucas Racing will start the 2013 season at the 53rd annual NHRA Winternationals, Feb. 14-17 in Pomona, Calif.
Visit www.morganlucas.com and www.geicogarage.com for more information.




NHRA: 10 Most Recent Entries [ top ]

Apr 24- CHARLOTTE 1 - Steve Torrence Enjoying Four-Wide Success Heading to NGK Spark Plugs NHRA Four-Wide Nationals
Apr 24- CHARLOTTE 1 - Fact Sheet
Apr 24- Kalitta Motorsports Welcomes NASCAR Stars to the SealMaster Track Walk in Charlotte
Apr 24- zMAX Dragway Celebrates 10th Anniversary
Apr 24- CHARLOTTE 1 - NGK Spark Plugs NHRA Four-Wide Nationals Brings 40,000 Horsepower Thrill Show to zMAX Dragway
Apr 23- HOUSTON - Lucas Oil Drag Racing Series Wrap Up The NHRA Lucas Oil Drag Racing Series Wrap Up
Apr 23- CHARLOTTE 1 - J.R. Todd Aiming for Two Four-Wide Racing Wins in 2018
Apr 23- Mid America Dragway Joins NHRA Member Track Network
Apr 23- HOUSTON - Special Awards
Apr 23- HOUSTON - Sunday Video