Thu, 10 Jan 2013, 17:43 PM



Neff, Force Re-Unite with Formidable Castrol GTX Ford Funny Car



Courtesy of Elon Werner


Photo copyright 2013 NHRA





Pair Aim to Recapture Magic That Delivered 2010 NHRA Championship



YORBA LINDA, Calif. --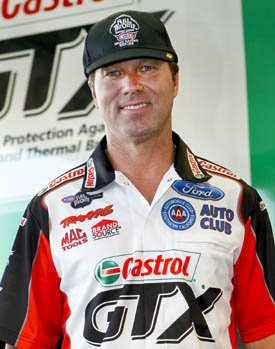 Mike Neff
Mike Neff, whose driving resume included 10 Full Throttle tour victories and NHRA title runs each of the last two seasons, confirmed Thursday what many had speculated since the start of pre-season testing and that is that he will pursue the 2013 Mello Yello championship from outside of the cockpit.
The 47-year-old Californian, who for the last two years functioned as both driver and crew chief on the Castrol GTX Ford Mustang, this season will return to the job at which he excelled previously and the one about which he is most passionate.
Neff, who never has made a secret of the fact that he prefers the challenges that fall to the crew chief rather than the driver, will re-unite with drag racing icon John Force who at the age of 63 will try to add a 16th title to his resume.
Neff emphasized Thursday that the decision was his and his alone.
"It was just such a long weekend (doing both jobs)," he said. "Not only were you focusing on tuning, but you had to do the driving part and the media and you had to run here and there for sponsor appearances. There was no down time. After awhile, it got to be too much. It just wore me down. You could never seem to take five and focus. I just got pulled in a lot of different directions.
"Force was really good about it," Neff said. "When I first brought it up (in the middle of last season), he wanted me to really think about it. He didn't want me to make any quick decisions. He basically said I could drive as long as I wanted to. He left it up to me (and) I just felt that it was time.
"I never planned on driving for very long," said the man who won the first of his crew chief championships with driver Gary Scelzi in 2005. "The first couple of years I drove (2008 and 2009), I felt unsatisfied. I didn't win like I wanted to and I just didn't feel like it was a success.
"Getting the opportunity to drive again (after Ashley Force Hood stepped out of the cockpit to start a family) was totally different," acknowledged the former off-road truck mechanic. "I'm proud of what we accomplished. We won Indy twice (2011 and 2012) and led the points for most of the season. It was just a great experience."
Neff led the points after 15 of 23 races in 2011, claiming the regular season championship before stumbling in the playoffs and finishing fifth. In 2012, he again led the points, won the U.S. Nationals at Indianapolis, Ind., for the second straight year and finished third as the highest-ranked of the Ford drivers.
"What really has to be at the top was winning Indy the first time in 2011," said the man who now makes his home near the JFR shop facility in Brownsburg, Ind. "My family was there, my kids, my brother, all my friends. That is my home track and it is the biggest race of the year.
"That was definitely the biggest win of my career - single biggest day for me. To win it again was huge. Just to win Indy; to be able to win that race you go down in the record books. People remember that. There are certain things people (associate with you). They will say you were a world champion or a Hall of Famer or an Indy winner.
"Then, to be one of the few people to win it back-to-back was great. We accomplished a lot and I was able to do a lot as a driver. The thing that made it the coolest was to be able to tune it too. To be able to tune it, then get in and drive it and then win, that was just the best."
Nevertheless, Neff is anxious to focus on getting Force back into the hunt for the championship and he believes that the team that already is in place, the one he has directed since 2008, is capable of delivering another title to the sport's all-time winner.
"I attribute our success over the last few years to this team of guys working on the car," Neff said. "Everyone says they have the best team, blah, blah, blah, but, seriously, this team is as good as they get. They are world champions. They have proved it and they make my life a lot easier.
"That's the thing. It's a team effort. John Shaffer does a great job as the leader of my team. I get a lot of the credit for tuning but really what these guys do is more important (to our overall success)."
Surprisingly, he said one of the things he has missed since he began driving is watching the car run and celebrating its success with his crew.
"I just like watching the car run," he said. "I like watching it leave (the starting line). When you tune it and then you can see it leave, you can see things from standing behind it. When you're inside, it's a different world.
"Knowing you won and having that 'ah-ha' moment by yourself when there's no one there to celebrate with (you) is a bummer. To be on the starting line with everyone else is great. You see the win light and you just watched the two cars go down the track. When you are inside the car, you can win the race and you don't know if the guy beside you smoked the tires. You are just all by yourself doing your thing. You lose a lot of the excitement being in the car as funny as that sounds."
This year, Neff will leave those lonely moments to his boss.
"In a nutshell, I'm just very thankful to (have had) the opportunity to drive. Thanks to John along with Castrol and Ford Racing. That is something I will remember forever. It is something very few people get to do. To tune it and drive it and be able to win, I couldn't ask for anything else.
"Now, I'm looking forward to racing with John Force again. He is the most exciting guy out there. I enjoy being around him. He's a fun guy to be around. He is funny and intense. He is a legend and to be a part of that and be the guy running his car is an honor. There are only a couple people that will ever be able to say they tuned John Force's Funny Car.
"You have high expectations (in that position)," Neff acknowledged. "You look at what Austin Coil did for him (in a 25-year collaboration); all their success. John Force is a winner. He has 15 championships. He deserves to go out on top. I am hoping we can give him a good car and get him back into contention and win some races."




NHRA: 10 Most Recent Entries [ top ]

Apr 24- CHARLOTTE 1 - Steve Torrence Enjoying Four-Wide Success Heading to NGK Spark Plugs NHRA Four-Wide Nationals
Apr 24- CHARLOTTE 1 - Fact Sheet
Apr 24- Kalitta Motorsports Welcomes NASCAR Stars to the SealMaster Track Walk in Charlotte
Apr 24- zMAX Dragway Celebrates 10th Anniversary
Apr 24- CHARLOTTE 1 - NGK Spark Plugs NHRA Four-Wide Nationals Brings 40,000 Horsepower Thrill Show to zMAX Dragway
Apr 23- HOUSTON - Lucas Oil Drag Racing Series Wrap Up The NHRA Lucas Oil Drag Racing Series Wrap Up
Apr 23- CHARLOTTE 1 - J.R. Todd Aiming for Two Four-Wide Racing Wins in 2018
Apr 23- Mid America Dragway Joins NHRA Member Track Network
Apr 23- HOUSTON - Special Awards
Apr 23- HOUSTON - Sunday Video