Tue, 08 Jan 2013, 09:45 AM



Butler Wins Top World Championship in Memphis



Courtesy of IHRA Communications



After a Groggy Start, Butler Battles Back to Take Richest Prize Package of the Weekend



NORWALK, Ohio --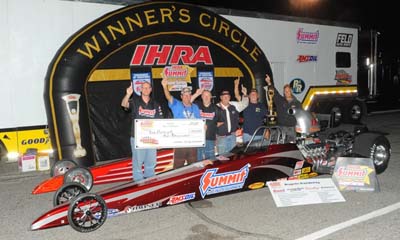 Butler won the Top World Championship in Memphis,
collecting $10,000 and a huge prize package.
Have you ever had one of those mornings where things just felt like they weren't going to go your way?
Tim Butler sure has.
When the Sarasota, Florida awoke on Saturday at the IHRA Summit World Finals at Memphis International Raceway, he just couldn't shake this feeling that it just wasn't going to be his day. A runny nose, sore throat and an overall ache left Butler a little more down than usual on race day.
But one thing that always cures a sickness is winning and Butler won bigger than anyone at the IHRA World Finals in Memphis as the Floridian crossed the line first and laid claim to the Top World Championship and one of the most lucrative prize packages in the sport all during the Summit SuperSeries World Championship runoff presented by AMSOIL and Moser Engineering.
"I definitely woke up not feeling well. I had a sore throat and a runny nose and that kind of kept my temperament down a little bit," Butler said. "But once I got on the track it was pretty smooth sailing and now here I am, a world champion."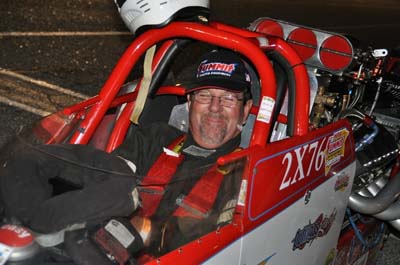 Butler, representing Bradenton Motorsports Park,
defeated Jonathan Robin in the Top final.
Once the cobwebs were shaken off Butler went to work, going four big rounds before meeting Jonathan Robin of Luling, Louisiana in the final. Both drivers call Division 2 home with Butler, representing Bradenton Motorsports Park, winning the Division 2 East Summit Team Finals at Carolina Dragway and Robin, representing State Capitol Raceway, winning the Division 2 West Summit Team Finals at Memphis International Raceway.
And while Robin may have had a slight advantage having won at that very same track a week earlier, it was Butler that came out on top. Butler used a tremendous .007 light behind the wheel of his red and white dragster to gain an early advantage on Robin and his '94 Camaro. At the top end Robin battled back, but neither driver could run the numbers as Butler won on a double breakout by five thousandths at the line with a 7.766/169.76 to Robin's 7.641/171.62.
"This is just awesome. I don't know exactly what this means right now, but I do know this is a great program that Summit puts on with American Race Cars, with Trick Flow, Moser, AMSOIL and all of the people that make this happen," Butler said. "I have been blessed over the years, I have had some pretty big wins, but this one is right up there."
Butler also collected wins over Chris Dean, Ken LaBoe and Alan Glatt on his way to the final, while Robin reached the final with wins over Aaron Gee, Sheldon Gerlach and Michael Keylich.
With the win Butler, now in his 37th year of drag racing, can add an IHRA Summit SuperSeries championship to his already full resume. Butler also claims one of the richest prize packages in grassroots drag racing as the 54-year-old banks $10,000, a brand new turn-key dragster built by American Race Cars with a brand new Trick Flow engine and major backing from Moser Engineering, Abruzzi Racing Transmissions, AMSOIL and more, a trip to Aruba, a championship Ironman, IHRA Gold Card, a championship diamond ring and more.
"We had a pretty good season. Even though I stayed at Bradenton and raced locally most of the year, it was still a good season," Butler said. "I would like to thank JW Performance Transmissions who I have been involved with since 1991 and won a lot of races with. Also RJ's Performance in Sarasota, Mickey Thompson, BLP Products and everyone else that helps me race. This is awesome."




IHRA: 10 Most Recent Entries [ top ]

Apr 24- Racers Receive Prizes at IHRA Summit Sportsman Spectacular Opener
Apr 24- Comeaux, Hughes Make History at IHRA Summit Sportsman Spectacular
Mar 21- 2018 IHRA Summit Sportsman Spectacular Series on April 20-22
Feb 26- Weather-Related Construction Delays Postpone IHRA Xtreme Raceway Park Opener
Feb 16- IHRA Summit Sportsman Spectacular Schedule Announced
Feb 15- New York Track Finds Value for Racers with IHRA Agreement
Feb 15- IHRA Summit Sportsman Spectacular Debut Only One Month Away Now is the Time to Pre-Enter
Feb 15- Summit Texas Location is a Racers' Paradise
Feb 15- Canadian Track Makes Large Commitment to IHRA Drag Racing
Jan 27- Mid-Michigan Destination Joins IHRA Family