Mon, 07 Jan 2013, 12:47 PM



Kay Collects Mod Championship in Borrowed Car



Courtesy of IHRA Communications



After Blowing Engine in Primary Car, Kay uses Borrowed car to Win SuperSeries Title



NORWALK, Ohio --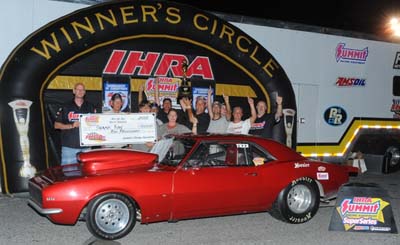 Shane Kay won the Summit SuperSeries
Mod World Championship in a borrowed car.
Imagine this.
After a dominating year that included a third consecutive points championship at your local track, a win at the Division 2 West Summit Team Finals and a trip to Memphis International Raceway to compete for a world championship upcoming and suddenly bam! No more car.
That was exactly the situation faced by Ragland, Alabama's Shane Kay who blew the motor on his regular championship winning machine at the same Team Finals in which he qualified for the World Finals and was suddenly left without a ride with the biggest race of his career just one week away.
Thankfully for Kay, this story actually has a happy ending. Just a few days later the owner of Kay's home track of Alabama International Raceway Jason Collins, an experienced racer in his own right, lent Kay one of his cars for the big race. Four days later Kay was in the winner's circle with the borrowed car celebrating his first major championship as winner of the Mod class during the Summit SuperSeries World Championship presented by AMSOIL and Moser Engineering.
"This has to be the greatest feeling in the world. I have raced for years and I even have a cousin that has won several big championships and it is just wonderful to know I am close to filling his shoes," Kay said. "And to do it in a brand new car, that is something else. I hadn't spent a second in this car until I loaded it on the trailer on Wednesday and I had never even made a quarter-mile pass until Friday during time runs. To go from out of the race to winning the whole thing, words aren't enough to describe this moment.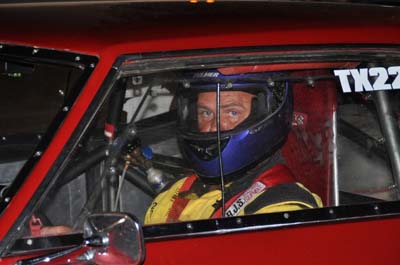 Kay, representing Alabama International Raceway,
defeated Jay Robinson in the Mod final.
"I have won all kinds of awards, but never an Ironman and boy is it beautiful. You can't imagine what this feels like."
With the borrowed '69 Camaro Kay went four big rounds during the Summit SuperSeries runoff, eventually meeting Santa Fe, Texas' Jay Robinson in the final. In one of the most spectacular races of the entire weekend both drivers got off the line with identical .006 reaction times, but it was Kay - all in a car he had never sat in before - that took the win, running a perfect 9.520/142.07 on a 9.52 dial while Robinson was just behind with his own near-perfect run, an 11.409/117.35 on a 11.40.
"I have been in pressure situations before running for motors and different things and one thing I have learned through all of that is that you just have to pull your socks up, pull your sleeves up and go to work," Kay said. "If you do that, if you hurry up and stage the car, you don't have time to think. That way all you do is launch.
"As my granddaddy always told me, when you think long, you think wrong."
The words of Kay's grandfather couldn't have rung any truer as Kay collected wins over some heavy hitters including Tim O'Moore, Randy Biddle and Mark Gubinski to reach the final. Robinson reached the final with wins over Jessie Norris, Steven Breitkreuz and John Janu.
To get to the World Finals Kay won the Division 2 West Summit Team Finals in Memphis over Jay Landry, giving Kay a few extra hits at the track - although they meant very little with a new car a week later. But until he received that car, it was a tense time for the longtime racer.
"It has been a good year, but a long year. We have had some breaks and we finally got our act together and entered the bracket finals the best I have ever run and suddenly after the main event I blew an engine and I didn't know what we were going to do," Kay said. "But Jason (Collins) came to my rescue and I really want to thank him for letting me use his car. I also want to thank my girlfriend Lena for driving six hours just to be here with me, my son Tucker, my daughter, the good Lord for letting me have this opportunity and Jay Robinson, what a great race for the championship."




IHRA: 10 Most Recent Entries [ top ]

Apr 24- Racers Receive Prizes at IHRA Summit Sportsman Spectacular Opener
Apr 24- Comeaux, Hughes Make History at IHRA Summit Sportsman Spectacular
Mar 21- 2018 IHRA Summit Sportsman Spectacular Series on April 20-22
Feb 26- Weather-Related Construction Delays Postpone IHRA Xtreme Raceway Park Opener
Feb 16- IHRA Summit Sportsman Spectacular Schedule Announced
Feb 15- New York Track Finds Value for Racers with IHRA Agreement
Feb 15- IHRA Summit Sportsman Spectacular Debut Only One Month Away Now is the Time to Pre-Enter
Feb 15- Summit Texas Location is a Racers' Paradise
Feb 15- Canadian Track Makes Large Commitment to IHRA Drag Racing
Jan 27- Mid-Michigan Destination Joins IHRA Family