Fri, 04 Jan 2013, 10:31 AM



Super Stock Champion Jimmy DeFrank Reflects on a Very Rewarding Year



Courtesy of Kelly Wade


Photo copyright 2013 Auto Imagery, Inc.





CHATSWORTH, Calif. --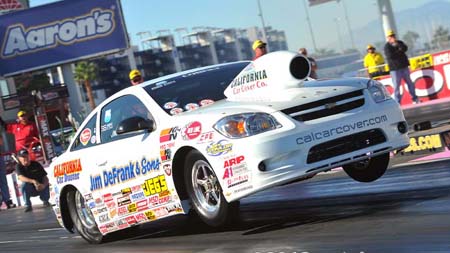 Jimmy DeFrank
Lucas Oil Drag Racing Series competitor Jimmy DeFrank joined a prestigious club when he earned the fourth Super Stock world championship of his career in 2012. The Southern California-based driver is now tied with sportsman ace Peter Biondo and Lucas Oil standout-turned-Pro Stock winner Greg Stanfield for drivers with the most national championships in the thrilling wheels-up category where launch times are critical and swift finish-line decisions are mandatory.
DeFrank, who claimed his first Super Stock national title in 1997 and followed with season-trophies in 1999 and then again in 2009, finished on top this year in the national chase as well as the Pacific Division with two divisional victories in three finals and one national event win in two trips to the money round.
The most productive time on the racetrack was at The Strip at Las Vegas Motor Speedway, where DeFrank jumpstarted the season in the California Car Cover-adorned DeFrank & Sons Racing Super Stock Chevy Cobalt with a runner-up at the Division 7 race in the spring and quickly followed up with a win at the national. However, logging the achievements meant overcoming a surprisingly unproductive beginning to the year.
"I definitely didn't drive very well at the first race of the year in Pomona; I suppose I was unfocused and unprepared," admitted DeFrank, whose performance at Auto Club Raceway at Pomona was uncharacteristic; the 39-time national event finalist has earned six of his 13 Wally trophies at the venerable facility and has been runner up there 10 times between the season opening Winternationals and the NHRA Finals. Multi-category racer DeFrank has twice nearly doubled in Pomona, earning the Super Stock gold and finishing runner up at the Finals in both 2000 (Comp Eliminator) and 2009 (Stock Eliminator).
"After stumbling in Pomona, things got better as we headed to Phoenix," DeFrank continued. "We made big improvements that resulted in really good runs - we just lost good, close races in the early rounds. Those losses weren't fun, but they did make us dig deeper and work harder. I'm an optimist, and I believed that if we kept doing what we were doing, we could win more rounds and perhaps even a race. We went to Las Vegas with a good attitude, we had fun, and we made our best runs of the year to that point."
Excited and thankful to put the rough start behind them, DeFrank hit the trail in his typical, steadily hopeful manner, but a championship chase was not at the forefront of his thoughts. At the rain-soaked Mac Tools U.S. Nationals in Indianapolis, however, the vision of what could come to fruition began to take shape.
"It was the Monday after the first weekend of the U.S. Nationals was rained out, and we had to make the decision to either go back to Indy for the second weekend of the event, go home, or go to a few divisional races and try to win the division and national titles," he explained.
"I'm a dreamer, and in my mind there is always a possibility to win - but at the same time, I know that racing is very hard, and it gets a touch more competitive every year. As my dad says though, you must try, and you cannot win if you're not there. We looked at the points on our iPhones, saw we had a chance, and decided to go for it."
The team loaded up and headed out to the points meet in Earlville, Iowa, where DeFrank went to the quarterfinals. After socking away a victory at the Division 4 race held at Thunder Valley Raceway Park in Noble, Okla., they returned to Las Vegas in the fall for the Pacific SPORTSNationals and the Division 7 closer. DeFrank raced to the quarterfinals at the SPORTSnationals and officially sealed the deal on the championship by winning the final points meet of the year, where he outlasted title challengers Bryan Worner and Jody Lang and surged ahead of Joe Santangelo, who was out of races to claim.
"I'm very thankful that we believed in ourselves, and especially grateful that my dad believed we could pull it off," said DeFrank. "We had some great moments this year, but the best part was sharing them: we won the national event in Las Vegas with my dad, mom and Jeff Taylor there and then got to be in the winner's circle with our pal Jeg Coughlin, who won Super Comp. Then at the Las Vegas Division 7 race we won the division, the national championship, and the race all in one day. It was very, very special sharing that moment with both of my parents as well as our friends Bo Butner and Randi Lyn Shipp just one week after Bo's first double at a national event."
For DeFrank, the glory isn't only in the triumph. The greatest reward is racing alongside a distinguished and motivating group of friends and enjoying the journey with his family by his side.
"Having my dad Jim and mom Loraine always guiding me in racing, in business, and in life is a blessing. They are so wonderful," said DeFrank, President of the family owned and operated California Car Cover Co. "My dad really keeps things in line at the races, keeping an eye on the car, the track, and our competitors, and my mom is always offering great encouragement and prayer power. My brother Tony watches over things at work with all of our California Car Cover team members - many of whom have been with us for 10, 20, or even 30 years.
"I feel so blessed to be in the wonderful family I am in, and to even have the opportunity to own a business and get to race. It can be stressful at times, but we get to live a very exciting life, and I wouldn't want it any other way."
Another factor in DeFrank's success is mentor Jeff Taylor. An acclaimed driver and two-time Super Stock national champ in his own right, Taylor is an integral part of the team. He contributes to DeFrank's decision-making at the racetrack, offering guidance in terms of driving, tuning, and dial-ins.
"I got to learn from one of the very best drivers of all time," said DeFrank. "Jeff always keeps my confidence up, and he makes us all laugh. I've also been fortunate to share fun times and learn so much from close friends like Pete Biondo, Kyle Seipel, and Jeg Coughlin. They offer great advice and words of encouragement. Having all of these great people rooting for you just makes you believe in yourself and want to win.
"To be honest, I still can't believe we've won races and championships. I used to dream of just winning a race, and now we have four national championships and 10 division championships. I get to stand next to some of my racing heroes at banquets and on podiums. But one of the best parts for me is that maybe my dad is seeing some of his racing dreams come true, too.
"Often times when you chase a title, it doesn't end up as you want it to. I just feel very thankful that we accomplished our goals this time around, and it's a great feeling to go out there and have fun. It would be neat to win a fifth world championship, but as for the future, we'll still start out in Pomona and Phoenix with the intent to enjoy ourselves. From there, whatever happens, happens."
DeFrank thanked his parents, Jim and Loraine; brother Tony; Jeff Taylor; Davey Allison; Tom Kerr; Steve Decker; Willie Evans; Bo Butner; Randi Lyn Shipp (Cutter); Pete Biondo; Kyle Seipel; and Jeg Coughlin Jr. He also extended gratitude towards his sponsors: California Car Cover Co., Golden Shine Car Care, California Car Duster Co., K&N, Red Line Oil, Phoenix Tires, Pro Trans, CFE, Quick Fuel, Pit-Stop Furniture, JEGS, Biondo Racing, and Racers for Christ.




LODRS: 10 Most Recent Entries [ top ]

Apr 23- LODRS 1-1 - Event Wrap Up
Apr 22- LODRS 1-1 - MXI/Magnaflux Top Dragster presented by Select Performance Final, Round 5 Eliminations
Apr 22- LODRS 1-1 - MXI/Magnaflux Top Sportsman presented by Select Performance Final, Round 5 Eliminations
Apr 22- LODRS 1-1 - Stock Eliminator presented by ATI Final, Round 7 Eliminations
Apr 22- LODRS 1-1 - Super Stock presented by ATI Final, Round 7 Eliminations
Apr 22- LODRS 1-1 - Super Street Final, Round 5 Eliminations
Apr 22- LODRS 1-1 - Competition Eliminator Final, Round 5 Eliminations
Apr 22- LODRS 1-1 - Super Comp Final, Round 6 Eliminations Results of final, round 6 eliminations in Super Comp at the NHRA Lucas Oil
Apr 22- LODRS 1-1 - Super Gas Final, Round 6 Eliminations
Apr 22- LODRS 1-1 - Super Comp Final, Round 6 Eliminations