Wed, 02 Jan 2013, 18:53 PM



Williams Wins Central TAFC Title By One Point



By Todd Veney/ Pro Sportsman Association


Photo copyright 2013 David Smith Photos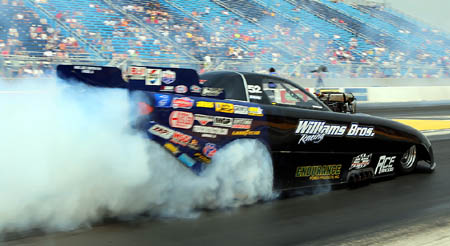 Kirk Williams
Running on a fraction of some teams' budgets, Kirk and Chris Williams won the Central Region Top Alcohol Funny Car championship over Kris Hool, 299 to 298. "You never think you're having a good year while you're going through it," Williams said. "Then you look up at the end, and you won the championship."
Williams got it by a single point, so a different outcome in any round anywhere all year, and Hool would have won the title. Both scored twice - Hool at Gainesville in February and late in the year at the rain-delayed Topeka event that was completed in Earlville. Williams won his first regional start of the season, in Denver, and at Earlville for what he considers the biggest win of his long career. Williams' season ended one race later with a semifinal loss in Noble, but Hool, who's been touring the country the past two years, had one race left, the Las Vegas event on the penultimate weekend of the season, where he needed to win one round to take the title.
Williams couldn't bear to watch streaming video of the first round - he thought. "It drives you crazy when your destiny is in someone else's hands," said Williams, who won Division 5 championships in 2010, when he swept all five events, and also in 2002. "I told myself I wasn't going to pay any attention to what was going on out in Vegas because watching it wasn't going to change anything. Then Justin [Jacobsen] texted me that they were about to run first round and I headed for the computer. I had to watch."
While Williams looked on helplessly, the championship was decided in his favor when John Lombardo beat Hool, 5.70 to 5.71. "What a relief," Williams said. "It was a trying year. There are times when you question what you're doing and why you even do this, but in the end it's a lot of fun and it's worth it. When you're out here competing against Bartone and Whiteley and people like that, you know you're not going to beat them a whole lot, but sometimes you can still be a pain. Every once in a while, you can still get 'em."
It may not have seemed that way to Williams, but he was a tough all year, reaching the semifinals five times, never falling in the first round, and winning both of his final-round appearances. The only bobble came at Topeka, where qualifying was slashed to one session. The abbreviated format cost Williams, who had to get off the throttle early on his only attempt and missed the cut at one of the toughest races of the year, with superstars Jay Payne and Tony Bartone, who were on their way to Indy for the U.S. Nationals, in attendance.
That race was postponed a week and completed in Earlville on the same weekend as the U.S. Nationals. Hool won, upsetting Bartone in the final, but Williams was right back in it a couple days later with a holeshot victory over Dale Brand in the final round of the regularly scheduled Earlville race.
"That was the highlight of the year," said Williams, who thanked Lucas Oil for their support all season. "We never could have won the race if not for so many people coming together to loan us parts. I'm talking about outsiders with no vested interest, and there was no, 'You'd better replace it if you hurt it.' It was just, 'Here you go. Take it.' They didn't have to, and they asked for nothing in return. One of the guys, we didn't even know. It was amazing. I mean, how many engines out there can you pull a main cap off of and have it fit right in yours?"
Crew chief Chris Williams and the team, including Terry Brees, Martin Brees, Dan Murphey, and Justin Jacobson, got the car to run low e.t. to that point, 5.75, in a first-round win, and Williams edged Brand on a holeshot in the final, 5.79 to 5.75. In the end, it was enough to take the Central crown by a single point.
Veteran Lance Van Hauen finished third with several late-round finishes, including a runner-up to Lombardo at Tulsa. Mike Bell finished fourth in Vern Moats' car, and Brand made the top five with two runner-ups and a semifinal finish in his only three starts all year.
"The car drove Chris and me nuts at times," Williams said. "It was one of those years, and the motor was never happy. One minute the car would haul ass, and the next it couldn't get out of its own way, and we never really did figure out why during the season. I guess we did just enough, but if everybody hadn't banded together to help us in Earlville, we never would have won this championship."




LODRS: 10 Most Recent Entries [ top ]

Jun 20- LODRS 6-3 - Event Wrap Up
Jun 20- LODRS 1-3 - Event Wrap Up
Jun 20- LODRS 5-1 - Event Wrap Up
Jun 18- LODRS 6-2 - Event Wrap Up
Jun 18- LODRS 6-3 - Top Alcohol Dragster Final, Round 3 Eliminations
Jun 18- LODRS 6-3 - Top Alcohol Funny Car Final, Round 2 Eliminations
Jun 18- LODRS 6-3 - Top Fuel Harley Final, Round 2 Eliminations
Jun 18- LODRS 6-3 - Competition Eliminator Final, Round 3 Eliminations
Jun 18- LODRS 6-3 - Super Stock Final, Round 5 Eliminations
Jun 18- LODRS 6-3 - Stock Eliminator Final, Round 6 Eliminations