Tue, 01 Jan 2013, 11:19 AM



North Star Dragway Unveils 2013 Feature Event Schedule



Courtesy of Chris Graves


Photo copyright 2013 Chris & Tera, Max Cackle Photography





North Star Dragway, the premier eighth mile facility of the Southwest, has announced its 2013 racing schedule which includes many feature events never before available to drag racing fans of the region. Located just north of Denton, Texas, North Star Dragway will be hosting many events never previously thought of before ownership of the track changed midway through the 2012 racing season. New owner Gene Nicodemus has set the bar high with a line-up that will attract cars from across the country to the track known for the best traction in North Texas.
April is a very busy month and will feature the introduction of two new attractions including the Evolution Custom Auto EX275 and SHRA series. The Southern Heritage Racing Association (SHRA) will debut April 6th featuring blown and injected front engine dragsters, altered, nostalgia bracket racing and junior dragster racing. The SHRA program will be an intro into the main event, where the Painless Performance Outlaw Fuel Altereds hit the stage for their season opener. With over 50 cars expected in the OFAA and SHRA Nostalgia Eliminator classes, this will be the biggest nostalgia style event of the spring in the Southwest. The SHRA and OFAA series will return on July 5th and 6th is the NSD Anniversary celebration where the Texas Outlaw Pro Mods will run heads up against the Outlaw Fuel Altereds. Yes, Pro Mods vs. Fuel Altereds! More details on this event to come. The SHRA and OFAA will make their final appearance of 2013 and headline the "Nostalgia Fall Nationals" on October 6th.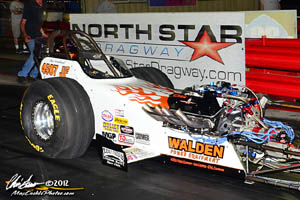 Header Goes Here
The following weekend, the Evolution Custom Auto EX275 class makes its debut attracting drag radial cars from across the country to compete for the biggest payout in the state of Texas. This special two day event on April 12th and 13th will be the beginning of a new chapter in drag radial racing in the Southwest. The EX275 class will run two day (Fri-Sat) events on the weekends of April 13th, June 1st, August 3rd and October 12th with an optional test day scheduled for the Thursday before each race.
Following the rapidly developing trend of outlaw grudge racing in the Southwest, North Star Dragway will host four of the largest grudge events on the scene. The Outlaw Grudge Nationals will return to NSD on March 16th with "Chapter II" then return May 18th, July 20th and wrap up with "Chapter V" on October 26th. If you can't get enough heads up, winner take all, nitrous, turbo, and big cubic inch outlaw grudge racing these events are your answer.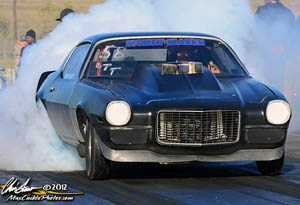 Among these feature weekends, North Star Dragway will also host bracket racing, Outlaw Diesel Racing and heads up class racing once a month as well as top gas and pro mod motorcycle classes. The monthly heads up class racing will include small tire, old school backhalf, outlaw backhalf, outlaw 275 and a 5.80 index class. Also, twice a month, you'll see RiceKiller.com "Thursday Night Throwdown" where hundreds of car enthusiasts gather for a night of racing under the lights at NSD. There will also be several charity events organized through several car clubs of North Texas which will benefit the North Texas Food Bank.
"Taking North Star Dragway to the next level is my goal. We have the most traction and nicest eighth mile facility in the Southwest and I want everyone to know it! From a street car driver or an Outlaw Fuel Altered crew chief, it always makes me feel good when they personally come up and tell me the track at North Star Dragway is their favorite to race on. There are nine drag strips within 250 miles from my track and standing out in a crowd is a must. We have the biggest events coming that our facility can handle and the quickest cars for our fans to see. We hope to see everyone at North Star Dragway in 2013!" said Nicodemus. For more information and a look at the complete weekly schedule, please visit www.northstardragway.com.

2013 Feature Racing Schedule:
March 2nd - Texas Thaw
March 16th - Outlaw Grudge Nationals "Chapter II"
April 6 - SHRA & OFAA "Spring Nostalgia Nationals"
April 13th - Evolution Custom Auto EX275
May 4th - Texas Automatic Outlaw Pro Mods
May 18th - Outlaw Grudge Nationals "Chapter III"
June 1st - Evolution Custom Auto EX275
July 5/6th - Anniversary Race (TOPMA vs. OFAA & SHRA)
July 20th - Outlaw Grudge Nationals "Chapter IV"
August 3rd - Evolution Custom Auto EX275
August 10th - Texas Automatic Outlaw Pro Mods
October 5th - SHRA & OFAA "Fall Nostalgia Nationals"
October 12th - Evolution Custom Auto EX275
October 26th - Outlaw Grudge Nationals "Chapter V"
November 9th - No Prep Nationals





Drag News: 10 Most Recent Entries [ top ]

Apr 24- NHRA Heritage Series Heads To Wild Horse Pass
Apr 22- K&N Spring Fling Million Final Day Results
Apr 21- K&N Spring Fling Million Friday Results
Apr 20- K&N Spring Fling Million– Thursday Results
Apr 19- K&N Spring Fling Million- Wednesday Results
Apr 18- Buckeye S/SS @ National Trail April 28th
Apr 18- Don "the Snake" Prudhomme Returns To Baja Competition After 50 Years
Apr 18- K&N Spring Fling Million Tuesday Results
Apr 17- K&N Spring Fling Million Pre-Race
Apr 12- Summit Racing Equipment is Newest Sponsor of Midwest Junior Super Series