Mon, 31 Dec 2012, 18:15 PM



2012 TNT Super Series Champion- JJ Jablonski



Courtesy of Lewis Robinson


Photo credit: Ron Rigby and Stacee Kenington





WEST SENECA, N.Y. --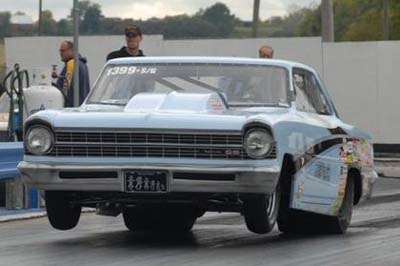 JJ Jablonski
JJ Jablonski has won a lot of drag races in the western New York area over the last 18 years. Winning events at both the local and divisional levels, he's a two-time IHRA Divisional Champion - once in Hot Rod and once in Super Rod.
This year, he bested 64 of the best sportsman drag racers in the country and earned the title of 2012 Joe's Transmission TNT Super Series Champion.
For the West Seneca NY racer, 2012 was a season filled with many ups and downs. His season started off slow but then turned a corner in June at the Cayuga double header where he scored both a win and a runner-up.
Then on Labour Day weekend, JJ cemented his points lead with another win at Cayuga Dragway of Toronto Motorsports Park. One key to his success is that JJ is a master at capitalizing on the qualifying points. He scored qualifying positions of fourth or better an incredible six times in 2012 and earned those precious bonus points.
This all helped him compile an impressive 781 points - a stout 77 points ahead of second place - making him the second highest points earner in the six year TNTSS history.
According to JJ, there are a ton of people to thank who help him both on and off the race track. "Have to thank my wife Nicole, Dennis O'Brien and Mark Vitez," he said. "Can't forget Jason Vitez of Jason Vitez Race Cars, Jeff Gregoire of Phil's Quality Auto Service, Joe Boniferro of Joe's Transmission Service, Mike Janis at Jan Cen Racing Engines, Carl Ettipio of Competition Transmission, Jiffy-tite, Hoosier Tire, Altronics and K&N Filters."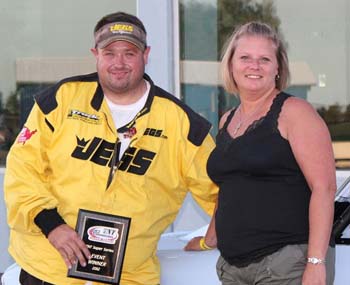 JJ and Nicole
JJ says that he and Nicole talked about goals at the start of 2012. "You always want to win championships and races. The TNT Series is something I wanted to go after."
Early in the season, JJ wasn't too optimistic as three consecutive first round losses were getting the best of him. "You do become discouraged, but as bad as it was in the early going, the win lights started coming on. After the double race at Cayuga where I reached both finals in the same day, my hope of winning the TNT Series was in reach."
"With steady qualifying efforts we were hanging in there and when it was all said and done we were lucky enough to win the 2012 title," he added.
JJ was quick to mention the other drivers in the series. "We have become a tight knit group and really enjoy our race weekends. As far as on the track, competition is always super close with any one of us able to get the win."
"Last but certainly not least, without series director Ted Barnes and Joe Boniferro we would not have such a great series," he added. "And to Russ and Arlene Parker - you will be missed - enjoy your travels."
JJ's winning racecar is a 1967 Chevy Nova SS with a 538 cid for power. Making 905 horsepower, the 2480 pound car is capable of mid 8's in the quarter mile. You can find JJ during the day at AutosDirectBuffalo.com making some of the best deals on all kinds of vehicles.
For everything you need to know about the most popular sportsman drag racing series in the country, visit www.tntsuperseries.com .




Drag News: 10 Most Recent Entries [ top ]

May 27- PDRA to Kick Off 2020 Season at East Coast Nationals
May 21- PDRA Releases Seven-Race Revised 2020 Schedule
May 20- New Location-Nitto Tire NMRA/NMCA Super Bowl of Street-Legal Drag Racing Moves to St. Louis
May 20- Illinois Motorsports Coalition Formed to Lobby State Government
May 20- Illinois Motorsports Coalition
May 18- Beech Bend Raceway Park National Open Postponed
May 18- NHRA Announces NHRA Hot Rod Heritage Series at Sacramento Raceway is Postponed
May 11- POSTPONED-NMRA/NMCA Power Festival
May 11- PDRA Returning to Racing May 29-30 at GALOT Motorsports Park
May 07- Special Nitro Event Set to Unite the Country