Sun, 30 Dec 2012, 11:17 AM



It's Been A Long Time Coming



By Bob Frey


Photo copyright 2012 Auto Imagery, Inc.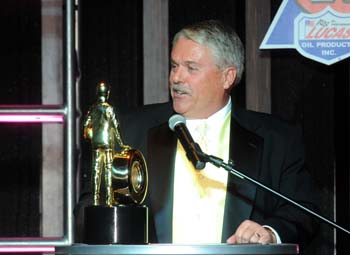 Al Kenny
There are thousands, maybe tens of thousands of racers who have been drag racing for a long time. I am always surprised, or maybe impressed is the better word, when I go back and check some of my files and see names of drivers who are racing today who were active many, and I mean many years ago. One of the places where I find that the most is when I check Pomona records, after all, that track has been active since the 1950's. I will often see a racer at the current version of the Winternationals or the NHRA Finals and then discover that he also was at those same races in the 1960's. And when you look and see how many racers went ten, twenty, thirty or more years between national event wins it's easy to see that this sport is addictive. The one thing about these racers that seems to be a constant is the fact that if they were in the Stock or Super Stock classes in their early years they are probably still there. Al Vanis won in Stock Eliminator in 1974 and then again in 2003. Ed Sigmon won Comp in 1969 and again in 2009 and Ben Wenzel won Stock titles in 1967 and 2010 and he did it in the same car. And then there is Al Kenny, a man who goes by the script in one respect and defies it in the other.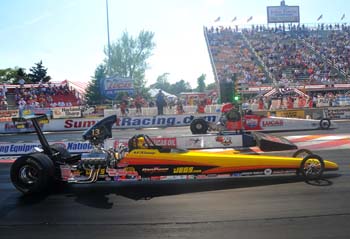 Al Kenny
Al Kenny is the 2012 Lucas Oil Super Comp World Champion, and like so many other champions he has been racing for a long time. Like 2012 Al's early success came in a dragster, but when he began racing Super Comp wasn't even a class, but Pro Comp was. In 1977 at the Sanair race, which like Pro Comp doesn't exist any more, Al ran his super charged dragster right into the final round where he lost to Dale Armstrong, who would later be voted one of NHRA's Top Ten Drivers of all time. Before that he beat the reigning World Champion, Brent Bramley, Chuck Cheeseman and Simon Menzies and Al remembers it all very well. "Dale was helping us with the tuning, and that's a huge understatement, and before the final round I thought I'd go talk to him. We were still thrashing on our car and I walked over to his pit area and he was just sitting there eating a tangerine. I told him we needed about a tenth more for the final round and he just smiled, looked up at me and said 'school's out.' At that time I knew we were on our own and in trouble." That race came a few years after Al started his career with a short wheelbase, front-engine B/Gas dragster. "We ran that for a while and then we had a fuel-injected front-engine A/Fuel car that we ran on nitro (100%) for the 1975 season." >From there, he and his brother, John, stepped up to a supercharged rear-engine car and, eventually, to the car that took them to the final round in Canada. The two continued to race into the late 1980's, including several seasons with partner Bob Putnam. Eventually Bob and brother John moved on to pursue family and career objectives and Al teamed up with longtime friend Jeff Rapp for a year or two with both men taking turns behind the wheel. After Al stopped driving he kept in touch by helping friends at the track and by serving as crew chief on Herb Rodgers Alcohol Funny Car for a couple years. "I loved the alky cars but they have the 'fun-to-work ratio' all messed up. Not to mention the return on investment."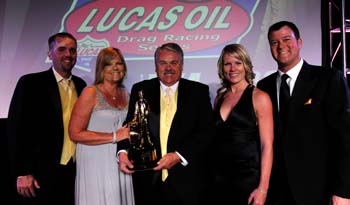 Al knew that he still wanted to race and at that time so did his son, Jason. "We went to the Frank Hawley school because I didn't want to invest in a lot of equipment only to find that Jason wasn't interested." Well he was, and as Al put it, "it all spun out of control from there." Al also took advantage of the time at the school to renew his license and today not only does his son race and win but so does his daughter, Samantha. In fact, the only member of the family who doesn't race is Al's wife of thirty-four years, Carol. "She tried it at Frank's school and said it wasn't for her." That's probably a good thing because if she raced the family would have to get another trailer. "As it is we may come to some races with as many as five cars next year," Al said. "But I wouldn't have it any other way."
It may seem like a long way from a front-engine, injected car to a Lucas Oil World Championship but for Al it has simply been a logical progression. "You race a long time and set goals and to finally win a championship is, honestly, beyond my wildest dreams." And the key to his success in 2012 was simple. "Everything just fell my way. When I was bad on the lights the other guy was worse. If I broke out he broke out by more. All of those races, the ones that are decided by one or two thousandths of a second all seemed to fall my way this year." Then there was the Las Vegas race which was pivotal in Al's race to the championship. "There were a couple of pretty good racers by the name of Stefan Kondolay and Luke Bogacki who could still beat me, and we heard different versions about who would win if we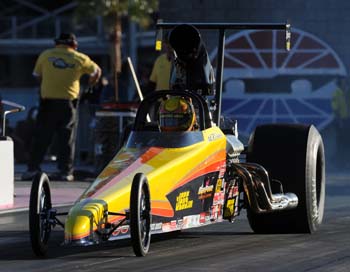 ended up in a tie so I wanted to avoid that." At the Vegas race near the end of the season Al, Jason and Samantha all pulled in the lanes together with Luke and Stefan not far away. "Let's face it," Al said. "There are no ducks out there any more so it really doesn't matter who you race or in what round you race them" As it turned out one of the other contenders was paired up with Jason. "I lost my first round match but Jason picked the whole family up by beating Stefan. That one race was huge both from a points standpoint and emotionally." That was big and so was the fact that Luke Bogacki won the national event instead of the divisional race in Vegas.
Besides having everything fall into place at the Vegas event Al says that the key to his championship season was also the fact that the team had some good luck and some very good equipment. "Plus we had a lot of input from some very good racers." That would include, but not be limited to Jeg Coughlin and Gary Stinnett. "They wouldn't necessarily say do this or that but they would ask why we did or didn't do certain things. With the record those two have when they speak you better listen." In addition to the assistance from the mental side Gary also helps with the teams engines. "He just does such a good job and when we decided that we wanted to go fast he was the first guy who came to mind."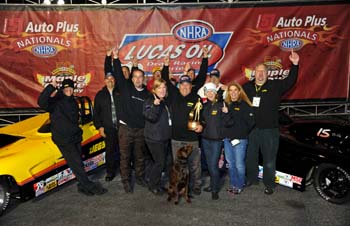 Kenny celebration in Reading.
As good as winning the championship was Al had another great moment in 2012 and that was when he and Jason raced in the final round at the Maple Grove national event. "That was so special (and not only because Al won, I'm sure). With the weather and everything they still managed to run the final round on Saturday when all of our friends were still there hanging by the fence and cheering us on. It was just one part of a magical season. Now I guess my goal is to have a father and daughter final round." Hey, when you've won a championship it's nice to set your sights on something else for the upcoming season. "We'll be plenty busy, that's for sure, with more national events and a lot of divisional races. Plus I am still in the lead for the Jegs All Star race and I'd like to lock that up as well." And with the cold weather in the Northeastern part of the country the Kenny family will head south and west to start 2013. "We'll test down South, race a few divisional races and then go to Las Vegas for the races out there." And while he does that he will be sporting the big number one on the side of his car, a number that was over thirty years in the making.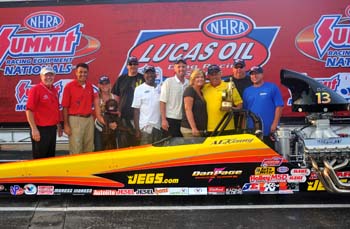 Celebrating Norwalk win.
As with every successful racer Al said that "there are a LOT of people to thank . . . no one does this alone and I've got 40 years of friends and family who have helped me along the way. From the 'modern era' ('90' category racing since 1999) I'll name a few that stand out: Jack Bowes, Dan Doolan, Tom Bryce and Dick Dorr who explained the whole concept of 'throttle stops' when we were starting out. Dan Page Race Cars, Gary Stinnett and Ed Alessi (Select performance) for their top notch equipment. Greg Boutte (K&N), Scott Mackie (Weld), Scott Hall (Moroso), Roy Freeman (Hoosier), JEGS (Jeg, John, Troy, Mike and 350 associates) for their support, encouragement and advice And all the racers (and even some fans) who said they were cheering for me to win the championship. And most importantly, Carol, Jason and Samantha because racing with your family is as good as it gets!




NHRA: 10 Most Recent Entries [ top ]

May 21- Second JEGS SPORTSnationals Added, to be held in mid-August in New England
May 20- DENSO Sponsors NHRA Champs' Shelter-in-Place Dachshund Race
May 14- To Our Racing Community-From Racers for Christ
May 13- The Name Game Part I
May 12- Morgan Lucas, Son of Forrest and Charlotte Lucas, Appointed President of Lucas Oil Products, Inc.
May 05- Cancellation of the 14th Annual Summit Racing Equipment NHRA Nationals
May 04- NHRA Announces Revised Plan to Restart 2020 Mello Yello Drag Racing Series
Apr 29- DSR Drivers Join Global Superstars in Fight for COVID-19 Relief
Apr 02- NHRA National Dragster will Temporarily Shift to a Free-to-All Digital Magazine
Apr 02- NHRA Announces Revised E3 Spark Plugs Pro Mod Drag Racing Series Schedule