Sat, 29 Dec 2012, 09:45 AM



Michael Beard Battles Back from Near to Defeat to Collect First Career IHRA Super Stock



Courtesy of IHRA Communications



Car Trouble Nearly Derails Beard's Title Hopes



NORWALK, Ohio --
Title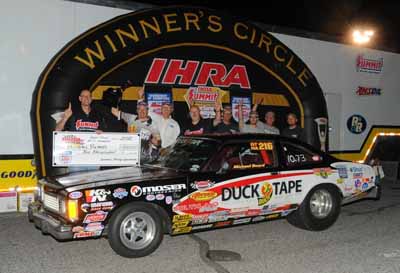 Beard overcame major car issues at World Finals
to collect first IHRA Super Stock championship.
Winning a championship is one thing.
Winning a championship while overcoming some great adversity, now that is how you make a lasting impression on the sport.
Such was the case at the recently completed IHRA Summit Racing Equipment World Finals at Memphis International Raceway as longtime IHRA competitor and former world champion Michael Beard overcame two days of car trouble and a near throw-in-the-towel situation to win his very first Super Stock World Championship after another incredible season behind the wheel.
"I absolutely didn't think I had a chance to win this thing. I was so out of it," Beard said. "And then we had an unbelievable turn of events. Ironically your Stock champ Brent Darroch found the problem on the car and suddenly I was back in the game. I literally didn't have a chance at this thing until about two or three rounds to go."
>From the very start of the World Finals weekend something was amiss on the Duck Tape-sponsored 1980 Volare of Beard. Problems with the IAC on the throttle body left the Ohio native unable to attack the tree and without the ability to own the start the veteran racer was just about ready to throw in the towel.
"I will tell you how out of it I was. I didn't turn the weather station on all day, all of my time slips were still in my pocket and I didn't enter a single run in the log book," Beard said. "I kept thinking 'whatever, we are probably going to be on the trailer anyway.' I mean, I was having problems staging and every time I tried to come up on the converter the thing was just trying to die on me. And if I sat back and came up on it way hard it got too deep or I red lighted. I knew I didn't have a chance unless I got the car fixed.
"To go from being out of the thing to holding this trophy, that is absolutely incredible."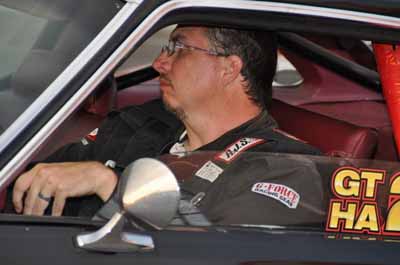 In 2012 Beard visited six final rounds at
five different tracks
to win the Division 2 Pro-Am title.
After two days of thrashing and multiple drivers getting involved, including friends and fellow competitor Mark Nowicki, engine builder Tim Sloan, Michael Volkman and others, it was finally the magic touch of the man that would go on to win the Stock championship later that same day that saved the day.
"I very literally could not have done this without a number of people working on the car," Beard said. "Mark (Nowicki) worked on the car, I got advice from Tim Sloan my engine builder and believe it or not it was Brent (Darroch) that actually fixed the problem. Once we isolated the issue we cleaned it up and boom the car was fixed and I could go after the tree again."
And that he did.
>From unable to compete to the finals of Super Stock, Beard had a day he won't soon forget. And by Saturday night it all came down to Beard and Moon, Pennsylvania's Emily Volkman for the Super Stock World Championship.
With the very first title in the class on the line for both drivers, Beard proved just how important owning the tree is with a .034 reaction time to Volkman's .057, a number that ultimately proved the difference in the race. A little over 10 seconds later Beard crossed the line with a 10.781/122.39 on a 10.73 dial to barely edge Volkman and her 10.234/125.33 on a 10.19 to collect yet another big race win.
"I have had a lot of really good races. I have won championships, won bracket finals, but just the adversity of this weekend made it that much sweeter," Beard said. "I don't think I have ever screamed that loud."
Beard's victory at the Summit Racing Equipment Tournament of Champions presented by AMSOIL actually capped a tremendous year for the now three-time IHRA champion.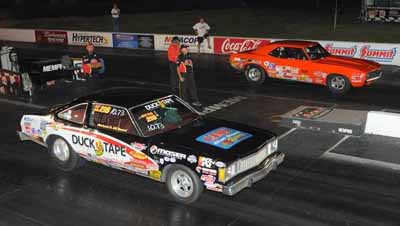 Beard battled Emily Volkman
in the Super Stock final at Memphis.
Beard visited six final rounds and won twice - once in Super Stock and once in Stock - on his way to winning the Division 2 Super Stock title on the Summit Pro-Am Tour. To add to his accomplishments five of Beard's six finals took place at different racetracks, adding a sixth different track when you throw in Memphis.
"It has actually been a phenomenal year. We started out with some problems at the beginning of the season with the car being a small tire car and the fuel injection being so responsive that the car hit really hard and it was either feast or famine during the first half of the year," Beard said. "The car would either fly or blow the tires off. When I finally found out that the rear end housing was actually starting to twist I thought at that point, if I have to buy a rear end, it might as well be a big narrow one.
"I took the car to Donny Gibbs Jr. at Gibbs Race Cars in Mooresville and I back-halved the car. It is a real Super Stock back half now. And ever since then this thing has been phenomenal. After that we really got on a roll."
Ironically, Beard's weekend in Memphis actually began with a loss to the same person he beat in the TOC final. During the Summit Sportsman Spectacular earlier in the day Beard lost to Emily Volkman in the third round of the big money shootout with a -.007 light doing him in as his car troubles began to rear its ugly head.
Once out of the all-star race, Beard turned his focus to the championship tournament where he produced five big round wins over a who's who list of Super Stock superstars. Defending Super Stock champion Gianni Cantusci in round two, the man who finished second to Beard in the Division 2 standings Michael Crumpler in round three and finally Beard's arch nemesis Brandon Peterson in the semis.
In some of those wins Beard got some help as Cantusci went .002 under his dial, Crumpler ran .016 under his dial in a double breakout and finally a big -.394 red light by Peterson in the semifinals, a race that could have been epic with Beard hitting a .001 on the tree, carried Beard throughout the day. But it was the win over Peterson that meant the most to eventual champ as he finally got a season-long monkey off his back.
"One of the biggest runs for me was the semi against Brandon (Peterson) because he has beat me up and down this year," Beard said. "Mentally I was really focused on going after him and that was evident by my light. He went way red because he said he was pushing on the button so hard that his thumb actually slipped off the button. Honestly after working on the car all day that was my first comfortable hit all day."
On the other side of the ladder Volkman, who worked her way into the tournament via a third place finish in the Division 3 standings, defeated Marvin Dunahoo, Jeffrey Miller and Mark Nowicki to reach the final.
With the win Beard adds to the legacy of one of the most accomplished racers in the sport today and if one thing is certain, the man isn't quite done winning just yet.
"It was a great year and it was amazing to win another championship, but we still have a lot of racing left in us," Beard said. "I want to thank Duck Tape brand duct tape, Mickey Thompson, Moser Engineering, K&N Filters, CAM2 Blue Blood Racing Oil, Abruzzi Racing Transmissions & Converters, Gibbs Race Cars, Southland Speed, Sloan Racing Engines, Ross Pistons, ThisIsBracketRacing.com, ClassRacer.com, Macy Motorsports, Money Maker Racing, Billy Nees Race Cars, my parents Stephen and Ellen Beard my wife Jill and of course IHRA, Summit and all the contingency sponsors."




IHRA: 10 Most Recent Entries [ top ]

May 20- IHRA Member Track Update
Mar 16- IHRA Sportsman Spectacular Events at Farmington and Holly Springs Postponed
Dec 03- Historic Mo-Kan Dragway Reaches Multi-Year Agreement with IHRA
Oct 24- Summit SuperSeries Champions Crowned at IHRA Summit SuperSeries World Finals
Oct 24- Summit Racing Equipment Renews Commitment to IHRA Summit SuperSeries in 2020
Oct 08- Beacon Dragway Chosen as IHRA Division 2 Track of the Year
Oct 08- London Dragway Emerges With Win at IHRA Division 2 Summit Team Finals
Oct 08- Xtreme Raceway Park Named IHRA Division 4 Track of the Year
Oct 07- Pine Valley Raceway Captures IHRA Division 4 Summit Team Finals Win
Oct 03- Beaver Springs Dragway Named IHRA Division 3 (North Stars) Track of the Year