Thu, 27 Dec 2012, 11:49 AM



Brent Darroch Finally gets his Championship



Courtesy of IHRA Communications



After Two Runner-up Finishes, Darroch Finally Finishes First at Tournament of Champions



NORWALK, Ohio --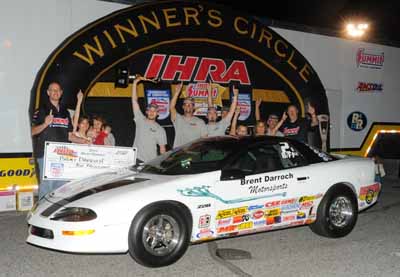 After two runner-up finishes in the TOC,
Brent Darroch finally broke through in Memphis .
Brent Darroch is a bridesmaid no more.
Finishing second in the world twice in the past three seasons, Darroch finally broke through at the 2012 IHRA Summit Racing Equipment Tournament of Champions presented by AMSOIL with his first career championship by beating fellow divisional champion B.J. Bianchi in a battle of the heavyweights for the Stock Eliminator crown.
But it was far from easy.
Darroch actually broke the motor in his 1994 Chevrolet Camaro the week before the race and had to completely overhaul the guts of the car prior to the World Finals. And with a fresh setup and a new bullet Darroch traveled to Memphis International Raceway with the goal of making it one step further than his previous two TOC appearances and he did just that in spectacular fashion.
"This win means everything to me. We have been working so hard for a couple years at this, chasing points and even finishing second in the world twice before. To get this monkey off my back means the world," Darroch said. "To make things even more unbelievable, I broke the motor last weekend and we had to rebuild it. We came down here with a fresh motor, fresh clutch and not a single pass until the time trial the day of the race.
"To go from a broke motor without a single pass on it and a brand new setup to winning the whole thing, all I can say is wow."
It is worth pointing out that despite this being Darroch's first championship, the Monaca, Pennsylvania native is no stranger to winning. In fact Darroch holds the best record of any driver in the history of the Summit Tournament of Champions with three appearances in four tournaments and a 13-2 record. But until this year's tournament Darroch had never been able to break through in the final, losing to Michael Beard in 2009 and Phil Combs in 2011.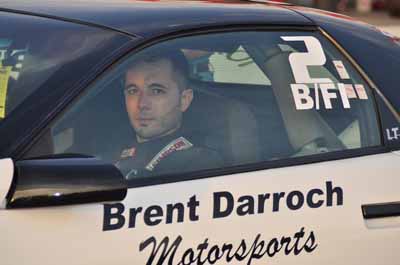 Darroch won Division 2 to take
a top qualifying spot at the TOC.
"I have never really been a person to give up. I always feel like things happen for a reason and if it wasn't my time to win, it wasn't my time to win," Darroch said. "We worked really hard the past few years and especially this year and God was with us and helped us out. And now to win this whole thing and to share this with my family, it is amazing."
Trying to avoid being a three-time runner-up, Darroch went into the final against another driver with a lot of experience in the winner's circle B.J. Bianchi with the weight of the world on his shoulders. Both drivers matched up pretty evenly; with Bianchi winning the Division 2 title on the Summit Pro-Am Tour and Darroch claiming the Division 3 title and both drivers put the manufacturer war to the test with Darroch representing Chevy and Bianchi piloting a Ford with his '89 Mustang.
With a World Championship on the line Bianchi got off the line first with very nice .008 light to Darroch's .022, but Darroch was able to close the gap and crossed the finish line with a spectacular 10.608/118.18 on a 10.60 dial while Bianchi, giving it everything he had, came in .005 too quick with a 11.325/111.33 on a 11.33 dial to give the Pennsylvania native the win light.
"I am always pretty confident, I just feel like you can't go up there and worry about who you are running, but after finishing second in this race twice before it really had me thinking," Darroch said. "B.J. is an awesome competitor and he deserved to win this as much as I did, maybe more. He actually beat me on the tree, but I dumped him at the finish line and I had that sinking feeling and when my win light came on I was like 'I can't believe it, I am a world champion.' A couple of thousandths either way and this could have been a different race. I am just grateful that I was able to finally get the win."
While some of the Tournament of Champions finals featured drivers of varying skill levels, this race was a battle of two very accomplished racers. Darroch had two wins in 2012 on his way to winning the Division 3 crown over Rob Bihl while Bianchi, from Bradenton, Florida, collected three victories to finish ahead of Myron Piatek in the Division 2 race.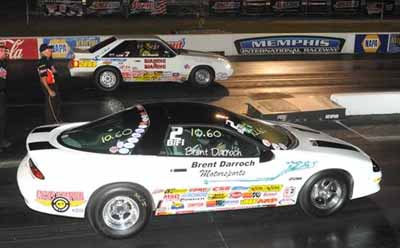 Darroch and B.J. Bianchi went head-to-head in one
of the most exciting finals of the night.
"We had a really, really good season," Darroch said. "Even before we left I told my wife that even if we lost first round we had a heck of a season and we couldn't complain. We won what I think is one of the toughest divisions in the country and won the Michigan national event. It seemed like this season all the guys that beat me last year by a few thousandths here and a few thousandths there were the guys I was able to beat this year so that helped get the monkey off our backs early."
At the tournament itself both drivers received a first round bye thanks to their divisional championships and had to go through some pretty stiff competition to reach the final.
Ironically Darroch's first opponent of the weekend was the man he beat to win his division as Bihl gave him everything he had with a much better light, but Darroch gained it back on the top end in a race where neither driver was on their game. Darroch crossed the line .052 off his dial, but still managed to hold on for the win. In the next round Darroch had another bad light as Jacob Pitt got off the line first, but once again Darroch drove around him on the top end for the win.
In the semifinals Darroch received a bye into the final while Bianchi went to war with Joel Warren, but Warren made a wild move to the left at the hit and couldn't run the numbers as Bianchi walked into the final. Bianchi also recorded a win over Anthony Platania to reach the championship tilt.
While the feel good story of a two-time runner-up finally breaking through all with a brand new setup is a story unto itself, it doesn't end there. Darroch's journey gets even more fascinating when you realize that it has been he and his car together since the very beginning.
"I have been racing since 1998 with this car. I bought the car brand new and actually raced it the day after I bought it as a street car. Not long after I turned it into a Stock Eliminator car," Darroch said. "So yeah, it is pretty special that this car has been with me through it all."
Now Darroch and his championship winning Camaro will enjoy some much deserved time off before going back at it again in 2013 with possible a fourth TOC final round on the way.
"This run has been pretty special and I couldn't have done it without several people," Darroch said. "I would like to thank Mickey Thompson, Brent Darroch Motorsports, Darroch Brothers' Auto Body, my family, my wife and kids, my crew chief Chuck and everyone that has contributed to this incredible win."




IHRA: 10 Most Recent Entries [ top ]

May 20- IHRA Member Track Update
Mar 16- IHRA Sportsman Spectacular Events at Farmington and Holly Springs Postponed
Dec 03- Historic Mo-Kan Dragway Reaches Multi-Year Agreement with IHRA
Oct 24- Summit SuperSeries Champions Crowned at IHRA Summit SuperSeries World Finals
Oct 24- Summit Racing Equipment Renews Commitment to IHRA Summit SuperSeries in 2020
Oct 08- Beacon Dragway Chosen as IHRA Division 2 Track of the Year
Oct 08- London Dragway Emerges With Win at IHRA Division 2 Summit Team Finals
Oct 08- Xtreme Raceway Park Named IHRA Division 4 Track of the Year
Oct 07- Pine Valley Raceway Captures IHRA Division 4 Summit Team Finals Win
Oct 03- Beaver Springs Dragway Named IHRA Division 3 (North Stars) Track of the Year