Tue, 25 Dec 2012, 23:25 PM



It Was A Very Good Year



By Bob Frey


Photo copyright 2012 Auto Imagery, Inc.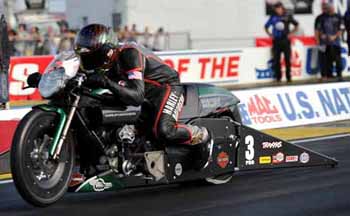 Eddie Krawiec
At the end of each year we often look back and reflect on the things that were good, and in the world of NHRA drag racing there were a lot of good things in 2012. The championship run in Top Fuel was way cool and the Funny Car battle wasn't too bad, either.
Allen Johnson's
championship may have been the most satisfying of the four pro classes, at least to the drivers, and
Eddie Krawiec's
domination of the bike class was the stuff that legends are made of. The sportsman classes also had their share of great moments and they include
Jim Whiteley's
very impressive run (an understatement) at
Pomona
and
Frank Manzo's
amazing sixteenth NHRA
Lucas Oil
championship. .Every year
National DRAGSTER
runs a "Best Of" issue and I am proud to say that I am a contributing member to that discussion. I don't get to sit in the secluded room with the DRAGSTER staffers but I do get to send in my suggestions about what the top moments of the year were. Overall I would say that DRAGSTER and I agree on most of the choices, but somehow they always seem to add a few that I either didn't have high on my list or that I missed altogether. Conversely there are a few on my list that I can't believe didn't even earn an honorable mention from them, but then I guess that's what makes these lists so interesting. One man's run by a Super Stocker may not be another's idea of a run worthy of the "best of the year" list. Having said that I am always amazed and impressed with the time and effort that must go into the DRAGSTER list and I have to admit that when I read it it is hard to argue with most of their selections.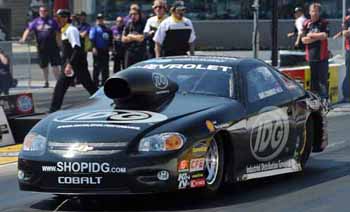 Dave Connolly
I must admit that when I received the issue of DRAGSTER with their selections and when I compared it to mine I realized that I hadn't even selected a "Driver of the Year" in the professional, or Full Throttle classes. What a dope! The folks out west picked Allen Johnson and it would be hard to argue with that. After all, he had a great season and he really did have his way with the Pro Stock class for most of the year, certainly for the second half of the season. It's easy to go with any of the Full Throttle champs as DOTY and Antron Brown, Jack Beckman and Eddie could easily have been earned that distinction, but how about this to trigger a great bench-racing session, Dave Connolly for Driver of the Year? He only entered seven races this year but he went to the final round at three of them, he won Indy and of the nineteen rounds he competed in he won four of them on holeshots. Sounds like a pretty good driver to me. Ok, so he didn't run a lot of races but what exactly is the criteria for the DOTY? I may be stretching things a bit, and even if I had completed my ballot I don't think I would have had Dave in the top spot, but he sure looks like a pretty good driver to me. Let's just say this, if he happens to get a ride for the full year next year I'll bet he's in title contention and in contention for the Drive of the Year in 2013. Just a thought..And what about Eddie, does he get penalized because he had the best race vehicle in 2012? And Jack came back from a complete crew change, a DNQ and a couple of nasty explosions to win his championship so he has to be in the discussion. See, it's not easy to pick these things and that's why my hat's off (really, it is) to the DRAGSTER staff for what they do.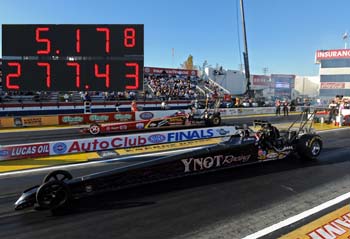 Jim Whiteley
The "Outstanding Run of the Year" went to Jim Whiteley by a "nearly unanimous" vote and it's easy to see why. His 5.178 - 277.43 blast at Pomona was stunning and it grabbed everyone's attention. I had him on my list but I also included a few that maybe weren't quite as obvious. Early in the year John Clegg went 7.964 at 171 miles per hour in a Super Stock car. He did it at the Division 4 race in Houston and it was, at the time, I think the run of the year. Don Feazell then went 8.95 in his Stock Mustang and Carey Bales went 7.923 in his Super Stocker at Indy. Oh, in case you don't know, Carey drives a Honda. A Honda! And, at the time, I thought that was the run of the year. Spencer Massey's 332 mph blast at the 4-Wide race was impressive and so was Jason Line's 6.477 - 214.35 clocking at Maple Grove. Antron Brown's 3.701 at the Grove had to merit consideration and so did Ron Capps' 3.964 at Englishtown along with Bill Reichert's 5.148 at the 4-Wide race. Hey, he did that on 94% nitro and that was a stunning performance, at least in my book. They were all impressive, all raised eyebrows at the time and all could have been the Run of the Year in our sport. Did I mention that Bales went 7.923 in a Honda?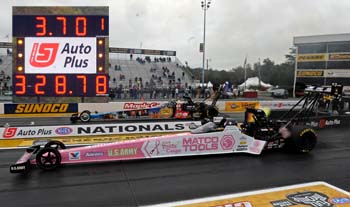 Antron Brown
Another category was the "Outstanding Run by a Top Fueler" and that included a wide range of candidates. Obviously Antron Brown's epic 3.701 blast at Maple Grove was at the head of the pack, or at least it should have been. I try to keep tabs on the best runs of the year in my own little "cheat sheet" and for some reason (probably old age) I left that run off my list. I guess that's why the DRAGSTER folks get together and discuss this stuff, you know, the old "two heads are better than one" idea. Since Antron won the championship by seven points that run, which ended up as the national record, was the turning pointing in the battle for the 2012 Top Fuel crown? Did you know that was the sixth time the national elapsed time record was set at Maple Grove and it's the second time in the last two years that Reading has yielded a Top Fuel record?....I had a few other runs on my list and they included Spencer Massey's 332 mph run at the 4-Wide race in Charlotte and Tony Schumacher's historic 330 mph run at the same event. That was the run that gave Tony the first 330 mph run at 1,000 feet to go with his first over 330 at a quarter-mile which he did in Phoenix in '99..As far as the "Outstanding Top Fuel Race of the Year" it would be hard to go against Brandon Bernstein's final round win over Tony at Pomona. That was the run that decided the Top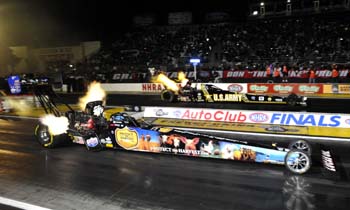 Bernstein vs. Schumacher
in the Pomona final.
Fuel championship, and for one of the few times in his career Tony was on the losing side of that equation.
Did you know
that Tony lost on holeshots three times in 2012 and two of them came against
Brandon
?....Another race that was pretty spectacular was the one between Antron and Brandon at Maple Grove, the one where Brandon ran 3.740 and lost! And what about the Indy final where Tony beat Spencer 3.806 to a losing 3.828, that was pretty special too, wasn't it?
When you have twenty three races on the schedule there are bound to be some events that stand out above the rest and that's where the category "Outstanding Performance by a Top Fueler (Event)" comes in. I thought Spencer Massey's run through the class at the Winternationals was special, after all, he did everything but qualify number one. He checked in at number two in the field and then ran the table, setting low elapsed time, top speed and winning the race. Plus he ran 3.750 in the final round and beat his teammate, Antron, in the final round. And that was just the first race of the year so you knew there was more to come...It would be hard to vote against the
Morgan Lucas at Houston.
entire Top Fuel show at Maple Grove because there were so many outstanding runs, great side-by-side elimination passes and national records.
Did you know
that at the end of the year eight of the top ten dragster runs were recorded at
Maple Grove
? Sounds like an outstanding event to me..In the end the DRAGSTER voters tabbed
Morgan Lucas
and his Gainesville performance as the best of the year, and as good as that was I think his Houston run was even better. In
Gainesville
he was the top qualifier (by three-hundredths over Tony Schumacher), he set low elapsed time and top speed and won the race. In the last three rounds he ran 3.74 to beat each of his opponents but he did have that one lucky round, the round everyone says you need sooner or later if you want to win one of these races. That occurred in round one when he had his parachute deploy early, very early, and still was able to beat
Brady Kalivoda
. In
Houston
he was number one (on a tie-breaker with
Steve Torrence
), set low elapsed time of every round and won the race.
Did you know
that was the only time in his career that Morgan earned the top qualifying spot on the "top speed" tie-breaker? Maybe he didn't go 3.74 in each round but he did have to work hard to win each round and he won them convincingly, and whichever race you picked it looked like Morgan was going to win the "Outstanding Top Fuel Performance for an Event" title and rightfully so.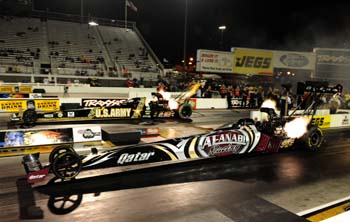 Langdon defeated Schumacher
for first National event win.
There were some other highlights in Top Fuel this year and they included, but are not limited to, Shawn Langdon winning his first Top Fuel race, Khalid al Balooshi winning his, Brandon Bernstein breaking a long winless drought, Keith Murt beating Doug Kalitta in Las Vegas, TJ Zizzo beating Tony Schumacher in Joliet and more. But in the end it was Antron Brown who made it through the longest day of his life, the last day of the season, to emerge as the 2012 Top Fuel champion...Speaking of Antron it was great to see a lot of his "stuff" was recently sold on e-bay to raise money for charity. His helmet, some team shirts and other items raised thousands of dollars for the Susan G. Komen for the Cure charity. I bid on a couple of the items and would have loved the helmet but its final price of $5000 was just a bit out of my price range. Hey, I'm retired you know, so I have to watch every penny!! Nice job by Antron, Matco Tools and all the folks at Don Schumacher Racing for a wonderful gesture especially at this time of the year.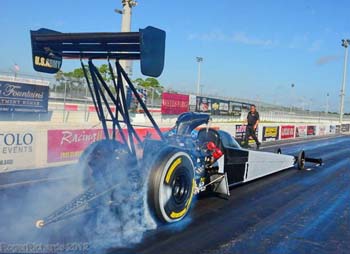 Tommy Johnson testing at PBIR.
Photo copyright 2012 Roger Richards
Top Fuel next year should be just as exciting as this year was although a few of the teams plans are still up in the air. You certainly expect the Al Anabi teams to run better in 2013 than they did this year while the normal cast of characters all should contend for the championship again. The big question right now is who, if anyone, will drive the car that Spencer Massey drove this year? With him and FRAM both gone maybe Don Schumacher will only have two dragsters next year, although I wouldn't bet on that. Don has a way of putting deals together and I expect one to be in place for that car and team before too long. As of this moment Tommy Johnson Jr. has been testing the car, canopy and all, with the team in Florida and he certainly wouldn't be a bad choice for the full time gig would he? Did you know that Tommy has appeared at exactly two NHRA races in a Top Fuel car in the last fourteen years? Still, we all know he can drive and he's already on the payroll so why not put him behind the wheel? Just a thought..Next week we'll look at some of the "Best Of" in the other classes, or you could just read your National DRAGSTER to see the results, at least some of them.
I hope you all had or have (depending on when you read this) a very Merry Christmas and a wonderful New Year. And to those Mayans I say, what calendar?




NHRA: 10 Most Recent Entries [ top ]

May 21- Second JEGS SPORTSnationals Added, to be held in mid-August in New England
May 20- DENSO Sponsors NHRA Champs' Shelter-in-Place Dachshund Race
May 14- To Our Racing Community-From Racers for Christ
May 13- The Name Game Part I
May 12- Morgan Lucas, Son of Forrest and Charlotte Lucas, Appointed President of Lucas Oil Products, Inc.
May 05- Cancellation of the 14th Annual Summit Racing Equipment NHRA Nationals
May 04- NHRA Announces Revised Plan to Restart 2020 Mello Yello Drag Racing Series
Apr 29- DSR Drivers Join Global Superstars in Fight for COVID-19 Relief
Apr 02- NHRA National Dragster will Temporarily Shift to a Free-to-All Digital Magazine
Apr 02- NHRA Announces Revised E3 Spark Plugs Pro Mod Drag Racing Series Schedule