Mon, 24 Dec 2012, 11:13 AM



Corey Manuel Gives Family Another IHRA Title



Courtesy of IHRA Communications



17-year-old one of the Youngest Champions in IHRA History



NORWALK, Ohio --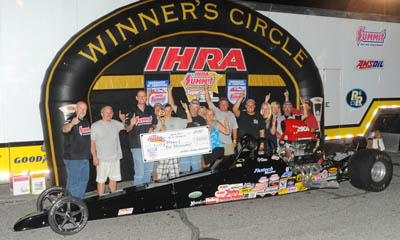 Corey Manuel became one of the
youngest champions in IHRA history in Memphis.
It is hard to believe, but just two years ago Corey Manuel was navigating the dragstrip in the confines of a single-groove-wide dragster at blazing speeds in excess of 70 miles per hour.
Fast forward two seasons later and Manuel, at the ripe old age of 17, is an IHRA World Champion in Quick Rod. Yes, you heard that right; Manuel is an IHRA champion at just 17 years of age, just two years removed from Junior Dragster.
"Yeah, it is a bit surreal. It all just feels like a dream, like it didn't really happen. You are not supposed to win one of these things so early, but here we are," Manuel said. "This whole thing is just so crazy, I can't tell you what it means to be number one."
But Manuel is number one in the world and he owes a lot of that success to the man calling the shots - his big brother, 2010 Super Rod World Champion and 2011 IHRA Sportsman Driver of the Year Cameron Manuel.
Everyone knows the incredible success that Cameron has enjoyed over the last two years. A world championship in 2010, multiple divisional titles, a driver of the year award and absolute dominance in more than one class fill out the resume of the man from Winston Salem, N.C. And with Cameron looking on when not campaigning his own Top Dragster in the TOC, Corey did the unthinkable by navigating one of the toughest races in the country and coming out on top after just two years in a big car.
Now young Corey adds his name to the family legacy by collecting the Quick Rod championship at the IHRA Summit Racing Equipment World Finals in Memphis, taking down a man who had already won one world championship on the night to do it.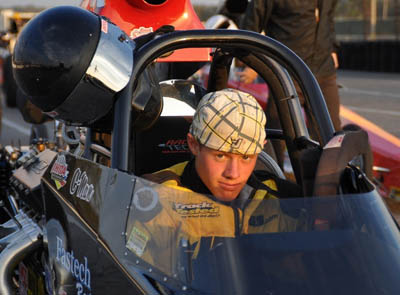 Manuel qualified for the Tournament of Champions
via a win at the Richmond TOC qualifier.
With a page in the history books on the line, Manuel lined up alongside Patrick Forster of Pittsburgh, Pennsylvania who had just won the race in Hot Rod not less than 15 minutes earlier. But as Forster would later admit, the adrenaline of winning one race spilled over into the Quick Rod final as Forster went red by .012 and Manuel, who still hammered the tree with a .001 light, was able to take a victory lap to celebrate his first championship.
"It feels awesome knowing that I am carrying on the family name and to be in the winner's circle of this race just like my brother is amazing," Manuel said. "When I got to the final I treated it like just another race. I tried not to let my nerves get to me and I think even if we had raced I would have had a good shot at the win with a really good light."
Manuel didn't go the usual route to get into this year's Summit Racing Equipment Tournament of Champions presented by AMSOIL, winning the Richmond Dragway Summit Pro-Am race in May to automatically qualify him for the tournament.
With the win Manuel spent the rest of the year focused on gearing up for the tournament with hopes of having a big weekend in Memphis.
"We won at Richmond earlier this year and that got us a ticket to come here," Manuel said. "We were doing good in the D2 points, but we didn't go to Darlington so we didn't finish it out. Really we only had that one race win, but we have been running consistent all year and then we came here and got it done."
Once in Memphis Manuel began his quest for a championship with a round one win over Division 4 competitor Michael Pennington in a closer than hoped for first round decided by a few hundredths at the line. In round two Manuel battled Division 4 champion Dale Scates, overcoming an eight thousandths difference at the tree with an 8.910 run to Scates' 8.920 in the 8.90 index class. Manuel continued his big day by downing another divisional champion, D9 winner Carey Long, with an 8.903 pass as Long broke out by .013.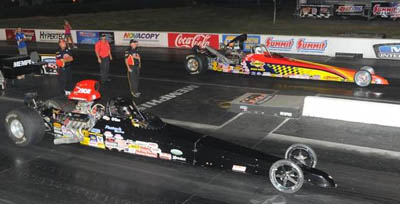 Manuel battled Patrick Forster to add another
championship for the Manuel family
In the semifinals Manuel completed his run with an 8.911 pass to get around Scotty Campbell's 8.923 to advance to the final. In the other semifinal Patrick Forster received a bye into the final, adding wins over Rick Stroud, Steve Muller and Ed McCleaft to reach the championship tilt.
All in all Manuel had a solid weekend thanks to the help of his family, even though a few minor issues earlier in the day threatened to derail their plans.
"Things went pretty smoothly. We had a few problems with the car, it was leaking transmission fluid so we had to rig something up to where it wouldn't leak so bad," Manuel said. "Other than that my brother helped keep me calm through the day and he told me how to do it since he won this thing two years ago."
Now Manuel has stepped out of the shadows and defined himself as more than "Cameron's brother" by not only winning a title, but adding his name to the history books as one of the youngest champions in IHRA history.
"Thank you everybody that helped make this happen," Manuel said. "This is such a big deal and I was exciting to share that with my family. And to make history, that makes this win even that much more special."




IHRA: 10 Most Recent Entries [ top ]

May 20- IHRA Member Track Update
Mar 16- IHRA Sportsman Spectacular Events at Farmington and Holly Springs Postponed
Dec 03- Historic Mo-Kan Dragway Reaches Multi-Year Agreement with IHRA
Oct 24- Summit SuperSeries Champions Crowned at IHRA Summit SuperSeries World Finals
Oct 24- Summit Racing Equipment Renews Commitment to IHRA Summit SuperSeries in 2020
Oct 08- Beacon Dragway Chosen as IHRA Division 2 Track of the Year
Oct 08- London Dragway Emerges With Win at IHRA Division 2 Summit Team Finals
Oct 08- Xtreme Raceway Park Named IHRA Division 4 Track of the Year
Oct 07- Pine Valley Raceway Captures IHRA Division 4 Summit Team Finals Win
Oct 03- Beaver Springs Dragway Named IHRA Division 3 (North Stars) Track of the Year