Sat, 22 Dec 2012, 12:09 PM



Ruff Overcomes Tough First Day to Take Super Rod Title



Courtesy of IHRA Communications



Ruff Loses on Friday, Wins on Saturday to Take first IHRA Championship



NORWALK, Ohio --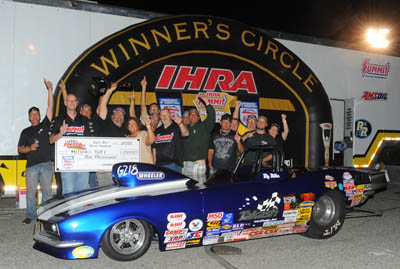 Michael Ruff overcame a rough start
to collect his first IHRA championship in Super Rod.
It is an old proverb, but its words couldn't ring any more true - "for every storm a rainbow, for every tear a smile."
It is safe to say no one understands that saying more than Super Rod racer Michael Ruff.
Ruff had about as rough of a first day of racing as any one man could possibly have at the IHRA Summit Racing Equipment World Finals. After blowing a tire on his motor home on his way to Memphis Ruff, driving over 900 miles from his home in Orlando, Fla., began his big weekend with a first round loss in the Sportsman Spectacular followed by an even bigger loss in the re-entry round of that same race all on opening day.
With an 0-2 start to the weekend and the biggest race still yet to come, Ruff wasn't exactly high on his chances to be competitive during the Summit Racing Equipment Tournament of Champions presented by AMSOIL later in the weekend with the biggest prize - a world championship - still on the line.
"It certainly wasn't the start we had hoped for. After 900 miles and blowing a tire on our way here we go out first round, bought back in and then get whooped bad by (Steve) Furr," Ruff said. "That first day really took the wind out of my sails. It was really frustrating because I knew I had laid down good runs, I just got beat. I wasn't mad at the cars performance or my performance, I just got beat."
But that is where the storm began to subside.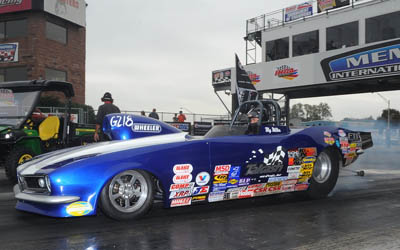 Ruff qualified for the Summit Tournament of Champions
via a second place in Division 2.
On day two Ruff finally saw some light when he picked up his first round win of the weekend - using a perfect triple zero light to get around fellow Division 2 racer Jason McCandless - setting up an improbable run to the finish that concluded with Ruff holding the biggest prize in the game, an IHRA championship Ironman.
"To come back the next day after a disastrous start and get a win light in the first round, that just helped build the adrenaline and get the next day off on the right foot," Ruff said. "From there things just took off."
And boy did it ever.
After defeating McCandless in round one Ruff found his groove and followed that up with wins over Jeff Estep and Shannon Brinkley before meeting Hamlin, Texas' Joe Collier in the final. In a battle of the Chevrolets Collier, behind the wheel of his 2000 Monte Carlo, got off the line first by a narrow margin - a .015 to a .019 - but Ruff battled back on the other end in a double breakout victory as Ruff crossed the line first in his '67 Camaro with a 9.890/147.39 in the 9.90 class while Collier took a bit more with a 9.884/151.10.
"This is just awesome. As tough as the competition is nowadays, to be able to come out and play with them and win, get the big check, is an awesome deal," Ruff said. "This is such a great opportunity the IHRA has given everyone for all the champions to come to one race and duke it out for the title. It is an amazing feeling to win this thing."
And amazingly, Ruff's weekend almost didn't happen.
Ruff entered the last race of the season in Division 2 outside of the top three in points and needed a monumental performance to sneak into the tournament field. And right when he needed it most Ruff posted a pair of semifinal finishes to propel him into second in the Summit Pro-Am standings, one point ahead of McCandless.
Ruff finished the year with two wins, both coming at Bradenton Motorsports Park in March.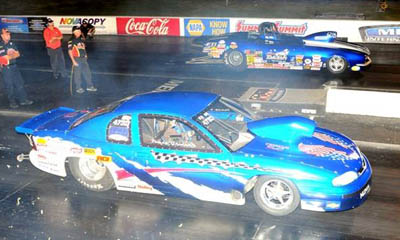 Joe Collier and Mike Ruff went
head-to-head in the Super Rod final in Memphis.
"I didn't do a whole bunch of races this year. We missed the first race of the year in Immokalee and then went to Bradenton and won both races there," Ruff said. "From there we went to Jackson and didn't do so well and by Darlington I was out of the top three. But we were able to get down to four twice and that moved us all the way up to second in points and now here we are hoisting this trophy."
After the .000 light in round one, Ruff continued to get it done on the tree with a .015 light helping propel him past Division 9 champion Jeff Estep and a lucky break in the quarters moving him on when Shannon Brinkley broke out by .013.
In the semifinals Ruff earned a bye run while Collier, racing out of Division 4, bested fellow D4 racer Clayton Nance with a .012 reaction time and a 9.908/151.99 run to advance. Nance broke out by ..036.
With the win Ruff collected his first career IHRA championship and second overall championship all in his first full season of IHRA racing. Now he will take the big trophy home with him to Orlando and hopefully try for a repeat in 2013.
"I have been racing around 20 years and this is the first year I have run IHRA and I can say I have really enjoyed it and let's just say I will be doing more IHRA racing in the future," Ruff said. "I want to thank my wife Sherrie, my brother-in-law Larry, FTI Converts, Mickey Thompson Tires and Takash Race Craft. If it wasn't for them it wouldn't be possible."




IHRA: 10 Most Recent Entries [ top ]

May 20- IHRA Member Track Update
Mar 16- IHRA Sportsman Spectacular Events at Farmington and Holly Springs Postponed
Dec 03- Historic Mo-Kan Dragway Reaches Multi-Year Agreement with IHRA
Oct 24- Summit SuperSeries Champions Crowned at IHRA Summit SuperSeries World Finals
Oct 24- Summit Racing Equipment Renews Commitment to IHRA Summit SuperSeries in 2020
Oct 08- Beacon Dragway Chosen as IHRA Division 2 Track of the Year
Oct 08- London Dragway Emerges With Win at IHRA Division 2 Summit Team Finals
Oct 08- Xtreme Raceway Park Named IHRA Division 4 Track of the Year
Oct 07- Pine Valley Raceway Captures IHRA Division 4 Summit Team Finals Win
Oct 03- Beaver Springs Dragway Named IHRA Division 3 (North Stars) Track of the Year