Fri, 21 Dec 2012, 14:07 PM



A New Champion Is Crowned



By Bob Frey


Photo copyright 2012 Auto Imagery, Inc.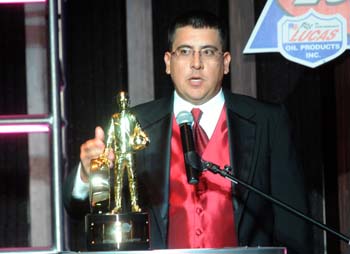 Jeff Lopez
The goal for every racer at the start of the season is the same.win the championship, and while a lot of racers will vow that they weren't going to chase the points when the year started, they all have that goal in the back of their minds. As we all know the process of crowning a Lucas Oil World Champion is a little different and more complex than it is in the Full Throttle classes. There, all you have to do is add up the points that each racer accumulates over the season or during the six races in the "Countdown" and you have the champ. Sure there are bonus points and oil-down penalties that come in to play but, for the most part, the scoring is rather simple. In the sportsman ranks it's an entirely different thing. Score points, go to national and divisional (or regional races), pick your best races, run some in and some out of your division and then figure out your total. Oh yeah, then you have to wait for someone on the other side of the country to finish their full-compliment of races before you know where you stand. In 2012 there was one racer who made the process fairly easy because he went out and put a lot of points on the board early and let everyone else try to catch him, and in the end, nobody did. That racer is Jeff Lopez, a first-time Lucas Oil Super Gas World Champion.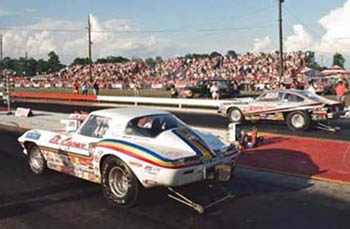 Eli Lopez (near lane)
Like so many of today's racers Jeff Lopez is carrying on a family legacy. His father, Eli, was a very good racer in the late 1970's and early 1980's and even won a national event in 1984. And Jeff's mom also raced and she did it in the bracket classes, Super Street and some of the National Open events that were held around their home state of Texas. "I remember going to the races when I was five or six years old," Jeff said. "In fact, Indy was always the same week as the first week of school and for years that meant that I missed the first days of school." Sounds like a racer who has his priorities straight, doesn't it?
As good as Jeff's father was Jeff commented on how different the sport is today. "Dad bought the World Championship car from Coleman Roddy and turned it into a Super Gas car," he said. "At that time the car, which was very lightweight, was way ahead of its time in the class. Today, you wouldn't stand a chance if you raced that car in Super Gas. It's just a whole different ball game right now." Today Jeff races and wins with the classic Super Gas car, a 1963 Corvette that was initially built for Heidi Robison. "It was built by B & B Race Cars and they don't do a lot of Super category cars. They mostly do Super Stock cars and this is a one-of-a-kind car for them." And apparently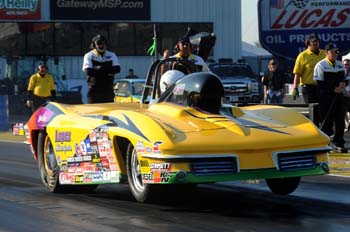 Jeff Lopez in his Super Gas car.
it is a very good car, too, because in 2012 Jeff was virtually unbeatable, or at least he was virtually unbeatable until the final round. "Yeah, it's funny. Before this year I never lost in a final round and now this year every final round I went to I lost." Well that's not exactly correct, he did go to seven finals and was runner-up at six of them, the lone exception being his big win at Great Bend, Kansas. That win was part of three final rounds in a three week stretch that virtually cemented the championship for Jeff. "That was a good time," he said in a major understatement.
The racers in Division 4 have a different schedule than most of the racers across the country and that's because of the weather in their neck of the woods. "It gets really hot here in Texas in the summer and we'll go from June to the end of August without having a race." During that time while he wasn't racing Jeff admits that he didn't pay a lot of attention to the points. "There was not much I could do about it at that point so I just figured I would take care of things around the house." Those "things" included preparing the house for a baby that was expected in a few months. Today Jeff is happy to say that baby Lucas Lopez joined the world a few days after he picked up his trophy in California. "I was at the banquet and my wife, Elizabeth, was home and I kept waiting to get the call that the baby was here." Fortunately Lucas waited until dad got home and now mom, dad and Lucas are all doing well. "He's been really good but he did keep us up last night," Jeff said. As a father of three I have a word of advice for Jeff, trying to figure out a baby's sleep schedule is slightly easier than trying to figure out the Lucas Oil points system, but not by much. Good luck!
Jeff and Eli Lopez
While he is a first time winner and this is his first trip into the top ten in the points Jeff has been racing for quite a while. "I actually started racing when I was about fourteen. We raced at this outlaw track and I was able to drive at the eighth-mile races." Later, when he got his driver's license, he started racing full time, or as full time as you can when you have a job and responsibilities. "I work with my father and my brother at our automotive shop, Lopez Auto Repair. It's been in the family for over thirty years. I had always gone to the races with my dad and I really enjoyed that and I knew I wanted to race and now I enjoy racing and working with him." A stint behind the wheel of the family's Chevy II soon gave way to a better car and a more ambitious schedule and he had a very good year in 2010 that included the rare "double-up" at the division race in Noble, Oklahoma. "That was a great day. It rained and so we had to run on Monday and they hustled us right through. It was almost like a round-robin and I think that was good because you didn't have too much time to think or over think things between rounds." And while he has had success in both Super Comp and Super Gas he says that he really prefers the 9.90 category. "It's just a lot more fun than the dragster, you have to drive it a little more and that's why I like it."
Even though he put a lot of points on the board early Jeff didn't actually clinch the title until late in the year. After the long lay-off in the summer he went back to the track and it looked like he never missed a beat. "I just went out and did my job and it turned out to be good
enough." Jeff went on to say that the key to his championship wasn't as much what he did as what he didn't do. "I didn't make a lot of mistakes," he said. "I didn't foul or give away too many races and that was the key. I just said 'here's my best shot and if you can beat it good for you' and I guess it worked out." I guess it did.
When asked about his plans for 2013 Jeff said they really aren't finalized yet, in fact, they really aren't anything yet. "Everyone who knows me knows that I don't do a lot of advance planning. Even when I proposed to my wife I just threw the ring into my pocket and headed out on the date." Wow, what a romantic!! But apparently that has worked out well, too. "I couldn't be happier. I have a wonderful wife and a beautiful baby (that doesn't always sleep through the night) and now a championship." Sounds like all is well in the Lopez household. "Maybe when I put that number one on the car it will sink in, but for now I'm just enjoying the baby." A baby who just might eventually be the third member of the Lopez family to go racing and winning.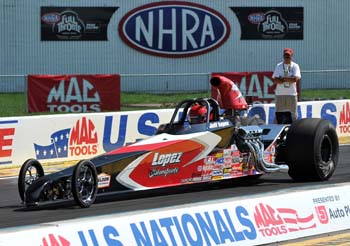 Jeff Lopez in his Super Comp car
"It was a very good year and I have a lot of people I'd like to thank including Greg Samuels at FTI Transmissions and Converters, Jim Craig at Weldon High Performance, Faron Lubbers at Hoosier Tire, Mallory's Screenprinting and Embroidery, all the employees at Lopez Auto Repair, my dad Eli, brother Robby and especially my wife Elizabeth."




NHRA: 10 Most Recent Entries [ top ]

May 21- Second JEGS SPORTSnationals Added, to be held in mid-August in New England
May 20- DENSO Sponsors NHRA Champs' Shelter-in-Place Dachshund Race
May 14- To Our Racing Community-From Racers for Christ
May 13- The Name Game Part I
May 12- Morgan Lucas, Son of Forrest and Charlotte Lucas, Appointed President of Lucas Oil Products, Inc.
May 05- Cancellation of the 14th Annual Summit Racing Equipment NHRA Nationals
May 04- NHRA Announces Revised Plan to Restart 2020 Mello Yello Drag Racing Series
Apr 29- DSR Drivers Join Global Superstars in Fight for COVID-19 Relief
Apr 02- NHRA National Dragster will Temporarily Shift to a Free-to-All Digital Magazine
Apr 02- NHRA Announces Revised E3 Spark Plugs Pro Mod Drag Racing Series Schedule