Mon, 17 Dec 2012, 11:53 AM



Forster Nearly Doubles Up at IHRA World Finals



Courtesy of



Forster Wins Hot Rod, Runner-up in Quick Rod During Championship Tournament



NORWALK, Ohio --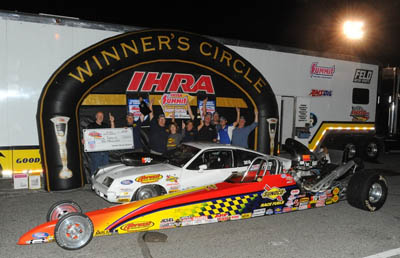 Patrick Forster won the
IHRA Hot Rod World Championship in Memphis.
Sometimes it is best being the man everyone least suspects.
Just ask Pittsburgh, Pennsylvania native Patrick Forster.
Sure Forster had a formidable resume already entering the 2012 Summit Racing Equipment Tournament of Champions presented by AMSOIL, but his 2012 performance left little to strike fear in the competition, at least in the world of Hot Rod. Yes Forster was one of only six drivers to qualify for the tournament in two different classes, but he barely managed to sneak into the field in Hot Rod and looked as if the only class in which he stood a real chance at success was in Quick Rod.
As it turns out, both were to his liking.
With no real expectations and a "see what happens" attitude, Forster went 9-1 on race day and reached the final in both classes, winning the Hot Rod World Championship and finishing runner-up in Quick Rod. While Forster wasn't able to complete the historical championship sweep, his performance in the tournament proved that Forster is a dangerous racer and that he has picked up quite a bit of racing prowess from his friend and teammate, 2012 IHRA Sportsman Driver of the Year Jacob Elrod.
"Looking back, the weekend is a bit of a blur. Not just because of the win, but also running two races in one day," Forster said. "To be honestly I really hadn't given much thought to my season coming in. I was having so much fun enjoying my teammate Jacob's historic year and I didn't even qualify the Hot Rod car until the last race. So I really didn't feel like I had anything to prove. I was just out there having a good time."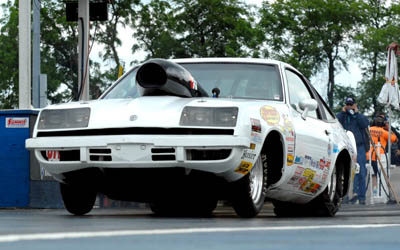 Forster qualified for the Tournament of Champions
via a third place finish in Division 3.
And that "good time" led to one incredible day, none of course bigger than his run through the field in Hot Rod.
After squeaking into the TOC via a third place finish in the Division 3 standings Forster found himself up against the very tough Donald Webb of Four Oaks, N.C. in the final and needed a near-perfect light to help him take the breakout victory over his opponent. Forster, behind the wheel of his unique '78 Monza, had a .008 light and ran just .012 off his dial with a 10.912/140.28 while Webb, finishing runner-up for the second year in a row, had a .030 light and finished with a 10.874/125.25 on a 10.90 dial in his familiar '70 Nova.
"When you come to a race like this every driver you face can put you in the trailer. They are all really good," Forster said. "Having both cars in the final actually helped keep me calm and focused. There really wasn't any time to think. It was just buckle up, hit the tree and drive. In the final Don Webb is such a great champion and a really tough competitor, but I knew my car would be right there so as long as I hit the tree I knew I would have a chance."
Prior to the tournament Forster had just one win in Hot Rod in 2012 coming at the very last Division 3 race of the season at London Dragway. But that win was enough to push Forster over the edge and into the field and a win that ultimately meant the difference between sitting at home and hoisting his first career IHRA World Championship.
"I have been driving on and off for about 15 years and teamed up with Dave (Elrod) and that team about eight years ago. We have won division championships, but my previous best nationally had been sixth place," Forster said. "This win, quite honestly, is a bit surreal. I am not sure if it has actually sunk in, but it has been a lot of fun. My phone and email has been blowing up with congratulations from friends that I didn't even know followed my racing reaching out to say hi.
"But the part that's been most satisfying for me is winning it with Dave. This is the first time in over 40 years the guy hasn't been behind the wheel of a racecar and I know it was difficult for him to watch at times. Seeing how happy he was when I pulled up after winning was great. He is such a critical part of this championship as well as Jacob's driver of the year award."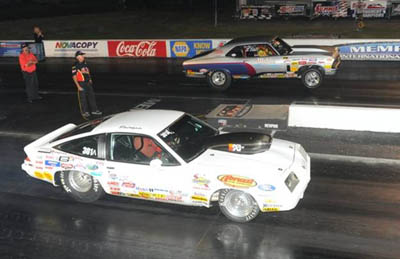 Forster battled Donald Webb
in the Hot Rod final.
Forster began his quest for the Ironman with a close win over the man he beat out to finish third in the division Skip Saddler, a win he gained through a .012 light that meant the difference at the other end. In round two Forster took out another divisional champion in Steve Dweck as Dweck fell asleep at the tree and in round three David Bills fell victim when he ran .012 over the index.
In the semifinal round Forster faced perhaps his toughest round of the day in a double breakout win over Max McGlothin as Forster ran .006 over to McGlothin's .012. In the other semifinal Rick Baehr went .006 red to allow Donald Webb to advance to the final.
"IHRA has really put something special together with the TOC. It's just so much fun and really exciting to be a part of something that draws racers from all over the country and knowing that every one you run against is really good and has had a great year," Forster said. "While we didn't have a traditional championship season, the cars were fantastic all weekend and really all year. We use the best parts and products so the cars area always consistent and reliable."
But of course Forster's day wasn't over just yet. Moments after taking the win light in Hot Rod Forster had to zoom around the facility back to the staging lanes where his Quick Rod car awaited a shot at a second championship. Unfortunately for Forster, a bit too much adrenaline after winning one championship was coursing through his veins and the champion went .012 red allowing young 17-year-old Corey Manuel to take the Quick Rod title.
"Maybe I should have celebrated for a few minutes first because I was clearly a little more pumped up than I realized and went way red," Forster joked. "But as a whole we couldn't have asked for a better weekend and a big part of that is my sponsors. First a huge thank you to Sunoco Race Fuels. Also I wanted to thank Bazell Race Fuels, Moser Engineering, Abruzzi Transmissions, Tom Fisher for the killer Hot Rod motor, PAR Racing Engines, Hoosier Tires, Quick Fuel Carburetors, Mobile 1 Racing Synthetic Oil, East Coast Auto Electric, TCI, Milodon, Moroso, Weld Racing Wheels, American Race Cars, DJ Safety and Sterling Chassis.
"And of course a very special thank you to my wife DeeAnn and our four kids Kaley, Joey, Will and P.J. for all their love and support. They have all made big sacrifices for me to do this and I am so grateful to have such a wonderful family."




IHRA: 10 Most Recent Entries [ top ]

May 20- IHRA Member Track Update
Mar 16- IHRA Sportsman Spectacular Events at Farmington and Holly Springs Postponed
Dec 03- Historic Mo-Kan Dragway Reaches Multi-Year Agreement with IHRA
Oct 24- Summit SuperSeries Champions Crowned at IHRA Summit SuperSeries World Finals
Oct 24- Summit Racing Equipment Renews Commitment to IHRA Summit SuperSeries in 2020
Oct 08- Beacon Dragway Chosen as IHRA Division 2 Track of the Year
Oct 08- London Dragway Emerges With Win at IHRA Division 2 Summit Team Finals
Oct 08- Xtreme Raceway Park Named IHRA Division 4 Track of the Year
Oct 07- Pine Valley Raceway Captures IHRA Division 4 Summit Team Finals Win
Oct 03- Beaver Springs Dragway Named IHRA Division 3 (North Stars) Track of the Year