Sat, 15 Dec 2012, 21:07 PM



IHRA President Aaron Polburn Named 2012 Mike Aiello Award Recipient



Courtesy of Susan Wade


photos courtesy of Brian Wood





SPARTANBURG, S.C. --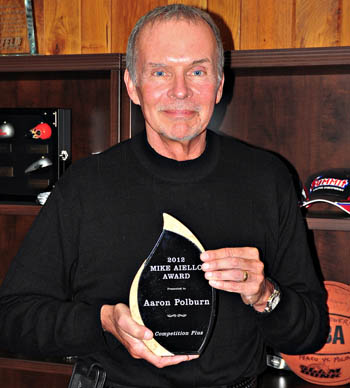 Aaron Polburn
Michael J. Fox has nothing on Aaron Polburn.
Back in mid-2010, International Hot Rod Association President Polburn never showed any public angst when doctors told him he has Parkinson's disease.
Instead he approached what he called his "next great adventure" with grace and his trademark sense of humor.
"Although doctors are about 95 percent sure, that gives me a solid 5 percent chance of them being wrong. It's kind of like when we face a 90 percent chance of rain at a Nitro Jam event. I am the guy who is convinced that gives us a 10 percent chance of sunshine," he wrote in his popular back-page column "The Last Word" in Drag Review Magazine's July 2010 issue.
"I am the most blessed guy on Earth. I look at this as my next great adventure and I truly mean that," Polburn wrote. "I will do whatever it takes to put the odds in my favor. . . . I will do it with great attitude and humor. This is not a death sentence. This is a lifestyle change although I am convinced it is not going to change that much."
It hasn't, really.
For that, Competition Plus Magazine presented Polburn the 2012 Mike Aiello Award and trophy Friday, December 14 at the IHRA headquarters at Norwalk, Ohio.
Brian Wood, editorial director of the IHRA's Drag Review Magazine and a close friend of Aiello, made the presentation to Polburn, the first sanctioning-body president and second from the IHRA ranks to receive the award.
IHRA champion Michael Beard was honored in 2010 for racing and continuing his commitments as correspondent for Drag Review Magazine while battling Bell's palsy, a non-life-threatening, temporary facial paralysis that has no known cause or cure.
Past recipients include John Medlen, Tim Wilkerson, Mike Edwards, and Jack Beckman.
The Mike Aiello Award, referred to by the media as "The Spirit of Drag Racing Award," honors determination and the spirit to persevere and remain positive in spite of obstacles.
It remembers Aiello, a longtime drag racing fan and former Pro Stock crew member for former IHRA and NHRA racer Jerry Yeoman, who spent his final years confined to a wheelchair after a workplace injury. Despite physical hardship and severe mobility limitations, he not only many attended drag races but made dozens of friends among drivers, crew members, and media with his positive outlook and unselfish behavior.
Aiello, an acquaintance of Polburn, passed away December 29, 2006, at age 39 at Santa Monica, Calif.
"I'm overwhelmed. I'm humbled. I'm speechless," Polburn said after the surprise presentation. He said he was honored to be the latest in the group of quality individuals to have received the award, saying he "nearly choked up" during the presentation.
"You've got me shaking, and it has nothing to do with the Parkinson's," he joked.
As for the status of his health, Polburn said Friday, "I have good days and I have great days. 'Bad days' doesn't even figure into it. I really don't think about it that much."
Because Polburn's doctors want him to avoid car fumes, smoke, and other pollutants -- and because travel simply depletes his energy -- Polburn doesn't attend as many races these days.
Still, he calls his struggle with the illness "this little Parkinson's irritation" and "my adventure in Parkinson's Land." And the previously well-traveled Polburn reasoned that a trip to the Caribbean -- which he completed recently -- was in order: "I got to thinking that if my hard-wiring was going to go on the fritz, why not have it whacked out in Aruba? I mean, if I am going to slow down to a crawl, why not do it on one of the most spectacular beaches in the world within shouting distance of the Cruzan Rum manufacturing facility?"
He also wrote: "Now I have a great excuse when people think my decision making was marred from a lack of brain cells. I should be able to parlay the occasional tremor into a job hand-mixing martinis and margaritas. The only concern is that I may lose home-court advantage playing P-I-G and I have to watch Skooter [IHRA executive Peaco] launch 30-foot nothing-but-net shots. Now that would honk me off. To the Anti Aaron Fan Club I am sorry to report that I am not going anywhere.
"Nothing changes. If I ever thought I was hindering the progress of IHRA and Nitro Jam I would be the first to bow out. Just look at me as a giant Weeble. I may occasionally wobble . . . But I'll never fall down. Attitude is everything."
Polburn has called his DRM / "The Last Word" column "my often oddball observations on racing and the world in general." Among the thousands of tales he has shared are two humorous thoughts:
"After cleaning up a 60-foot-tall tree that came down in a severe thunderstorm, I would advocate a law banning anyone with Parkinson's from using a chain saw. . . .
"I was walking from the parking lot to the office and not having a real good balance day. I was approached by some Norwalk punk who said, 'Why don't you learn how to walk?' I was infuriated so I fired back, 'Why don't you learn how to run (insert vulgarity here).' I took off after him swinging my Ohio State lunch box like some sort of war club. Thank God the punk kept running, because I would have been forced to hit him with a soup bowl. Final Score - Weeble 1, Punk 0."
So, Polburn has said, "There is nothing I can't do. I just do it a lot slower and need a bit more recovery time."
That's something Mike Aiello also said.
PAST WINNERS:
The inaugural Mike Aiello Award recipient was John Medlen, father of Funny Car driver Eric Medlen, who died from injuries received in a testing accident in March 2007. Despite his grief, John Medlen became a vehicle for safety changes in race-car construction. John Force Racing established The Eric Medlen Project, with John Medlen at the helm, dedicated to evaluate and enhance race car safety in all forms of racing. Medlen since has moved to Don Schumacher Racing, but Medlen said, "The Eric Medlen Project is not in a building. It's in my heart."
Funny Car driver Tim Wilkerson was the 2008 recipient. The driver of the Levi, Ray & Shoup entry (a Chevrolet Impala at the time but a Ford Mustang currently), epitomized Aiello's spirit by showing a strong character while building a championship-caliber team. As an independent, Wilkerson challenged the multi-car teams and their seemingly endless resources to become a leader. In the process, he made countless friends and earned the respect of his colleagues. Behind the scenes, he has lobbied for additional safety measures, bigger purses, and for what he deemed to be beneficial to the sport.
NHRA Pro Stock champion Mike Edwards , who never has failed to thank God for his blessings, despite years of financing concerns and frustration in the ultra-competitive class, was the 2009 Mike Aiello Award winner. Edwards drives his own rig to every race from his Coweta, Okla., home, evidence of his hard-working spirit. More importantly, Edwards and devoted wife Lisa have served as role models with their "Team on a Mission" / "Giving Kids Hope" program. The Edwardses host teenagers at NHRA national events, as Mike shares his love of racing and love for Jesus. In partnership with the Christian youth organization Young Life, he gives them a close look at his race car, explains all aspects of Pro Stock drag racing, and relates his Christian testimony to them. He and Lisa give each youngster a T-shirt and autographed card and offer each a Bible. Edwards also recruited fellow drivers Jeg Coughlin, V Gaines, Allen Johnson, Kenny Koretsky, and others to turn their round-wins into Young Life camp scholarships for children.
Current NHRA Funny Car champion Jack Beckman received last year's Mike Aiello Award. A friend of Aiello's, Beckman won a 2004-05 battle with Stage 3 non-Hodgkin's lymphoma, drag racing even through chemotherapy. His doctor told him he never would father children. Today he and wife Jenna have two: 5-year-old son Jason and 1-year-old daughter Layla. He continued to show Aiello's spirit in 2012. Team owner Don Schumacher in April traded Beckman's entire team for that of struggling Ron Capps and hired Todd Smith, who had tuned only dragsters and never a Funny Car, as Beckman's crew chief. Beckman and Smith edged out a resurgent Capps by two points for the 2012 championship.




IHRA: 10 Most Recent Entries [ top ]

May 20- IHRA Member Track Update
Mar 16- IHRA Sportsman Spectacular Events at Farmington and Holly Springs Postponed
Dec 03- Historic Mo-Kan Dragway Reaches Multi-Year Agreement with IHRA
Oct 24- Summit SuperSeries Champions Crowned at IHRA Summit SuperSeries World Finals
Oct 24- Summit Racing Equipment Renews Commitment to IHRA Summit SuperSeries in 2020
Oct 08- Beacon Dragway Chosen as IHRA Division 2 Track of the Year
Oct 08- London Dragway Emerges With Win at IHRA Division 2 Summit Team Finals
Oct 08- Xtreme Raceway Park Named IHRA Division 4 Track of the Year
Oct 07- Pine Valley Raceway Captures IHRA Division 4 Summit Team Finals Win
Oct 03- Beaver Springs Dragway Named IHRA Division 3 (North Stars) Track of the Year