Sat, 15 Dec 2012, 17:37 PM



I Like Going Straight!



By Bob Frey


Photo copyright 2012 Auto Imagery, Inc.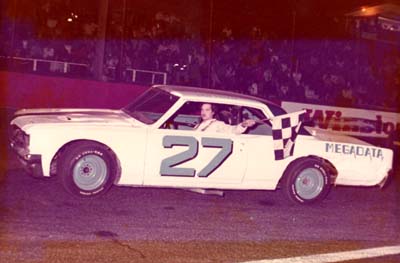 Dave Muller in his Stock Car.
A few years ago Antron Brown made the transition from Pro Stock Motorcycle rider to Top Fuel driver, and by all accounts I would say that he made that transition look easy. Ok, so maybe "easy" isn't the right word, but when you win as much as he has and you finally grab the sport's top prize, the Top Fuel World Championship, I'd say you made a wise choice. Over the years there have been a lot of racers who switched classes, but for the most part if you started in a dragster you'll finish in a dragster, and if you raced Funny Cars early in your career you'll probably be racing them at the end of your career. Occasionally a driver will step into drag racing from another sport altogether. We have had basketball, football and baseball players all try their hand at the straight-line sport and a few of them have done reasonably well. Dan Pastorini won a race and Tom Hammonds had a very competitive car for a number of years, but they would be the exception and not the rule. Even rarer is the oval racer who comes into drag racing to see what he can do. The great Richard Petty did it for a while, and more recently it was Kurt Busch who gave Pro Stock a shot, but as well-known as those drivers are they did not have as much success as one driver who began his racing career in the stock car world and ended up a national drag racing champion.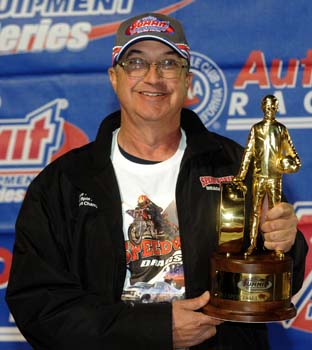 Dave Muller
Dave Muller, who will turn sixty "shortly" is the 2012 Summit ET Series Sportsman national champion, and although he lives in Mesa, Arizona and won in the straight-line sport his racing career began on the oval tracks of Long Island, New York. "I raced on a quarter-mile track but it was a paved oval," Dave said. "That was back in the 1970's and I raced a variety of cars including a 1965 Mustang and a 1964 GTO. The Pontiac was my third car and it kept blowing engines. Between that and the fact that I didn't like hitting the walls I decided that my stock car racing career wasn't going anywhere." But his life was and it took him from the crowded Long Island area to the spacious, warm climate of Arizona. "I went there several times on business trips and I said to myself that this place is pretty nice. I loved the weather and when I got a job offer there I decided to take it and I've never looked back."
Since Dave admits that he has always been "inclined toward cars" once he arrived in Arizona he restarted his drag racing career. "I did do a little drag racing in New York and made a few trips to Englishtown but I never really got serious about it until I moved," he said. He found a nice race track, Speedworld Drag Strip about thirty miles outside of Phoenix and he has been a fixture there ever since. "I raced for about five or six years and then tapered off for a while and then got out of it entirely. I sold everything, my car, my ramp truck and even my tools and just stopped to pursue other ventures." After his "retirement" Dave discovered what so many other racers before him had and that is that drag racing is like a drug. "It's addictive and I admit it. The sound of an unmuffled V-8 engine has this hold over you and you can't get away from it." And so it was back to the track and Dave became a fixture at the Division 7 track in Arizona and a serious challenger for track and division championships. "In 2004 I found a 1974 Camaro and I planned to fix it up and just tool around town and have some fun with it. Then I decided to take it to the track and I've been racing it ever since. It's the same car that I ran at Pomona and it's the only car that I have ever raced out here."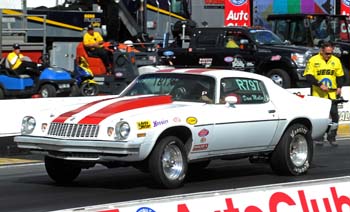 Dave Muller
While Dave freely admits to being addicted to the sport he also says that when he races he does it for fun and not for a desire to win any championships. "Well, that's what I thought for a while until I started being involved in the points at Speedworld. The first year that I raced there I had a good start and was surprised to be doing well in the points and I was hooked again." He finished fifth in the points that year and has been knocking on the door of the track championship every year since then. "I actually raced at the Division 1 bracket championship at York Dragway back in 1979 and I was looking forward to being able to compete in the Division 7 championship race." He got his wish this year and made the most of it. After going deep into eliminations in the Saturday portion of the Division 7 program he finally closed the deal on Sunday. "I have made some good progress with this car over the years," he said. "It started out as a fifteen second car and my reaction times were about as slow as it was." But both the car and Dave have improved dramatically over the years and today the car runs well into the twelve-second range. "I have about 700 runs on this engine so I have to say that the car has been a good investment."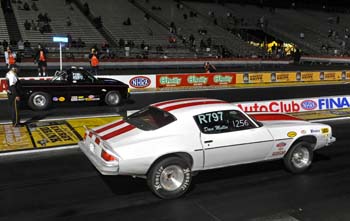 Muller defeated Ed Talbert
in the final.
With six rounds of racing on Sunday Dave says that he won because he had an odd mix of good and lucky runs. "When I was off the car ran well and when the car stumbled I did a good job and it all worked out." And like most racers Dave admits that he did have that proverbial one "lucky round" that helped send him to Pomona. "I have to roll in quite a bit on the starting line and on this one run the car lurched forward, I was so deep that I thought I would foul. Naturally when I took off I had no chance to run my number but the other guy dumped, gave me the stripe and I won even though I was about a tenth over my dial-in." After that he beat long-time Division 7 racer Ryan Mangus in the final round on a double break-out and he was headed to Pomona, and as much as he loved winning the Division 7 race he had no idea what Pomona had in store for him.
All of the winners that I have spoken to after winning the Summit Series championships say that it was a great experience and Dave was no exception. "Until that day I thought that Bakersfield (the site of the D-7 championship race) was the best day of my life but it paled in comparison to Pomona. I loved and savored everything about it from filling out the paperwork to waiting for the pictures to be taken. It was so much more than I expected and I can't thank the folks at Summit enough." Even though he left with the title Dave says that he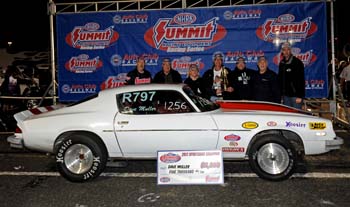 Muller celebrates win.
came to Pomona with modest expectations. "I just didn't want to embarrass myself and I wanted to have fun." He said that he got a little motivation at the Summit dinner on Thursday night before the race. "Jason Line was there and he gave a little talk and he said something that really stuck with me. He said 'there are no ducks here' and I looked at the other guys and said to myself that I didn't want to be the duck." And he wasn't. After beating Daniel Salyers in round one and Adam White in round two he squared off against Division 1 champion Ed Talbert in the final round. "The weather had changed a lot since the first round and I knew it would be quicker so I dialed down a full tenth of a second and I still ran out." Fortunately for him Ed broke out by even more and Dave was the champion. "It was so great and beyond my wildest dreams. Even waiting behind the big banner while they interviewed the pros was fun." And the fun was magnified because Dave's son, brother and a longtime friend from back East were there with him. "It was kind of like a male-bonding trip for me and my son, and to have my friend, Mark Cottingham from Green Bay, Wisconsin, whom I hadn't seen in twenty-five years, be there with me was unbelievable." And so the man from Long Island who began racing stock cars reached the top of the world on the quarter-mile as the 2012 Summit ET Series champion.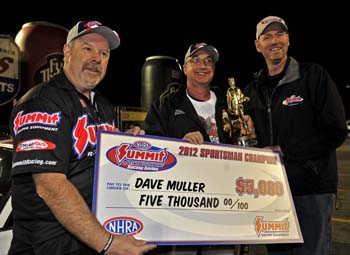 Don Lower, Muller and Jim Greenleaf
I would like to add that Dave was one of the folks who contributed to my "Sit In" earlier this year and I thank him for that. In fact he sent me a letter with his contribution telling me that he was a member of the ham radio club in his area. He signed off with a P.S. that said "I am not the Dave Muller who runs Super Comp in Division 1. I run the sportsman Summit Series in Division 7." If I do the "Sit In" again next year he can simply sign it "Dave Muller, 2012 Summit Racing Sportsman National Champion." Thanks and congratulations, Dave!
"I'd like to thank my wife, Judi, for putting up with my hobbies, my son Russ for coming along to all the D-7 finals and some of the local racers, too. Also thanks to Warren Nielsen for painting the hood on the car and to the crew at Speedworld Dragstrip for providing a great place to race."




NHRA: 10 Most Recent Entries [ top ]

May 21- Second JEGS SPORTSnationals Added, to be held in mid-August in New England
May 20- DENSO Sponsors NHRA Champs' Shelter-in-Place Dachshund Race
May 14- To Our Racing Community-From Racers for Christ
May 13- The Name Game Part I
May 12- Morgan Lucas, Son of Forrest and Charlotte Lucas, Appointed President of Lucas Oil Products, Inc.
May 05- Cancellation of the 14th Annual Summit Racing Equipment NHRA Nationals
May 04- NHRA Announces Revised Plan to Restart 2020 Mello Yello Drag Racing Series
Apr 29- DSR Drivers Join Global Superstars in Fight for COVID-19 Relief
Apr 02- NHRA National Dragster will Temporarily Shift to a Free-to-All Digital Magazine
Apr 02- NHRA Announces Revised E3 Spark Plugs Pro Mod Drag Racing Series Schedule