Thu, 13 Dec 2012, 18:25 PM



Third Generation 'Nanook' Racer Kyle Hough Wins Nitro Jam Fuel Altered Championship in First Year



Courtesy of IHRA Communications



NORWALK, Ohio --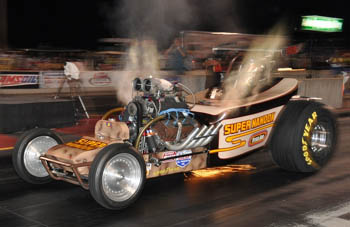 Kyle Hough won the Nitro Jam Fuel Altered
championship in his first year behind the wheel.
It all came down to one night.
After seven stops, nearly 10,000 miles logged and a ton of racing, the chase for Nitro Jam's professional championships all came down to the final day of competition at the CarSafe Northern Nitro Jam at U.S. 131 Motorsports Park.
The other three champions had already sealed their titles. Their drama was over and they were able to breathe easy. Not so for a 19-year-old rookie out of Las Vegas who faced a pressure no teenager should ever have to endure in their very first year of racing - one pass for all the marbles.
After day one was rained out, Nitro Jam's professional teams had one less day to make up ground in the championship chase making for a frantic - and very exciting - showdown in front of a packed house as a near capacity crowd watched Kyle Hough and Ron Maroney do battle for the Fuel Altered championship in one of the tightest points battles in Nitro Jam history.
"We had been running the numbers and we knew what we had to do when we traveled to Martin," Hough said. "The week leading up to the race was very frustrating for me. I was so anxious, I just wanted to get there, get it over with and enjoy the race whether we were world champion or not. Pulling up to the line with that much riding on my shoulders was intense. It was one of the most exciting and nerve-racking moments of my life."
Holding a nine-point lead over Ron Maroney entering the weekend, Hough was left in a precarious position when he lost in the first round and Maroney advanced. That first round mishap left just enough room for Maroney to make it interesting and control his own destiny.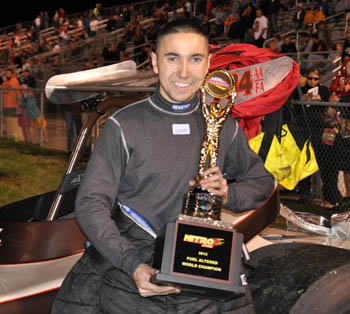 Despite not winning in 2012,
Hough's seven finals were enough to
give him to the title by two points.
But in the final pass of the night Maroney smoked the tires and Mike Hilsabeck drove to the win, giving the rookie his very first championship by the slimmest of margins - two points.
"My first thought when I was handed that trophy was wow, this thing is heavy," Hough said with a laugh. "I got kind of emotional on the return road with my dad and grandpa both standing there. My grandpa was a world champion, my father was a world champion and to follow in their footsteps and try and keep doing what they are doing, that is what this is all about. To stand there with them holding that trophy was one of the greatest moments of my life."
And Hough's accomplishment was all the more impressive when you consider that his championship trophy was his first award of the year. Hough visited seven finals in 2012, but finished runner-up in each one. But on Saturday it was consistency over flash as Hough was able to add to the long legacy of the Hough name and the legend of the "Nanook" Fuel Altered.
"Not winning a race and then winning the championship, that is just unbelievable. And to do it in my first year, I only know of a few guys that have done that," Hough said. "I was actually at Bakersfield earlier this year testing with Del Worsham and he told me he had won a championship at 20 and I am only 19. That really put it in perspective for me. This win really means the world to me."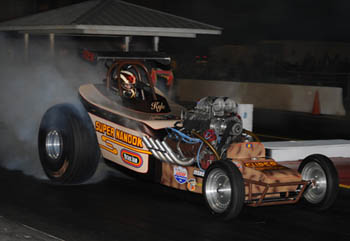 Hough's father and grandfather
have both piloted 'Super Nanook' to victory.
While not your ordinary championship season, Hough made it happen through incredible consistency as he visited more final rounds than any other driver. The only problem was that he was not able to close the deal in any of his seven tries.
Hough visited the final round in Tucson, San Antonio, Baton Rouge, Pittsburgh, Salt Lake City and Edmonton twice, but lost all seven - three times to Maroney, twice to Mike Hilsabeck and Tom Padilla and once to Randy Bradford.
Still that consistency was just enough to give Hough the advantage entering Martin, Mich., an advantage that proved the difference in the championship.
"The first few races we struggled with our tune-up. We weren't running well and we were flat getting beat," Hough said. "By Edmonton things started to turn around, but then we ran into some other problems. We really should have won both races, but we didn't. We also probably should have won in Pittsburgh but again problems hit the team.
"I have always said that racing is 90 percent luck and the funny thing is it seems like this year it was 100 percent luck that was needed, but we still came away with the trophy and that is all that matters."
Making the win even more enjoyable was the fact that Hough's dad Rick and grandpa Dave were on hand to celebrate with him. Both Dave and Rick drove the "Nanook" Fuel Altered during its glory years with both drivers winning multiples races. Now Kyle has been handed the torch and will carry on the family legacy in a car that has proven one of the winningest Altereds of all-time.
"It means a lot to me to get to carry on the family name," Hough said. "It certainly adds a lot more stress because everyone knows that this car has run good in the 70s, it ran well in the 2000s with dad driving and everyone knows that this car runs well. They know that when they run us they are going up against one of the best. To carry on that legacy and be a third generation driver, that is what it is all about."
While Hough never managed to find victory lane in 2012, five others did. Maroney led the way in the win column behind the wheel of the "Blind Faith" Altered with five wins this season, followed by Mike Hilsabeck in "Arizona Thunder" and Tom Padilla in "Nasty Benjamin" with three wins apiece, Ron Hope in "Rat Trap" with two victories and Randy Bradford and the "Bradford's Fiat" crew had one win.
Ironically, championship runner-up Maroney won his first championship last year driving, you guessed it, the "Nanook" machine that Hough piloted this year. Maroney took on the role until Hough got his license and then returned to his own team this year. Hough, on the other hand, went from crewing the car to making 220 mph passes all in the span of a year.
"I am definitely enjoying driving it. I loved tuning the car and doing everything on the starting line, but this is a lot different," Hough said. "When you are in the seat it is just you. When that light turns green no one is there to help. It is all you and I love that."
Now the "Nanook" team will gear up for a run at a third straight championship while Hough will work in reverse order as he tries to get his first career victory.
"I know that I will get that win and I know that we will get more championships, but really more than anything I am going to enjoy this," Hough said. "I really want to thank the IHRA for giving us a place to race. I also want to thank Lucas Oil, Goodyear, Hedman Hedders and of course the fans. We couldn't do any of this without the incredible IHRA fans."




IHRA: 10 Most Recent Entries [ top ]

May 20- IHRA Member Track Update
Mar 16- IHRA Sportsman Spectacular Events at Farmington and Holly Springs Postponed
Dec 03- Historic Mo-Kan Dragway Reaches Multi-Year Agreement with IHRA
Oct 24- Summit SuperSeries Champions Crowned at IHRA Summit SuperSeries World Finals
Oct 24- Summit Racing Equipment Renews Commitment to IHRA Summit SuperSeries in 2020
Oct 08- Beacon Dragway Chosen as IHRA Division 2 Track of the Year
Oct 08- London Dragway Emerges With Win at IHRA Division 2 Summit Team Finals
Oct 08- Xtreme Raceway Park Named IHRA Division 4 Track of the Year
Oct 07- Pine Valley Raceway Captures IHRA Division 4 Summit Team Finals Win
Oct 03- Beaver Springs Dragway Named IHRA Division 3 (North Stars) Track of the Year